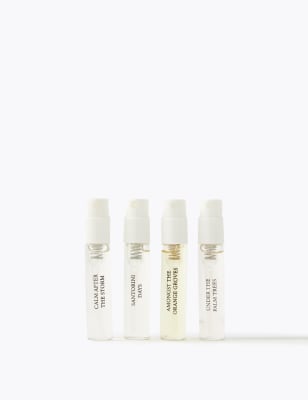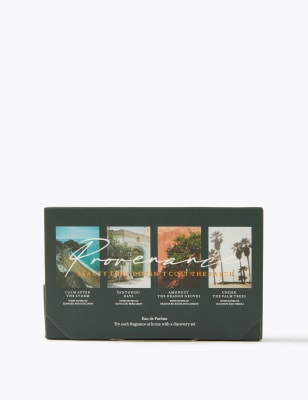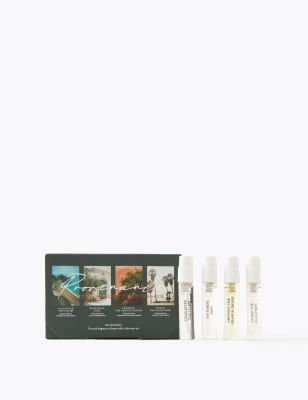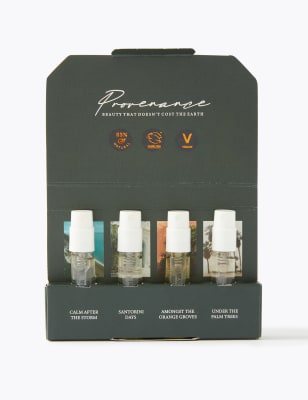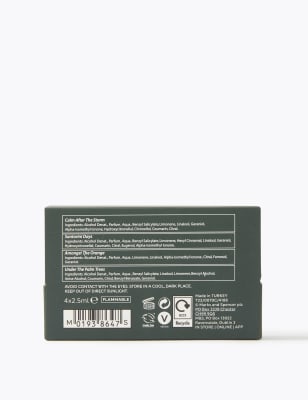 Provenance
Provenance Eau De Parfum Discovery Set
Product code: T220070C
Please enter your contact details and we will notify you if the item becomes available again.
Product Description
Try each of the scents from our Provenance range with this set of four perfumes. The Calm After the Storm fragrance features notes of seaweed and hyacinth, and Santorini Days has notes of olive and bergamot. Amongst the Orange Groves evokes lovely scents of orange blossom and jasmine, while our Under the Palm Trees fragrance has notes of coconut and neroli. The set includes a 2.5ml vial of each scent.
The carton is made from Bagasse, a sustainable fibre comprised of 95% sugar cane by-product and 5% linen and hemp, it is made using less energy compared to standard card and is fully recyclable. The sustainably sourced bio-alcohol is made from Sugar cane making up over 70% of the formulation of the fragrance. All these attributes make Provenance our most sustainable Own Brand range to date. Beauty that doesn't cost the earth.
Product Details

About the range

The Provenance fine fragrance range is sophisticated, expertly blended and contains sustainably sourced bio-alcohol. Perfect for layering with the Provenance Bath & Body range

More information

How to Use: Spritz onto pulse points and rediscover forgotten memories
The Sugar cane is sourced from Pakistan and is naturally derived alcohol base, renewable and carbon neutral

Flammable / Avoid contact with the eyes. Store in a cool, dark place.

Features

Approved by Cruelty Free International

Suitable for all skin types

Ingredients

Alcohol denat, parfum (fragrance), aqua (water), benzyl salicylate, limonene, linalool, geraniol, alpha-isomethyl ionone, hydroxycitronellal, citronellol, coumarin, citral., alcohol denat., Parfum (fragrance), aqua (water), benzyl salicylate, limonene, linalool, geraniol, alpha-isomethyl ionone, hydroxycitronellal, citronellol, coumarin, citral.//, Alcohol denat., Parfum (fragrance), aqua (water), benzyl salicylate, limonene, linalool, geraniol, alpha-isomethyl ionone, hydroxycitronellal, citronellol, coumarin, citral., Alcohol denat., Parfum (fragrance), aqua (water), benzyl salicylate, limonene, linalool, geraniol, alpha-isomethyl ionone, hydroxycitronellal, citronellol, coumarin, citral.//Alcohol denat., Parfum (fragrance), aqua (water), limonene, linalool, alpha-isomethyl ionone, citral, farnesol, geraniol.//, Alcohol denat., Parfum (fragrance), aqua (water), benzyl salicylate, limonene, linalool, geraniol, alpha-isomethyl ionone, hydroxycitronellal, citronellol, coumarin, citral., Alcohol denat., Parfum (fragrance), aqua (water), benzyl salicylate, limonene, linalool, geraniol, alpha-isomethyl ionone, hydroxycitronellal, citronellol, coumarin, citral.//, Alcohol denat., Parfum (fragrance), aqua (water), benzyl salicylate, limonene, linalool, geraniol, alpha-isomethyl ionone, hydroxycitronellal, citronellol, coumarin, citral., Alcohol denat., Parfum (fragrance), aqua (water), benzyl salicylate, limonene, linalool, geraniol, alpha-isomethyl ionone, hydroxycitronellal, citronellol, coumarin, citral.//Alcohol denat., Parfum (fragrance), aqua (water), limonene, linalool, alpha-isomethyl ionone, citral, farnesol, geraniol.//Alcohol denat., Parfum (fragrance), aqua (water), benzyl salicylate, limonene, hexyl cinnamal, linalool, geraniol, hydroxycitronellal, coumarin, citral, eugenol, alpha-isomethyl ionone.//, Alcohol denat., Parfum (fragrance), aqua (water), benzyl salicylate, limonene, linalool, geraniol, alpha-isomethyl ionone, hydroxycitronellal, citronellol, coumarin, citral., Alcohol denat., Parfum (fragrance), aqua (water), benzyl salicylate, limonene, linalool, geraniol, alpha-isomethyl ionone, hydroxycitronellal, citronellol, coumarin, citral.//, Alcohol denat., Parfum (fragrance), aqua (water), benzyl salicylate, limonene, linalool, geraniol, alpha-isomethyl ionone, hydroxycitronellal, citronellol, coumarin, citral., Alcohol denat., Parfum (fragrance), aqua (water), benzyl salicylate, limonene, linalool, geraniol, alpha-isomethyl ionone, hydroxycitronellal, citronellol, coumarin, citral.//Alcohol denat., Parfum (fragrance), aqua (water), limonene, linalool, alpha-isomethyl ionone, citral, farnesol, geraniol.//, Alcohol denat., Parfum (fragrance), aqua (water), benzyl salicylate, limonene, linalool, geraniol, alpha-isomethyl ionone, hydroxycitronellal, citronellol, coumarin, citral., Alcohol denat., Parfum (fragrance), aqua (water), benzyl salicylate, limonene, linalool, geraniol, alpha-isomethyl ionone, hydroxycitronellal, citronellol, coumarin, citral.//, Alcohol denat., Parfum (fragrance), aqua (water), benzyl salicylate, limonene, linalool, geraniol, alpha-isomethyl ionone, hydroxycitronellal, citronellol, coumarin, citral., Alcohol denat., Parfum (fragrance), aqua (water), benzyl salicylate, limonene, linalool, geraniol, alpha-isomethyl ionone, hydroxycitronellal, citronellol, coumarin, citral.//Alcohol denat., Parfum (fragrance), aqua (water), limonene, linalool, alpha-isomethyl ionone, citral, farnesol, geraniol.//Alcohol denat., Parfum (fragrance), aqua (water), benzyl salicylate, limonene, hexyl cinnamal, linalool, geraniol, hydroxycitronellal, coumarin, citral, eugenol, alpha-isomethyl ionone.//Alcohol denat., Parfum (fragrance), aqua (water), benzyl salicylate, linalool, limonene, benzyl alcohol, anise alcohol, coumarin, citral, benzyl benzoate, geraniol.

Delivery, Collection & Returns

Delivery

Standard
FREE over £30, or £3.50

Nominated day
£4.99. Order by 10pm for delivery tomorrow

Collection

Returns