Fresh Market Specials

Pick up a pack of ripen-at-home rocha pears or one galia melon for £1, and a single blood orange or a single mango for 65p each.

The fishmonger

Our great-value three-for-£10 offer on marked fish includes beer-battered cod and scraps, piri piri king prawns and tuna skewers.

Butcher's shop

Two for £5 on premium sausages and bacon. Take your weekend fry-up to the next level with outdoor-bred smoked back bacon, outdoor-bred pork and apple sausages, dry-cured unsmoked bacon, skinny pork sausages and lots more.

Snacks

Pick up four nibbles for the price of three, like our mini chicken kievs, mini cheese burgers, mini pies and lots more

Enjoy three for £7 on our fantastic deli range, choose from a huge selection including sweet potato falafel, piri piri chicken wings, sliced British honey roast ham and more… perfect for a picky tea

Mix and match 2 for £4 on our best-in-season citrus, which are hand-picked for size and sweetness

Delicious dinners

Get 1/3 off our Slow Cooked range. Choose from Vietnamese-style pork belly, aromatic half duck, Italian beef ragu and more

Look out for our pizza night deal, where you choose two pizzas and two sides for just £10

Discover our 3 for £10 deal in store. Choose from buttermilk chicken tenders, southern-style chicken tenders, Aberdeen angus beef burgers, lamb shish kebabs and posh dogs

It's three for £7 on selected pasta dishes, from king prawn alfredo to spaghetti and meatballs and macaroni cheese.

Our super £6 stir-fry meal deal lets you pick one from each of the following: protein including Thai green curry and tofu panang; veg including rainbow stir-fry and edamame and pea; sauce including lemongrass and sweet chilli; noodles including Singapore noodles and high-protein pea noodles.

Get six free eggs when you buy one of our reusable egg carriers in selected stores.

Tasty Treats

Two for £3 on Percy and Colin sweets.

Two for £4 on tubs of mini bites. The sumptuous range includes chocolate chunk flapjacks, millionaire's and caramel crispy bites.

Beers, wines, spirits, soft drinks and mixers

Save £1, £1.50 or £2 on selected bottle of wine, including Wave Break merlot, Gold Label chardonnay and Burra Brook cabernet sauvignon blanc.

Get £4 off bottles of Conte Pruili prosecco and prosecco rosé.

Save on selected low-alcohol spirits, including £3 off Warner's double juniper and Everleaf forest, and £5 off Seedlip garden and Seedlip grove.

Pick up a bottle of Atopia hedgerow for only £20.

Make celebrations sparkle with Conte Priuli Oro prosecco and Conte Priuli Oro prosecco rosé, both now just £7 each.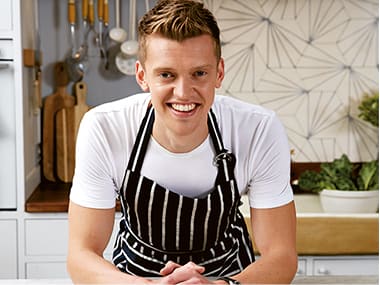 Chris Baber's recipe round-up
Looking for kitchen inspiration? Chef Chris Baber's family recipes are here to help