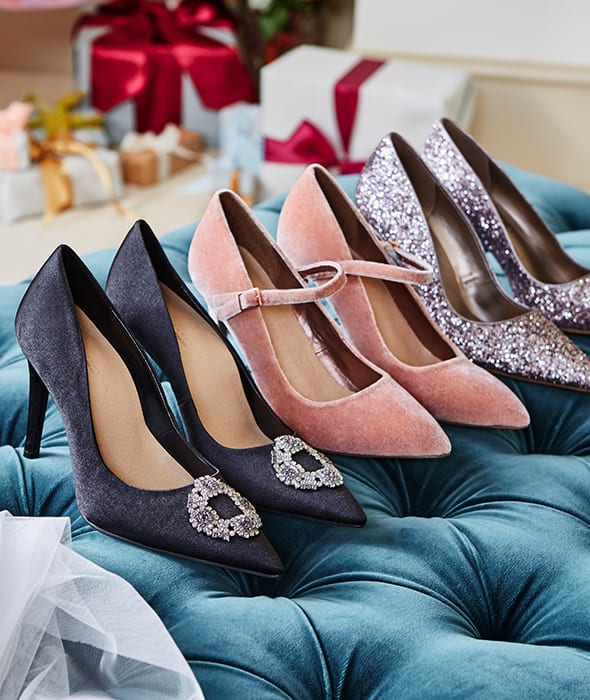 Create a classic
It's the bride's day, so let her be your sartorial guide. Traditionally, the mother of the bride wears a similar colour to the bridesmaids. Times have changed though, and the reality is that (almost) anything goes. Classic outfits, like a shift dress and jacket, can be boldly accessorised with colourful bags or sparkly shoes.
Whatever the season, delicate fabrics such as chiffon and silk are always a safe yet elegant bet. And remember, most important of all is to wear what you're comfortable in, so you can focus on enjoying the day.
Get it right in black and white
Monochrome is a bold choice, but don't be deterred by others telling you it's not appropriate. An elegant black lace dress, accessorised with contrasting colours (think a blush fascinator, ivory clutch or even bright pops of colour on your nails), can look effortlessly stylish for daytime and evening.
Equally, a monochrome jacket can be the perfect finishing touch to your look, thrown over a smart floral dress or paired with simple black trousers and a silk top. Go for dresses and tops with a bracelet-length sleeve, and invest in some jewellery bought especially for the day. A statement hat will also ensure you stand out from the crowd.
The floral look
Florals are perfect for the mother of the bride, whatever the season. For a late summer or autumn wedding, opt for a dark-coloured, contemporary floral dress with mid-length sleeves. If you feel a chill, accessorise with a pashmina or short, smart jacket in a plain, complementary colour. If it's a winter wedding, try a plush floral jacket.
Print shy? Jacquard or brocade fabrics are your saviours: dare to wear head to toe, or make a subtle nod to the floral trend with a clutch bag or conversation-starting kitten heels. If your shoes are too flat, you might not feel dressy enough; too high and you could be in agony. Remember that you might be on your feet for over eight hours.