EASTER SWEET TREATS
Get everyone involved in our easy recipe ideas this weekend, from sweet skewers to a crowd-pleasing giant cookie
The sweetie skewers
Get your family in the kitchen making our super-easy, fun and oh-so-irresistible Easter skewers – a real treat for the long weekend. Firstly, ask the kids to choose their favourite sweets and chocolates and arrange into their chosen order. We love stacking our bubbly bunnies with our Percy Pig meets the Easter Bunny sweets, and a dinosaur thrown in for good measure – because after all, what says Easter more than a pink squishy dino?! – but these work with any chocolate eggs, marshmallows or fruit you have at home. All that's left to do is to pop everyone's treats onto wooden skewers and enjoy a sweet Easter extravaganza.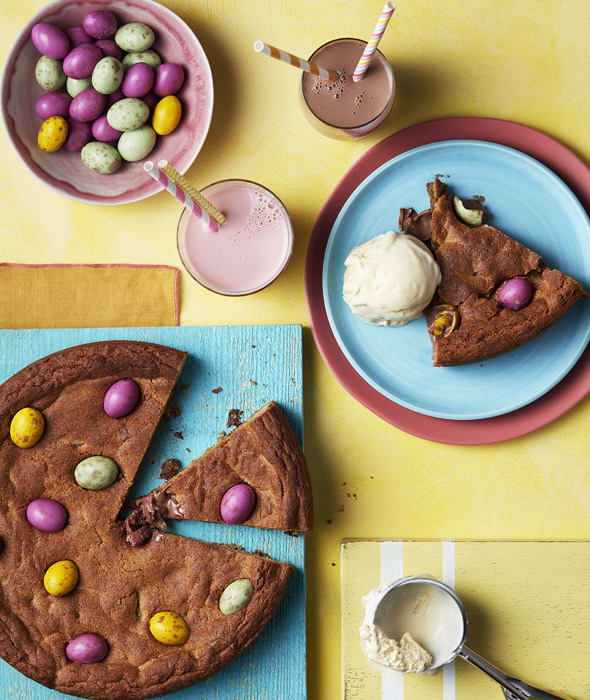 The giant chicky choccy cookie
Introducing the perfect pudding for the Easter weekend: a supersized homemade cookie, topped with chicky choccy speckled eggs. This family favourite will ensure smiles all round, and is delicious served warm with vanilla ice-cream or a glass of milk. Swap out the chicky choccy eggs for any leftover Easter chocolate, and the milk chocolate for white or dark, if you like. You could make an extra batch of dough and store in cling film in the freezer, for homemade cookies in a flash.
Makes one 22cm cookie
175g unsalted butter
200g light soft brown sugar
1 egg, plus 1 extra yolk
250g self-raising flour
2 tsp cornflour
1 tsp baking powder
100g milk chocolate, chopped into chunks
1 pack chicky choccy eggs
Preheat the oven to 200°c/180°c fan/gas mark 6. Beat the butter and sugar until pale and creamy, then mix in the egg and egg yolk. Combine the flour, cornflour and baking powder, then fold through the egg, butter and sugar mix.
Add the chunks of chocolate and stir until evenly combined. Pour into the greased cake tin and bake for 20 minutes or until light golden brown. Remove from the oven and gently press in the chicky choccy eggs.
Allow to cool slightly for 10 minutes and serve with ice-cream or double cream.
The Alfie bunny milkshake
Take Easter treats to the next level by filling our Alfie bunny egg (or any hollow chocolate egg that can stand up) with delicious milkshake. Simply warm a sharp knife under a hot tap and cut the top of the ear off carefully. Dispense a chocolate, strawberry or banana milkshake into a jug and carefully pour into the hole. Let kids help to decorate with their toppings of choice – we recommend cream, Jazzie sprinkles, mini marshmallows and raspberries – then pop in a straw and serve. Once the milkshake has been polished off, their Alfie Bunny is ready to be cracked into and shared.
Top tip: you can make your own milkshake by whizzing up ice-cream and a splash of milk in a blender.