Mini bouquets with maximum impact
Our new Collection spring blush bouquet is perfect for adding colour and freshness to your Sunday lunch table. This beautiful bouquet pairs peach lisianthus and roses with pink antirrhinum and alstroemerias and green eucalyptus. For one wow-worthy arrangement, simply mix the flower food that comes with your bouquet with fresh water in a vase and add the trimmed stems. Or, for extra impact, try splitting the bouquet between a selection of coloured vases, glass jars and bottles. First, remove any extra leaves from the stems, hold each stem against your chosen vase and cut to size. Next, mix the plant food and water in a jug and split equally between each vase. Finally, place the blooms in the vases, making sure to rotate when arranging to ensure they look picture-perfect no matter where you place them! All that's left to do is to set the table with a natural linen runner, candles, crockery and cutlery, and scatter the blooms around the table. Now that's a Sunday set up to put a spring in your step!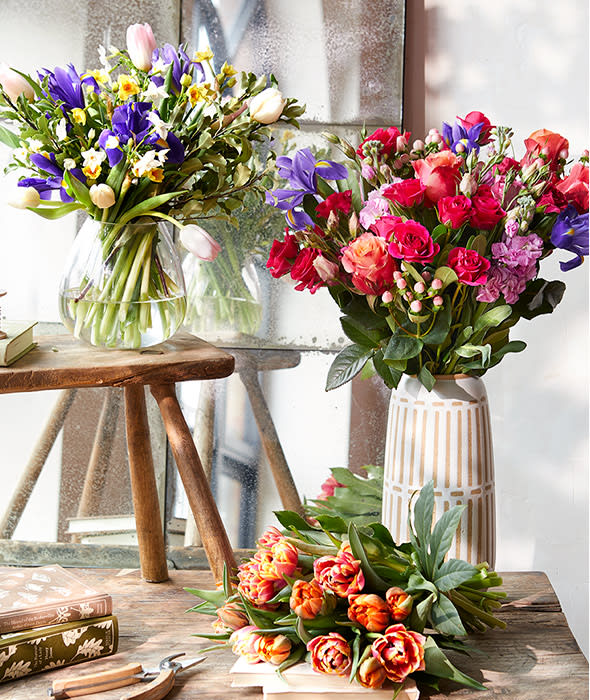 Make a spring statement
When you think of spring flowers, I'm sure tulips, daffodils and hyacinths all spring to mind. But why only choose one! This season, I'll be lifting my spirits by treating myself to a trio of vibrant blooms that will really make a statement and raise some smiles. First on my list is our spring narcissi posy, which truly is spring in bouquet form, with gorgeous daffodils, tulips and foliage. I also love our recently upgraded coral meadow bouquet, which adds a healthy dose of colour to any room thanks to cerise spray roses, pink stocks and vibrant blue irises. Finally, I can never resist a bunch of tulips, especially when they're as bold and beautiful as our Collection luxury tulips. This premium bouquet pairs cerise double tulips with orange double tulips that both begin to resemble roses as they open. I'll be presenting these bouquets in my favourite glass and ceramic vases and placing on different levels on my living room sideboard. They'd also look incredible in entrance halls, on kitchen worktops and windowsills. If your bouquet is placed on a surface against a wall, try styling the flowers from the front only for maximum impact and fullness.
Find brand-new and so-you bouquets online now.
Dress your dresser
Clear the clutter and make way for our spring rose abundance bouquet on your dressing table. This beautiful arrangement of white, cerise and pink Kenyan roses is perfect for adding a feminine touch to your bedroom. When your bouquet arrives, simply trim the stems to fit the vase, remove any leaves that fall below the waterline and place the roses in a vase with fresh water. To help keep your blooms fresher for longer, change the water and re-trim the stems every couple of days and make sure they are away from direct sunlight. If they're in need of an extra boost, try adding a spoonful of sugar or a splash of lemonade to fresh water.
Discover our beautiful range of new-season blooms online now, all available with free delivery and with five-day freshness guaranteed. Plus, you can even pair your bouquet with chocs or fizz for the ultimate treat.