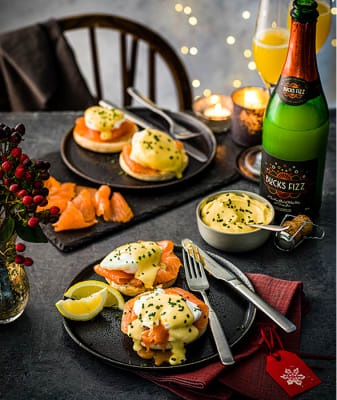 The best-ever smoked salmon brunch
Perfect for Christmas Day morning or as a treat in the run-up to the big day, our eggs royale is impressive yet super simple to make. The star of this brunch is our brand-new and epically delicious Our Best Ever smoked salmon, which is dry cured by our master smoker with Halen Môn sea salt and twice smoked over oak and chestnut. The end result? A smoked salmon that is deliciously delicate and buttery. Simply top toasted English muffins with the salmon, perfectly poached eggs, a spoonful of our prepared hollandaise sauce and some chopped chives. To make it a real celebration, pop a bottle of our refreshing bucks fizz and raise your glass to the festive season – cheers!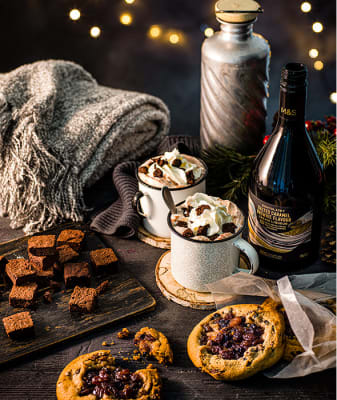 The winter walk with top-notch treats
Although coffee-shop catch-ups are on hold for a while, you can still take a sweet treat and a flask of hot drink with you on a stroll outside. To eat, pick up a next-level-tasty mince pie cookie, which is topped with zesty mincemeat before baking and packed full of spiced mince pie flavour. For an extra-special warming drink, add a splash (or two) of our delicious salted caramel brownie liqueur to your flask of hot chocolate. Or, as an indulgent night-in treat, make in your favourite mug and top with whipped cream and crumbled brownie bites. Discover our full range of festive cookies, doughnuts, Yumnuts™ and more in our in-store bakery now.

The fuss-free Christmas feast
Whether you're enjoying your festive feast early or just want to get ahead, we have everything you need for a delicious Christmas dinner in our freezers. For a traditional menu, serve up our Oakham frozen turkey crown, sprouts, roasted root veg, pork, sage and onion stuffing, pigs in blankets, perfect roast potatoes and beef-dripping Yorkshires. And the super-sweet finale? Our Collection torched winter berry pavlova combines a toffee-flavour meringue with whipped cream, blackberries, raspberries and blackcurrants. Guarantee festive cheer at your table with The World's Funniest crackers, which will help us donate £100,000 to UK charity Together for Short Lives.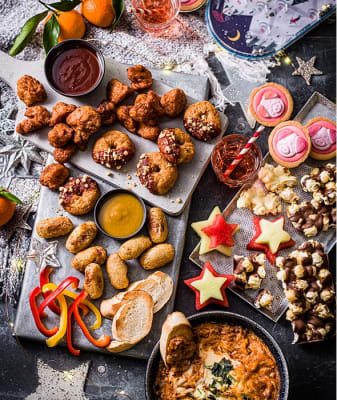 The foodie film night
Treat your little ones to the ultimate film night with the help of our new range of festive treats. Set the scene by laying out a few cosy blankets and cushions on the floor then dish up sharing plates of our delicious party nibbles: chicken doughnuts with barbecue sauce and waffle crumb, lasagne dip (in stores from 2 December) with fresh veggie crudités, mini battered sausages with chip-shop-style curry dip and banging cauliflower nuggets. And, of course, you can't watch Christmas films without some sweet treats! Pick up our new chocolate popcorn slabs, available in milk or white choc, Percy Pig pies, zesty clementines and some melon that you can cut into cute colourful stars or Christmas trees.

The virtual Christmas party
While Christmas parties may look a little different this year, that doesn't mean missing out on fabulous cocktails and luxurious canapés. For a fuss-free cocktail, mix our Conte Priuili prosecco with a splash of our clementine gin liqueur and a few pomegranate seeds. To eat, serve up a plate of our ready-to-cook Christmas nibbles, such as our prawns in blankets and Collection mini beef and porcini Yorkshires, and top blinis with a crème fraiche and horseradish mix and our new Scottish salmon 'pastrami'. It's cured in sea salt, treacle, honey, mustard and coriander seeds for a unique meaty texture.
Words: Olivia Ferguson / Images: Ant Duncan / Art direction: Corrie Heal / Prop styling: Morag Faquar / Food styling: Lottie Covell