The properly perfect panettone
For food product editor April Preston, our new Collection chocolate, orange and cranberry panettone infused with zesty orange liqueur is the ultimate Christmas treat. "It's got all the flavours of Christmas in one product," she says. "There are five toppings – chocolate, cranberries, caramelised orange, almonds and hazelnuts." Pick one up in our Foodhall and serve toasted with a coffee, or alongside a glass of prosecco. And if you've got leftovers? "Fry it in butter and serve with ice cream," says April.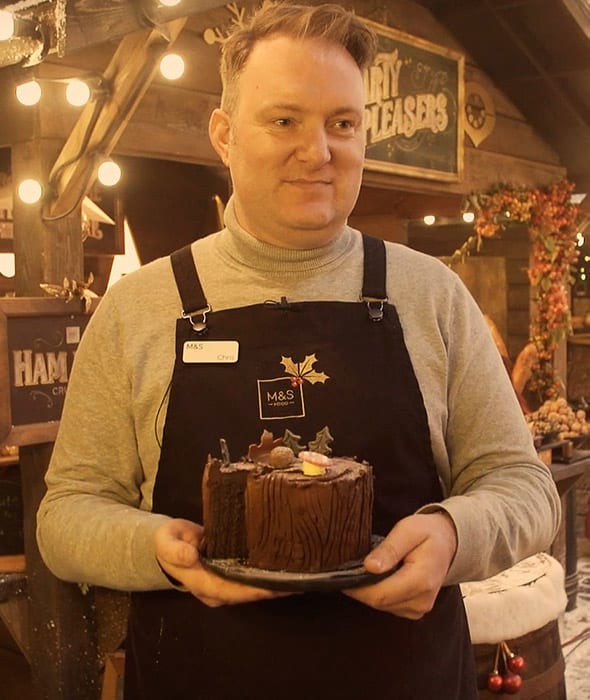 The magical Christmas yule log
"I'm just one of quite a few people helping to make Christmas really delicious for our customers this year," says head of food product development Chris Seaby. One of his favourite new festive creations is our woodland yule log cake: a traditional Christmas yule log reimagined in glorious cake form. "Five delicious layers of sponge with chocolate ganache, all decorated by hand – it's absolutely stunning," he says. For Chris, it's all about the little hacks that make Christmas easier. Running out of space in the fridge? "Fill a bucket with cold water and pop it outside the back door to keep all your Christmas drinks cool. That means there's plenty of space to store your turkey – and all your tasty Christmas desserts," he says.
The party-starting Christmas gin
It's a tough job but someone's got to do it – Jenny Rea is M&S's drinks product developer. "We've got lots of new and exciting drinks this Christmas," she says. "One of my favourites is our Christmas gin. It's exclusive to Marks & Spencer – we've worked with Hamish, the distiller at the Old Curiosity Distillery in Edinburgh to create this unique blend, and it is absolutely heavenly. We spent a lot of time getting the balance right – not too much cardamom, not too much cinnamon – for me, it's just a fantastic winter-warming gin. This year, we've even put it into cute 5cl bottles with added hangers, so they make perfect Christmas decorations to put on your tree. I'm going to use these instead of crackers on my Christmas table this year – it'll be far more fun."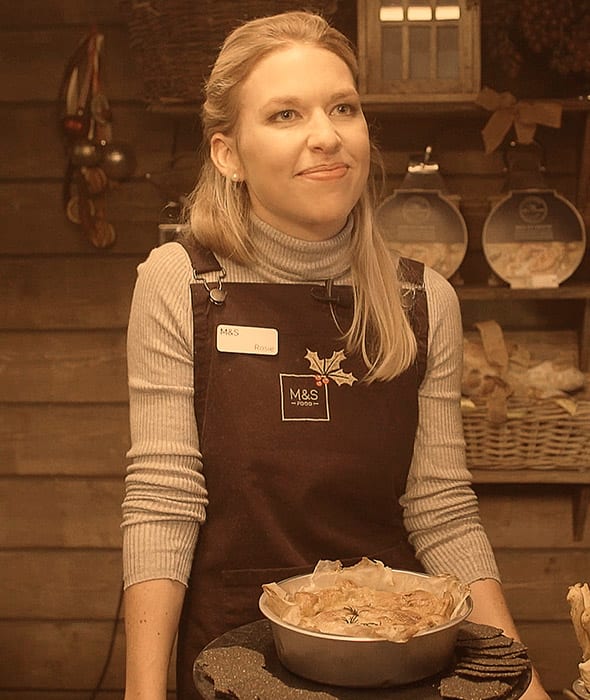 The foolproof festive roast
As a product developer in our food team, Rosie Eiduks is the person responsible for looking after all your Christmas main dishes, from turkey to trimmings. "But what I'm really excited about this year is our roast sirloin of beef," she says. "It's gorgeous – and foolproof. We've designed it to make sure the beef cooks to absolute perfection – medium rare and beautifully succulent. We age the beef for 30 days so it's juicy and tender." And the secret ingredient? "The roast beef butter on top," says Rosie. These irresistible flavoured butters, enriched with beef dripping, mean the meat self-bastes as it cooks. "As well as an alternative for Christmas day, this is a dish to be enjoyed throughout the festive season," she says.
The please-everyone pudding
Katy Patino is a food product developer looking after cakes, puddings, mince pies and all chocolate, meaning Christmas is a very busy time. "There are so many favourites this year," she says. "But my top pick has to be our sticky toffee Christmas pudding. It really is the dessert for people who don't like traditional Christmas pudding – if they exist! It's made with dates, fruit, fudge pieces and pecans, and comes with a sticky toffee sauce that goes all over the top – it's delicious, and so easy to just reheat yourself." Got leftovers? Try crumbling through ice cream before stirring thoroughly and refreezing.