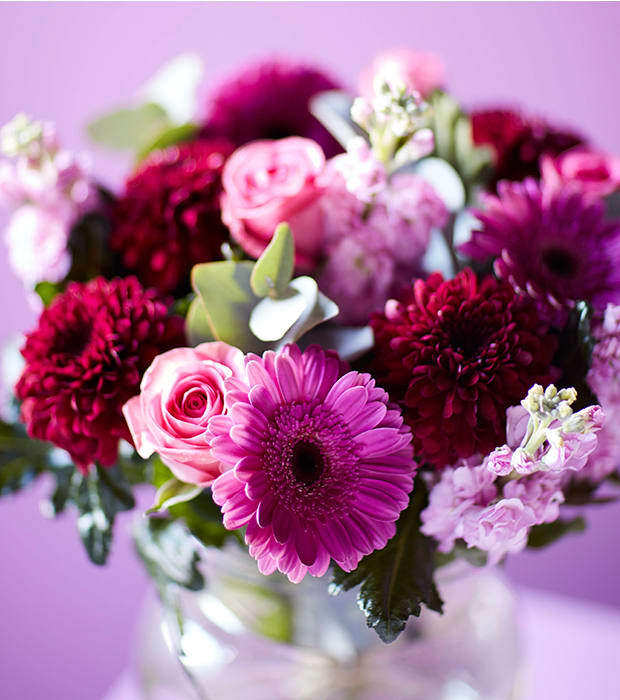 Flowers have a language all of their own, which means you can find exactly the right words to tell your mum how much she means to you this Mother's Day with our beautiful bouquets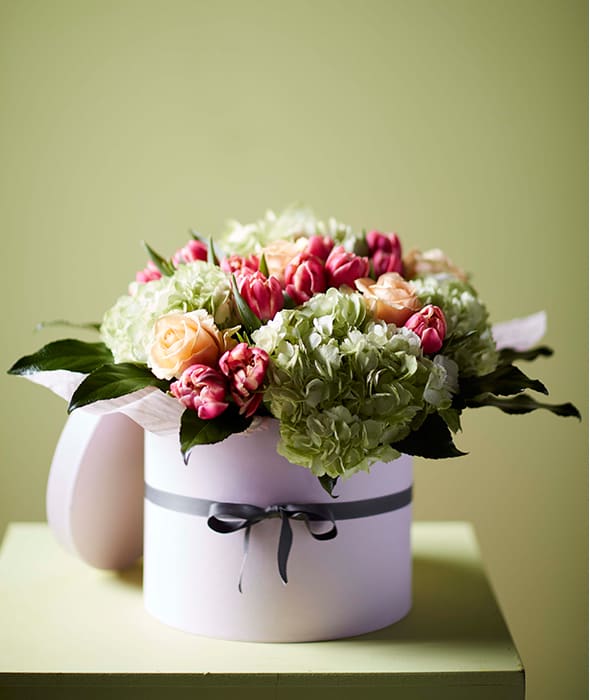 You want to say: "Thank you"
It's easy to forget to say thank you to the people you speak to most often, like your mum, which is why Mother's Day is a great opportunity to send flowers that say just that. Let your bouquet do the talking with our soft pink arrangement () of sweet British stocks, which stand for affection and lasting beauty; vibrant pink roses for admiration and gratitude; and bright gerberas for cheerfulness.
If your mum appreciates a touch of luxury, send her our show-stopping hat box () overflowing with fat clusters of cream hydrangeas, which were traditionally sent as an expression of thanks, frilly Dutch tulips for love and peach roses for appreciation.
Flowers fact: In 17th-century Holland, tulips were more valuable than gold and, during the so-called Tulip Mania of 1630, were used as a form of currency – so you can tell your mum that her blooms are even better than jewellery.
You want to say: "I care"
It's no secret that brightly coloured blooms can be a mood booster, and there's nothing sunnier than our radiant yellow and orange bouquet.
Full of feathery chrysanthemums, which traditionally mean fidelity and joy, yellow roses for exuberance and friendship, and zingy orange roses and ranunculus for energy and charm, it's a struggle not to smile around this bunch.
Flowers fact: Chrysanthemums (or 'mums') were a favourite flower of Chinese nobility and are used to bring happiness and laughter to the home in feng shui. As well as bringing your mum good karma, they're the longest-lasting cut flower and can bloom for up to two weeks.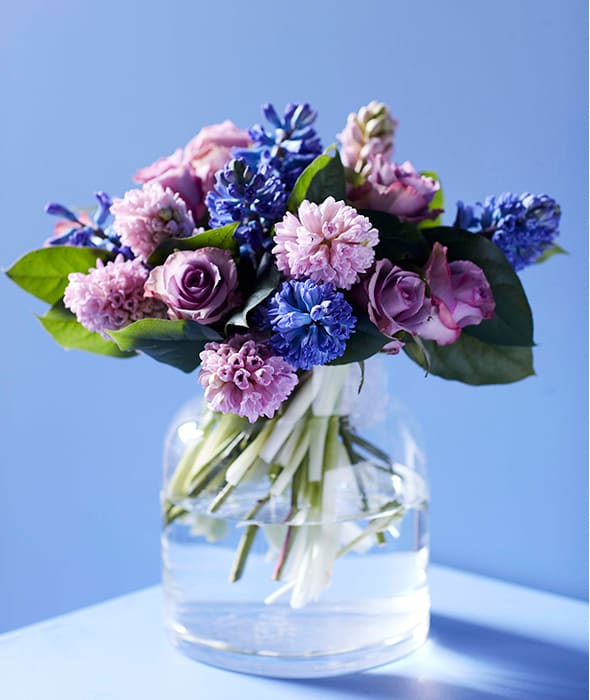 You want to say: "Love you forever"
It's unsurprising that blue and purple flowers are often seen as mysterious, because finding a true blue shade in nature is near-impossible. It's a little ironic, then, that indigo blue flowers are also associated with constancy and consistency, from violets for faithfulness to the humble and aptly named forget-me-not.
The bunch to really show mum you're thinking of her? Our lush arrangement of heavily scented Delft blue and fondant pink hyacinths and a variety of lilac rose called Memory Lane. Don't forget to add your own personalised message to your bouquet.
Flowers fact: Roses are seen as the official flower of everlasting love, but you should pay careful attention to the colours you choose, because there's a rose to say anything – and while a red rose is the universally acknowledged symbol for love, it can also mean courage and respect, congratulations or a job well done.