MEET THE JET-SET
STYLE SET
With jobs that take them on countless trips every year, it's no wonder these jet-setting women have some top advice for what to wear on holiday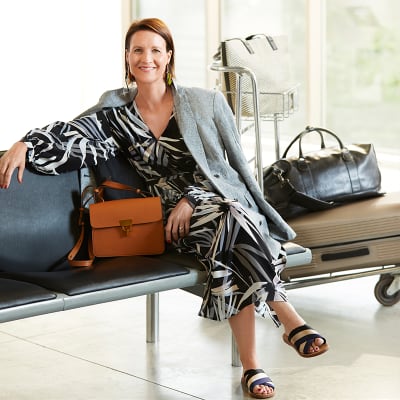 Fiona Clark
Womenswear design lead at Marks and Spencer
"I travel frequently to Europe and further afield for work, visiting trade fairs and suppliers for research and inspiration. To keep cool in the sun, I opt for natural, breathable fabrics like cotton or linen in white and ecru. A wide-brimmed hat is an absolute travel essential in hot climates.
"This silk dress is easy to wear and super versatile – it could be worn as a beach cover-up, for everyday wear or dressed up for dinner. In fact, it will be perfect for my upcoming work trip to Ibiza. My top tip for looking glamorous even when it's hot is to accessorise: stacked bracelets or statement earrings transform even the plainest sundress or kaftan. My current favourites are made of wood, Perspex or raffia."
Most memorable destination:
Vancouver Island, Canada
Shop the look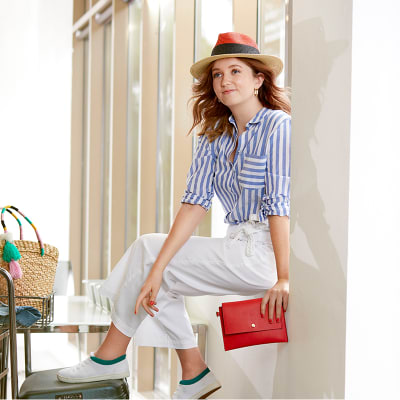 Chelsea Dickenson
Radio producer and YouTuber at How Many Holidays
"My friends call me 'Chelsea Travel' because I am known for finding great holiday deals. At the end of 2016, I read an article that said the average Brit spends £3,418 on holidays a year, and thought, 'I bet I could do 10 holidays for half that price.' What began as a bit of fun became a real job once the press picked up on it.
"Learning to pack the right way has helped me to look stylish when I'm away – rolling is a brilliant way to avoid creases. These white jeans are well cut and easy to dress up or down with a shirt and statement jewellery. A striped shirt is a warm-weather essential. Throw it over a bikini and it doubles as a beach cover-up, or tuck into high-waisted jeans like these with heels and you've got a going-out look for evening."
Most memorable destination:
Gdansk, Poland

India Dowley
Editor at SUITCASE Magazine
"I'm often on the road to scout out emerging destinations to share with our readers before everyone else gets wind of them. I could be checking out a new agriturismo in Tuscany, finding the best street food in Austin or dancing until dawn at a festival in the Bulgarian mountains.
"Loose-fitting dresses are my go-to because you can chuck them on with a big pair of sunglasses and you're done – ideal when you have a tight schedule and early starts. I also prefer long dresses because I can't stand having bare legs on a plane or bus seat. Jumpsuits are my other failsafe for the same reason."
Most memorable destination:
Transylvania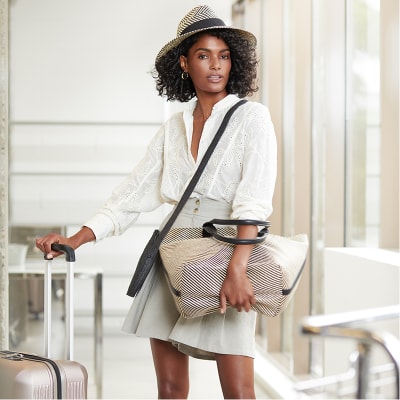 Nadia Araujo
Model
"I'm signed with agencies in London, Milan, Paris and New York, and work with clients all over the world. I live between New York and London and travel every two days. I visit the States almost every week – in fact, I have a flight to New York after this shoot, and then tomorrow I'm headed to Los Angeles, followed by Miami!
"I always make sure to pack a lightweight cover-up for protecting my skin against the sun when I'm wearing a camisole top, but also for keeping me warm when I'm flying. I have a lovely Marks & Spencer cashmere scarf for travelling – it works for summer or winter as it is so light."
Most memorable destination:
Singapore

Ruby Peng
Travel blogger
"I started backpacking seriously after I left university – the more I travelled, the more I realised that it doesn't always need to be expensive. I travelled a lot through finding voluntary work through a website called Workaway and started to document my journey online. My career took off from there.
"Now I mostly travel within Europe – Italy, France and Spain are my favourite places thanks to the warm climates. I love lightweight, summery dresses with a holiday vibe; outfits that can roll up small in my carry-on but look stylish in a picturesque setting."
Most memorable destination:
Cinque Terre, Italy
Editor: Dulcie Emerson / Creative director: Nicola Rose / Stylist: Chloe Forde / Photographer: Robert Fairer
Hair stylist: Ben Cooke / Make-up artist: Karina Constantine