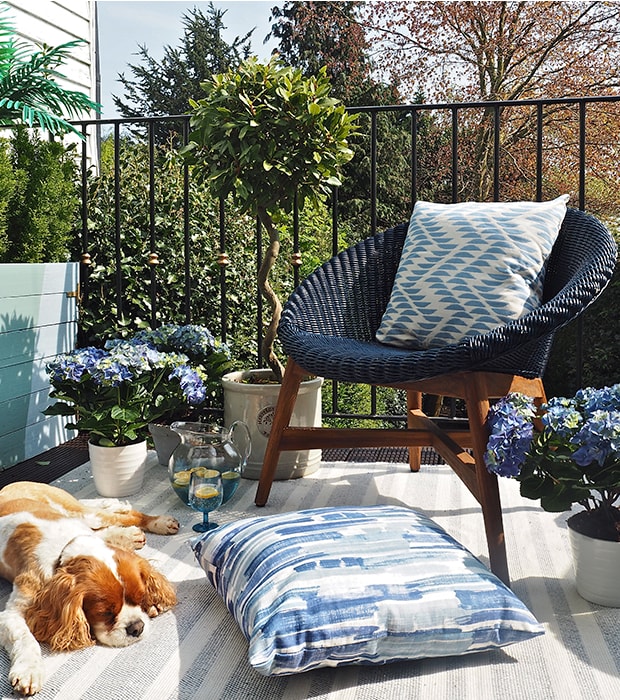 OUTDOOR
LIVING FOR
SMALL SPACES
Blogger and design consultant Melanie Lissack @melanielissackinteriors reveals her perfect M&S picks to make your outside space shine, whatever its size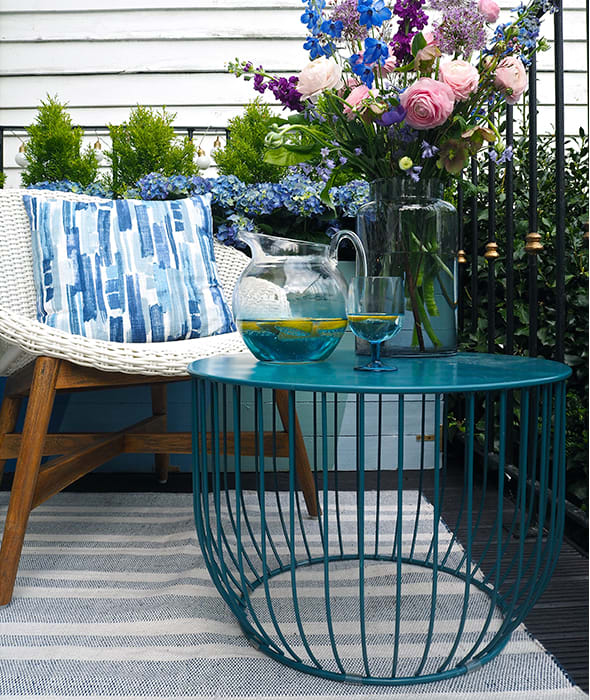 "I have a small balcony that's an absolute sun trap, and this year I wanted the area to be an extension of my living room.
"If, like me, you only have a small outdoor space, then single furniture items work better than sofas as they allow more free space around them. I love this blue Capri chair with teak legs [], as it gives such a stylish, mid-century-modern look. The rattan seat is spacious and great for lounging back in. As well as blue, this chair is also available in white [] and an on-trend sandy 'greige' (grey and beige).
"If the weather takes a turn for the worse (not unlikely, let's be honest), then I have no issues bringing in my Capri chair. Rather than looking like garden furniture stored at the end of my living room, it looks elegant and contemporary and complements my room scheme perfectly."
"In the summer I often sit here with friends having a glass of wine in the evening, so it's important that the space has somewhere to place drinks and snacks. This Lois coffee table is the perfect size and can be used inside and out as it has a powder-coated metal finish for durability. It's sturdy, but the see-through base means that it doesn't feel overly chunky or dominating in a small area.
"Melamine items are perfect for outdoors, where a sudden breeze could easily knock over and smash regular glass. I couldn't resist these ombré picnic wine glasses and ombré picnic jug, which tie in with the rest of my blue outdoor scheme."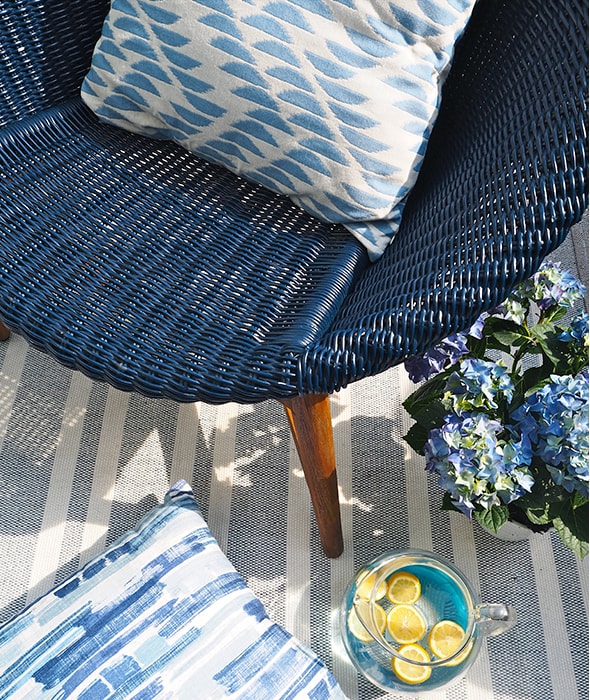 "The key to bringing the inside out is to make the outdoor area feel as cosy and homely as possible. Layering the space with textiles like cushions and rugs is the perfect way to create this effect. This striped indoor/outdoor rug is great value at £59 [for the medium size] and is much more comforting on the feet than the deck boards underneath it. My dog absolutely loves it and will sunbathe on it all day!
"On my balcony, I've used the crescent chevron cushion and the abstract striped cushion, both of which are under £20. I can transfer them from my sofa to my balcony as I require.
"I'm delighted with my extended living room. It really does feel like we've lengthened the space with an outside area. Plus if there are a few awful weather days this summer, or if I need a couple of extra seats for guests, I know I can bring in the garden furniture and it will fit indoors perfectly."