"I'M STILL HERE
AND I'M STILL SMILING"
This October, M&S is helping to fund breast-cancer research by donating 20% of selected pink product sales to Breast Cancer Now. Meet the duos behind our campaign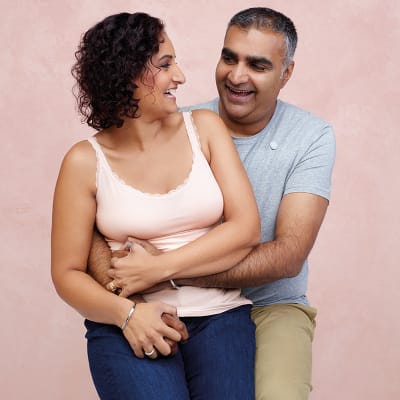 SAL AND GURVEER
Husband and wife from Hillingdon, London. Sal was diagnosed with breast cancer five years ago. She is currently undergoing investigations following the discovery of a new suspicious lesion.
Sal: "It was a shock when I discovered a large lump in my breast; straight away I knew something was wrong. I had chemotherapy, radiotherapy and a lumpectomy. Our two sons were so young that I didn't tell them everything initially, but once my hair started to fall out I explained that soon Mummy was going to lose her hair, but she'd look like a superhero. I found it very hard during bad chemo weeks when I couldn't spend time with them. Breast cancer completely changed my outlook on life. Going for a walk, I can feel the grass under my feet and the sun on my face like never before."
Gurveer: "I went into overdrive when Sal was ill – I just wanted to make sure everyone kept going, and Sal had the support she needed. Sal doesn't realise how strong she is, staying positive for herself and everyone around her. She has always picked herself up and lived life to the max."
REBECCA AND TOM
Partners from Lichfield, Staffordshire. Rebecca was diagnosed with breast cancer in 2017.
Rebecca: "Tom and I met while working on cruise ships – he worked in sport and I was an entertainer. Six months into our relationship, I fell pregnant – it was unexpected but Tom stood by me, and after I came off the ship I had a beautiful boy called Jimmy. When I noticed a hard mass in my breast I thought it might be related to breastfeeding. However I was sent for a biopsy and doctors discovered I had an aggressive grade three breast cancer, which had spread to my lymph nodes. I've had a single mastectomy and radiotherapy, and will be having a second mastectomy within the next six months. Tom has been great during treatment, and our relationship is definitely stronger as a result."
Tom: "Rebecca was the first person I met as I walked up the gangway of the Queen Mary 2 in 2015, and although we started as friends, eventually we became a couple. Becky's diagnosis and treatment has been incredibly worrying and scary, but we've faced the challenge together. I cannot believe how strong Becky has been and I'm so proud of her."

ZOE AND LOIS
Mother and daughter from St Albans, Hertfordshire. Zoe was diagnosed with breast cancer in 2018.
Zoe: "I grew up very aware of breast cancer. It ripped through my family and took my mum when I was four years old, then my sister when she was 60. I'm on a familial breast-screening programme, and receive annual mammograms. It was thanks to this that my breast cancer was discovered, and I had a lumpectomy in May. I'm now in discussion about further risk-reducing surgery. The hardest part of the experience was telling Lois, but she has been a huge support through this whirlwind. I want to raise awareness to other women to check themselves regularly and not make breast cancer a taboo."
Lois: "I trust my mum, so when she told me that it would all be OK because they'd caught her cancer early, I felt reassured. She is amazing; the best mum in the world. Together we want to show that women are strong and you can get better after breast cancer."
SAM AND JASON
Husband and wife from Chester. Sam is living with secondary breast cancer – breast cancer that has spread from the breast to other parts of the body – and receives chemotherapy every three weeks.
Sam: "I'd always exercised and had a healthy lifestyle so I was shocked when I was diagnosed with breast cancer after my GP noticed a tiny flat pimple on my cleavage. While going through treatment all I could do was stay focused on the next point. I have secondary breast cancer, which has been stable for more than two years thanks to regular chemo. Dealing with a life-changing diagnosis like this is a challenge, but you have no other choice than to get on with it. I want to show that you can still live life to the full. Jason has been a huge support, always making sure I have nice things in the diary to look forward to. We recently came back from a surprise holiday to California – Jason is my tourist guide now!"
Jason: "Sam's illness completely changed our priorities – work no longer dominates, we have more important things to focus on. What we've dealt with in the past few years serves as a stark reminder that you should cherish what you have and never take your partner for granted."

KEELI AND MICHELLE
Best friends from Bridgend and Cwmbran, both diagnosed with breast cancer.
Michelle: "We met 10 years ago through work and have been friends ever since. When I was diagnosed with breast cancer in October 2017, I told all my colleagues to check their breasts – if it could happen to me at 42, it could happen to anyone. I've had surgery, chemotherapy and radiotherapy. I'm awaiting further surgery to remove my ovaries and fallopian tubes as a precautionary measure. It's so nice having a friend who's been through a similar experience that you can talk to. I may have had cancer, but cancer hasn't had me – I'm still here and I'm still smiling."
Keeli: "A few months after Michelle urged us all to start checking, I found a lump in my breast. The doctor said it was a cyst but referred me anyway, and in January I was diagnosed with breast cancer. I've had a lumpectomy and radiotherapy. I've heard stories about people who have withdrawn into depression over cancer, but I feel absolutely fantastic. I want to show people it's not the end of the world and you can get through this."
Editor: Sophie Hines / Photographer: Rachell Smith / Stylist: Kara Kyne / Hair and make-up: Lou Box and Linda Johansson