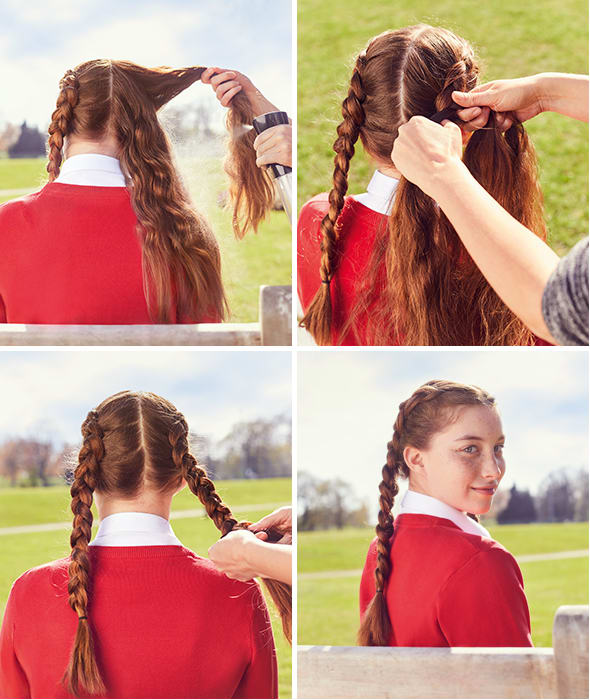 The easy double braid
This classic style, favoured by icons from The Wizard of Oz's Dorothy to singer Katy Perry, has made a comeback in playgrounds across the land. Follow these steps and it'll become a doddle in no time.
1. Make sure hair is tangle free and section it into two halves with a centre parting. Give it a light spritz with water, then apply a little Percy & Reed Perfectly Perfecting Wonder Balm lightly from root to tip. This will prime the hair, ready for plaiting.
2. Select one side and, starting from the top at the parting, take three pieces of hair side by side.
3. Begin to braid, crossing the sections under and adding more hair every time. This needs to be quite tight. Plait all the way down to the bottom.
4. Loosely tie a band at the bottom to secure the braid. Now lower the band by approximately two centimetres and loosen the braid slightly with your fingers, from the bottom to the top, by gently pulling out the plaits as much as desired. This makes them look fuller.
"The CLASSIC double braid
looks good at any age"
The quick fringe-cut
As well as framing their cute little face, a fringe is a low-maintenance style that keeps their hair out of their eyes and simply requires a quick trim every few weeks. Here's how…
1. Section the hair into an upside-down V shape and make sure the fringe is brushed and tangle free, ideally with a Tangle Teezer.
2. Tie a thin hairband in the middle of the fringe, creating a mini ponytail. Make sure their chin is parallel to the floor. Lower the hairband so it sits in between the eyebrows.
3. With your non-cutting hand, take your index and middle finger pointing parallel to the floor and flatten the end of the ponytail ().
4. Take the scissors and cut upwards with lots of little cuts to the length you like. The hairband will stop you from going too short. Take out the hairband and brush through the fringe.
"The quick-fix
FRINGE CUT you can
do before school"
Fuss-free hair for boys
Boys' hair styles are just as important. Whether he's going for a Brooklyn Beckham floppy quiff or a subtle variation on the of-the-moment undercut, these tips will ensure his style has edge.
1. Sprinkle some Bumble and Bumble Pret a Powder on the roots. This is a great multi-tasking product – a dry shampoo that also gives a bit of body.
2. Massage in and tease towards the ends, then style as desired.
3. To finish, lightly spray with Philip Kingsley's Instant Beach and let it dry naturally. This will give the hair a cool texture minus the rigidity of gel.
"Add TEXTURE without
the crispiness of gel"