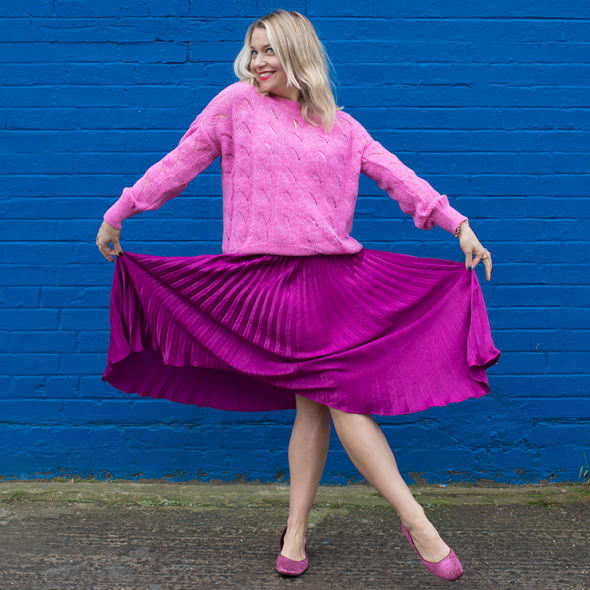 Think pink and party on
"The teal lurex fabric of this dress () reminds me of a Christmas party mermaid – it's so flattering and comfortable. I'm wearing it with velvet platforms and a star bag. I've kept my jewellery simple, but you could glitz it up by adding some statement diamanté earrings."
"Red is so prominent over Christmas, but I love wearing pink on pink (). It's my favourite colour. This is the perfect outfit for a Christmas or New Year's Eve party and makes a change from sequins but without losing any wow factor!
Christmas Day dressing
"I always like to dress up a bit on Christmas Day – even if I'm just at home with my family, I like to make an effort (until about 7pm, when the cashmere tracksuit goes on!) Whatever I wear, it's crucial that it is comfortable and that there's room for expansion/indulgence. I love this navy tiered taffeta swing midi dress, perfect for so many occasions.
"And these shoes make me so happy – I absolutely love them! They're my favourite colour, flat and super comfortable. They're available in other colours and with a heel, but this version has my name all over it."
Ideas for in-between days
"There are always days post-and pre-Christmas and New Year that you need outfits for. A decent pair of jeans is essential, plus a cosy knit – I love the bright red colour of this one and have sized up to make it more of a slouchy style.
"These trainers are for life, not just for Christmas. I absolutely love the glitter stars – they're so fun and make this pair a change from plain white, while still being just as versatile."