WEAR IT YOUR WAY
PARTY-READY MAKEOVERS
Five stars from Team M&S showcase the beauty looks they'll be rocking this Christmas – from wow-worthy curls and a festive red lip to twinkling glitter-lined eyes. Prepare to be dazzled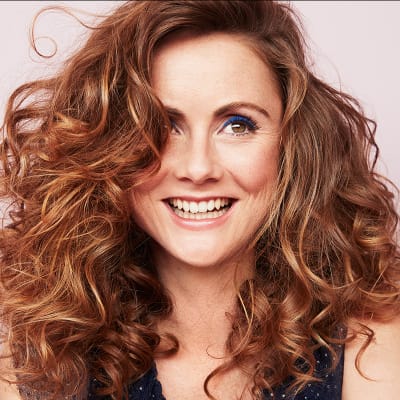 Unleash your curl power
It's hard to believe it but in real life Louisa, 34, has poker-straight locks. "I love big hair, but whenever I've curled it before, it's fallen flat before I leave the house," she laughs. To stop your style from spiralling downhill, follow these golden rules:

1. Skip conditioner when you wash – its glossing agents make hair too silky to hold a curl.

2. Use hair mousse and lots of it (as much as a tennis ball's worth if your hair is long) – it contains alcohol, which is great for boosting grip and hold in

3. Whether you're using a curling wand or styling irons, mist each section with hairspray before curling, then pin up each curl while it's still warm and don't touch until it's cool.

4. To finish, tousle the curls with fingertips and mist with texturising spray, which is lighter than hairspray and won't weigh your style down.
Go for bold
A great red lip is the ultimate accessory for a special occasion. As a lipstick fan already, it didn't take much persuasion to coax Michelle, 50, into this show-stopping shade. "The contrast of a punchy lip colour against my grey hair brings me so much joy. I also love the navy nail colour – it stayed chip-free for a week!"

1. Lipstick never looks as bright on lips as it does in the bullet. To get the truest hue, dab a thin layer of foundation over lips first to tone down their natural colour, then layer your lipstick on top.

2. Long-lasting lipsticks tend to be heavy and drying. Instead go for a rich, pigment-packed formula (the more pigment it has, the less often it needs to be re-applied).

3. To finish, dab a little highlighter over your Cupid's bow to create the illusion of fuller-looking lips.

Smokey eye secrets
"Smokey eyes are my signature going-out look, but wearing the same black and grey shades can get boring," says Kaj, 28. To the rescue: this glamorous metallic khaki eye. "I didn't think khaki would suit me but – wow! It has all the drama of my regular smokey look, but the twist of colour really makes my eyes pop."

1. To get the look, we used Pixi's pigment-packed Endless Silky Eye Pencil in Sage Gold from the lash line up to the eye crease then winged it outwards and upwards to make a classic almond-shaped eye.

2. Make sure your look lasts as long as the party by pressing a similar shade of metallic eyeshadow on top to stop the pencil from sliding.

3. If khaki's not your thing, try experimenting with other rich jewel-like colours. Pixi's eye pencil also comes in deep plum, mulberry and bronze.

Let your natural beauty shine
If, like Sophie, 49, you're not comfortable wearing lots of make-up, but want to up the ante for a party, a pretty pop of colour on lips and cheeks is an easy win. "This is perfect for me – it looks classic and timeless and most importantly I still feel like me," she says.

1. To get Sophie's look, we used Stila's Convertible Colour – a multitasking lipstick and blusher that comes in nine cream shades (including our festive favourite Dahlia – a universally flattering berry colour).

2. Layer the colour to your preferred intensity with fingertips over lips, then pat any residue leftover on to cheeks – the warmth of your fingers will blend it to a natural fresh flush.

3. To balance the look, curl lashes and brush through with a sweep of mascara. Spend a little extra time on the outer lashes for a subtle wide-eye effect.

Glitter eyes to mesmerise
Love showstopping make-up but don't know how to achieve it? Fear not: this glitter-bomb eyelid guarantees to dazzle and takes mere minutes to achieve – just ask Alysia, 25. "I've always thought glitter eyeshadow was messy and difficult to work with, but this look is totally doable and it doesn't budge. I'm converted."

1. Forget loose glitter pots – instead, get involved with Stila's Glitter & Glow Liquid Eye Shadows which apply like a lip gloss (but have a non-sticky feel – phew!) and lavish lids in a serious amount of sparkle that doesn't fall out or make a mess.

2. Take your pick from nine sparkling shades – we layered Kitten Karma over lids and traced Alysia's lash line with Diamond Dust for an eyeliner-effect.

3. You can apply these straight to skin, or for extra wow-factor layer over eyeshadow to supercharge the glitter's colour and pizazz.