LUXE FOR LESS: THE MEN'S EDIT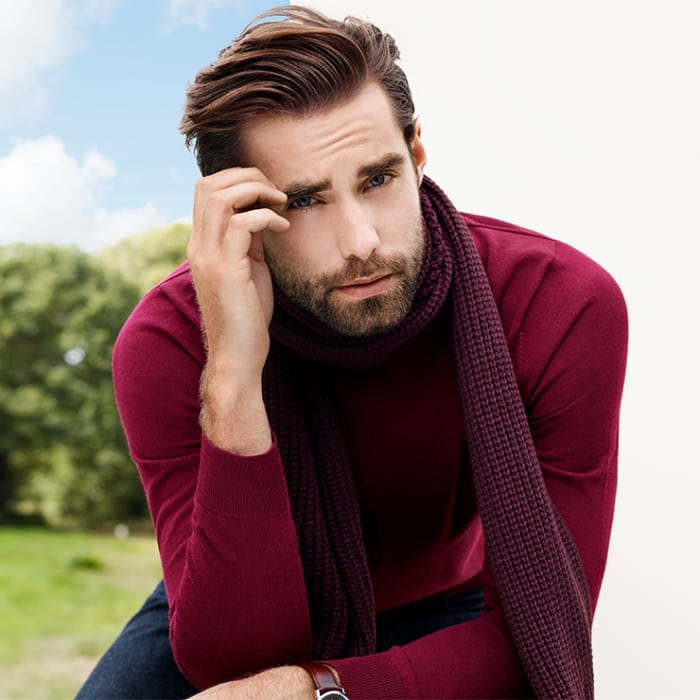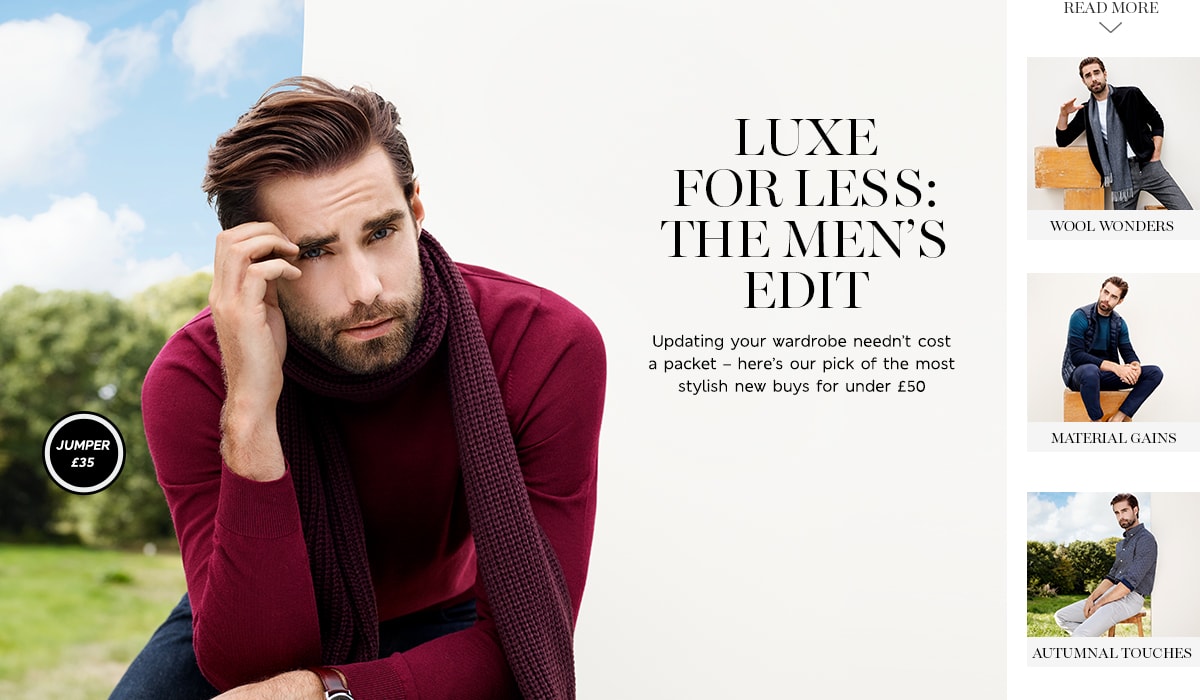 Updating your wardrobe needn't cost a packet – here's our pick of the most stylish new buys for under £50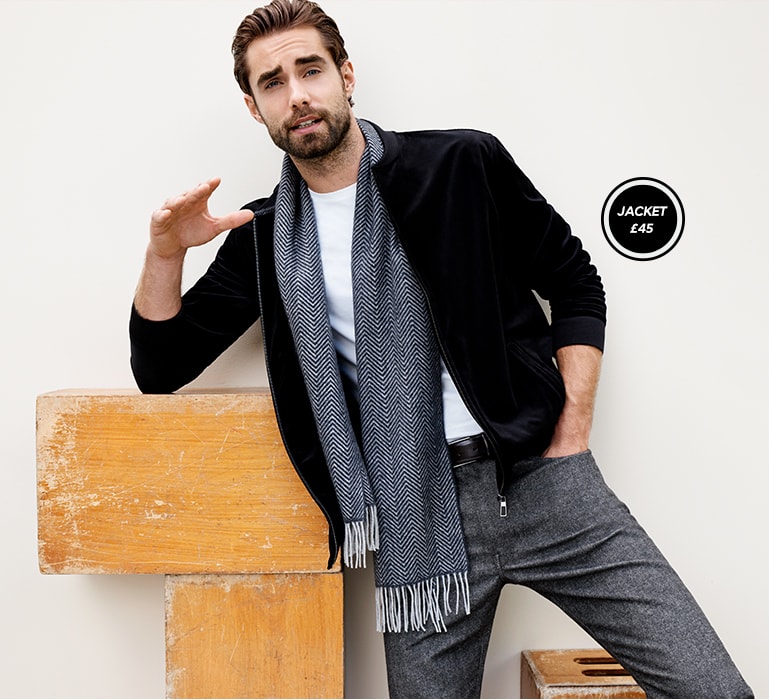 Pick up premium wools
Luxury wool without the hefty price-tag? You got it. This crew-neck knit () is made from beautiful pure extra-fine merino wool, giving you a touch of indulgence every day, especially as it can be chucked in the washing machine. Go tone-on-tone with your scarf for a punchy all over look – at these prices, it's the only red you'll be in this season.
While the plush velvet bomber jacket is one of the rockier pieces that can do day and night with equal panache, it's the pure cashmere scarf that is the star of the show (). The beautiful herringbone is a classic pattern so will go with everything, while the quality is unbeatable for the money. We've also rather generously made it even wider this season, making it truly a scarf and a half.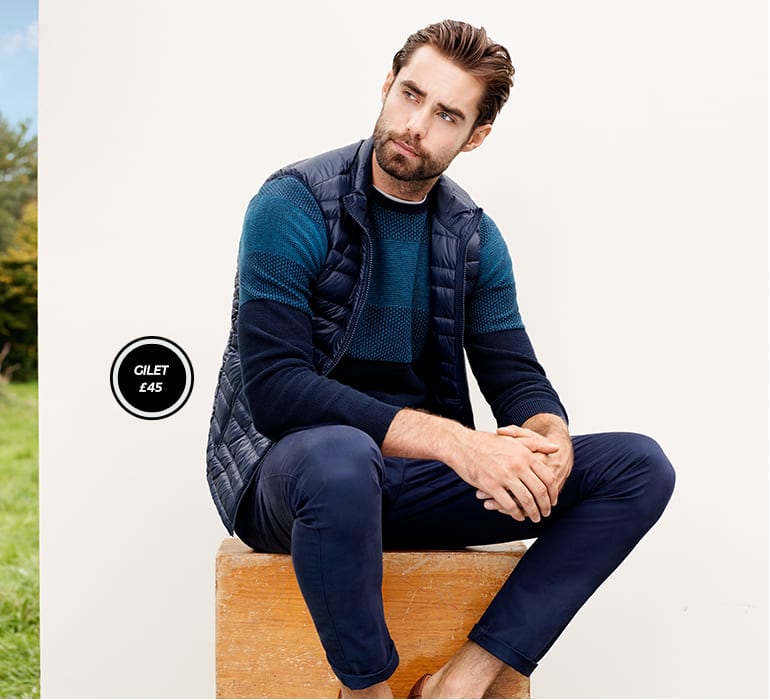 Living in a material world
Whether it's the feel of our super-soft jumper or the weight of our selvedge denim, get your hands on these pieces and you'll know we've done things properly. The chunky roll and the cosy rib texture of this comfy sweater () is ideal for winter while the silky smooth touch of the material makes it dead easy to wear every day. Selvedge denim is the crème de la crème of the jeans world. Look out for the tape on the internal seam – it's the sign your jeans are the real deal so turn them up to show it off. Full leather trainers are their perfect sports-luxe companion.
A gilet is a gilet is a gilet, right? Well not where our down and feather ones are concerned. We've refined this design () over and over to bring you high-performance lightweight warmth (700 fill power, fact fans) and water-resistant technology at a price that makes it a no brainer.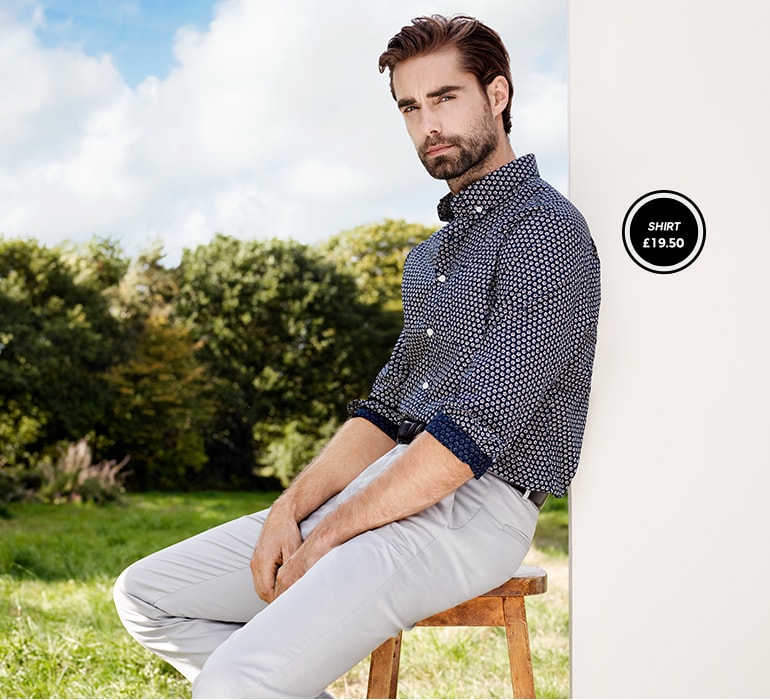 Fall for autumnal touches
Now summer is a dim and distant memory, it's time to jump two-footed into the new season. The easiest way to get all autumnal is to base your look on the natural tones you see all around you – think mossy greens, deep chestnut browns and rich rusty oranges. This particular knit () also happens to have the neckline of the moment: high neck, half roll – whatever you call it, it's a happy medium between a turtle and a crew. A saffiano-textured bag also looks the part.
But it doesn't stop at colour – print also comes into play. Take this long-sleeved shirt (). At first glance a jolly repeat pattern, but look closer and the print is of lots of little leaves gently tumbling to the ground. How seasonally appropriate.