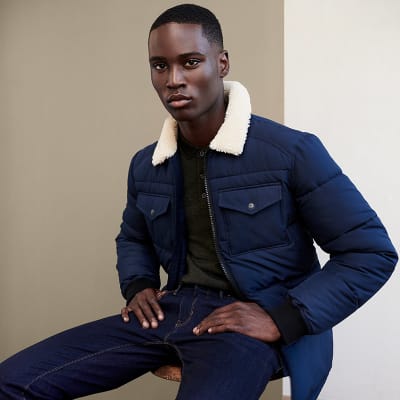 The big trend: borg
We know how to make a warm coat – more of that later – but this season's biggest coat trend only adds to the toastiness. Borg, the fleece-like material our model Edge is enjoying the benefits of here, pops up as linings and collars on some of our favourite jackets and coats. Think of it as a handy bit of extra warmth while keeping everything lightweight. This particular style stands out owing to its punchy pale contrast tone, which gives an icy look to the cool navy body. A fine fleece indeed.
BRILLIANT BORG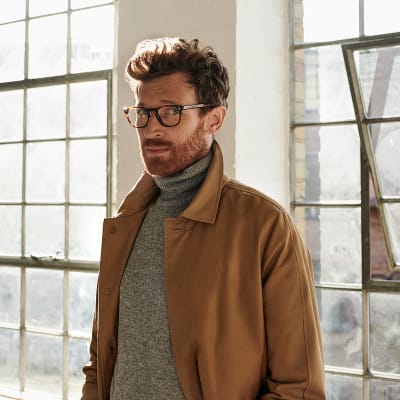 The transitional trend: macs
Is this the return of the mac? Or did it never go away? The smart option for work and nights out, and perfect for that tricky period of the year between warm afternoons and Baltic mornings, the mac should be your first port of call when the weather gets a bit wet and wild. With our Stormwear water-repellent finish, you'll be protected from the elements, while extra padding on some styles means you can move through the season as sharp as you started it. Pop the collar and off you go.

The tech to know: padded jackets
When you're investing in a coat or jacket to protect you against the elements, you want to know it's got your back. We've upped our game this season with our most advanced insulation ever: Thermowarmth has been added to these padded jackets, giving superior warmth but without the weight or increased price tag. This style also has a clever double front zip for extra wind and cold protection, and a slimmer fit, so you don't feel like you're having to wrestle with a sleeping bag all day long. What's more, we've given each of our padded styles our water-repellent Stormwear finish, meaning raindrops just glide off, keeping you stylishly warm and dry.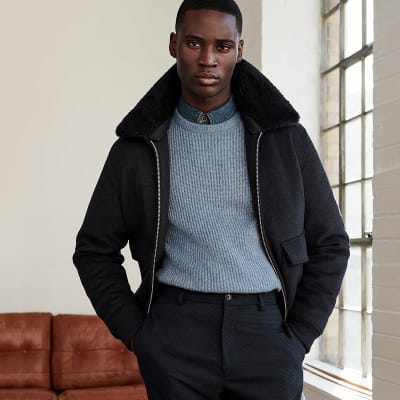 The trend that's not going away: bomber jackets
While not exactly new news, the bomber jacket's popularity goes from strength to strength as more guys get to grips with its effortless feel and effective lightweight layering. Born from a practical military style, our designers have been playing with the look this season, cutting them in new materials to give them a modern and sometimes unexpected edge. Parachute-esque polyester reinforces its heritage, while soft leather and brushed wools bring a sense of understated luxury to this now perennial favourite.

The ultimate weather-beater: the parka
When the wintry weather really starts to bite, you're going to need a bigger coat. And there's nothing better than this parka for fending off Jack Frost – a detachable animal-friendly fur collar gives a dramatic extra barrier against the cold while also boasting our super-effective Thermowarmth insulation, our water-repellent finish and a ripstop fabric which make it ready for pretty much anything you can throw at it. Four fine colourways – including a fetching urban camouflage pattern – mean you're sure to find one to suit your style.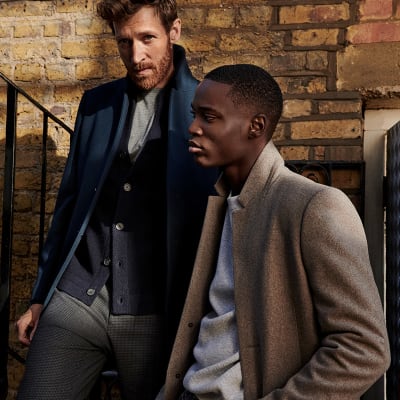 The goes-with-anything trend: smart wool coats
While the outerwear we've covered thus far is strong and stylish in its own right, there really is only one coat that is a genuine all-rounder: the smart overcoat. While it may look formal – and it'll certainly look the part over your suit for work or dinner jacket for a winter black-tie event – giving this smart option a new lease of life is a doddle. Style is often about contrasts, so these woolly designs work best with super-casual pieces: think a sweatshirt or hoodie, skinny jeans, retro trainers and a beanie for a look that screams you know what you're doing.
Words: Ian Wright / Styling: Richard Pierce / Grooming: Tim Pateman / Models: Edge and Oliver at Select