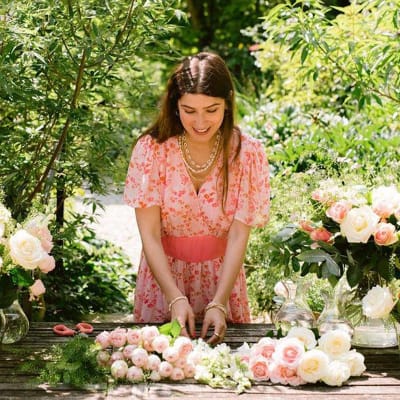 Meet Rowan Blossom
For me, there is nothing more joyful than receiving a delivery of beautiful fresh blooms and, of course, the beauty of so many of the M&S bouquets is that they come arranged and ready to pop straight into a vase. However, if you really want to get the best out of your flowers, follow my simple tips and tricks to arrange like a pro!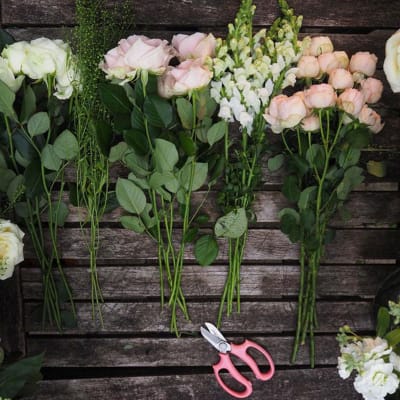 Step 1: get prepped
Start by removing any packaging, making sure you keep hold of the sachet of flower food to add to your vase, and unfurl your blooms. Carefully dismantle the bouquet and lay all the stems out on your work surface. Keep each type of flower grouped together.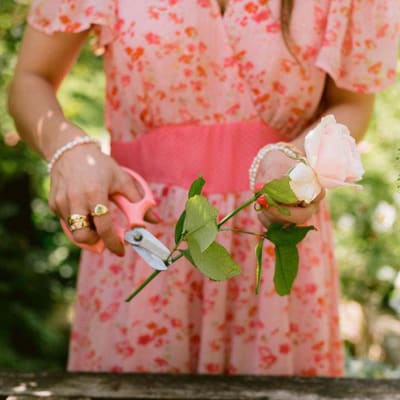 Step 2: condition and trim
Next we need to condition our stems. Conditioning is a floristry term that basically means preparing the stems for arranging, and you do this by removing any little bits of foliage, thorns and leaves from the stem that would otherwise sit beneath the water in your vase. It encourages a healthy stem and will help give a longer vase life to your bloom. Cut your stems on a nice sharp angle, taking at least 2cm off each time (but this will vary depending on the height of your vase). Cutting on an angle is essential, as it ensures the stem will be able to drink the water successfully, helping to prolong the vase life of the bloom.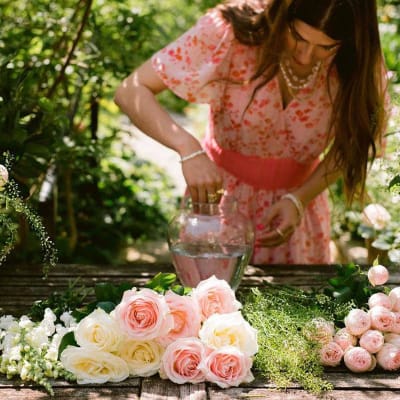 Step 3: find the perfect vase and add filler flowers
Choosing the right vase is essential – anything too tall will dwarf the flowers and not allow the arrangement to sing. For this bouquet, I use the small urn vase as I love the rounded curves that will help give a lovely full shape to the arrangement and complement the round heads of the roses. I like to work with a rule of thirds: one-third should be the vase, two-thirds will be the flowers and foliage that make up your arrangement.
Now add your filler flowers, in this case spray roses, which are blooms that help add prettiness, fullness and structure to your arrangement but are not the stars of the show. Place them into the vase at an angle, criss-crossing the stems over each other in the water. This helps create a sturdy structure into which you will place your other flowers.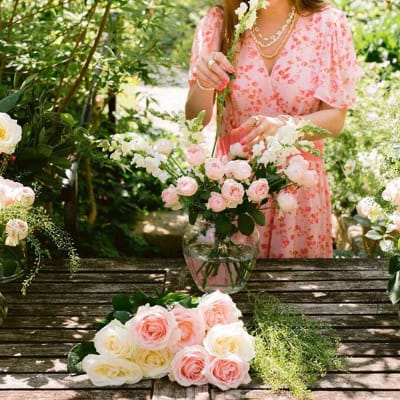 Step 4: add spire flowers
Next add your spire flowers. They are called this because they are stems that add height and elegance to the arrangement. Position these blooms among your filler flowers quite randomly, using their tall lofty stature to add drama to the vase. In the Collection peaches and cream bouquet (pictured), the spire flowers are antirrhinum. Other examples are delphiniums, stocks and foxgloves.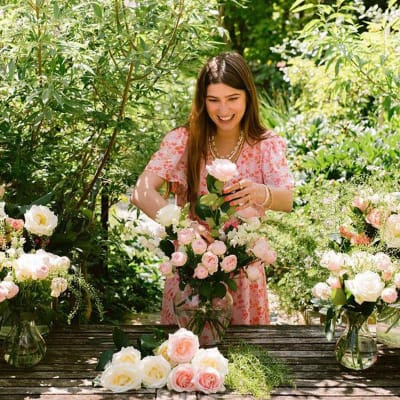 Step 5: add focal flowers
The focal flowers are the stars of the show (or in this case, the stars of the bouquet)! I add the Avalanche roses throughout the arrangement, varying height and position so that they distribute their beauty and really make a statement. Peonies, sunflowers, hydrangeas and lilies are all stunning examples of focal flowers.
Top tip: when arranging, think about where you are going to position your vase. If it is going to be on a shelf or mantelpiece, focus on adding flowers to the front of your vase. If it is going on a kitchen or coffee table, somewhere it will be viewed from all angles, make sure you distribute the blooms throughout so there is something pretty from every viewpoint. I also like to nestle a focal flower in the middle of an arrangement, so it looks gorgeous and full when viewed from above, too!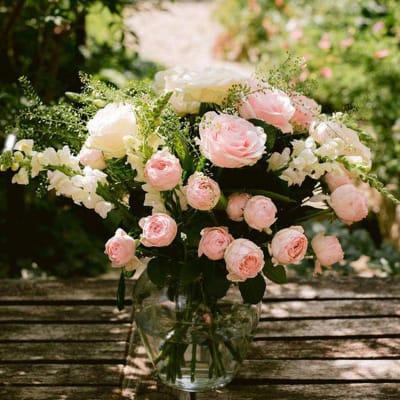 Step 6: the finishing touch
Finally, add your foliage. In this case it's green bell, which is probably one of the daintiest types of foliage available. Because of this, it needs to be added right at the end and treated with care. The frothy texture adds a lightness and softens the arrangement beautifully. All that's left to do is pop your vase into position and make sure you are happy with the overall aesthetic – feel free to make adjustments and give the flowers a little zhuzh!
Discover our full range of stunning blooms online, all with free delivery to your doorstep.
Words: Rowan Blossom / Deputy flowers editor: Olivia Ferguson