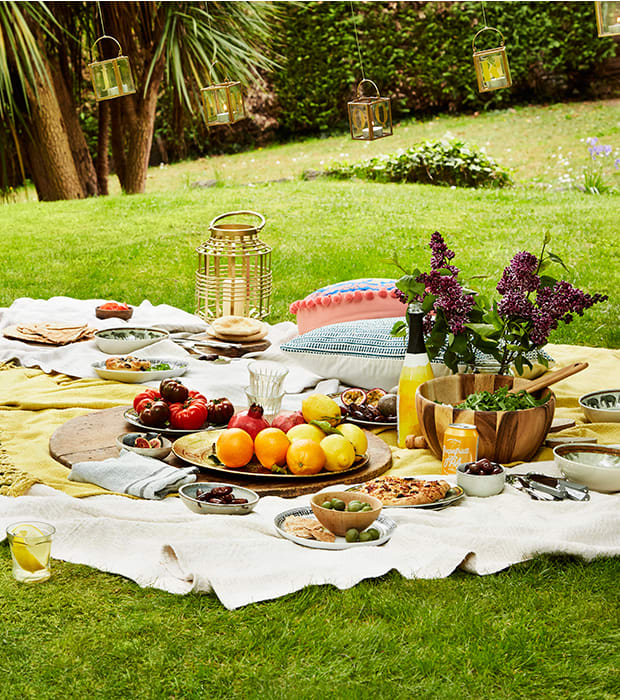 EAT YOUR
WAY AROUND
THE MED
Ready for a flavour adventure? We've travelled the Med to bring you the best picnic picks from Italy, Greece and Turkey. Pack your basket and grab your blanket, because all you need to travel this summer is a knife and fork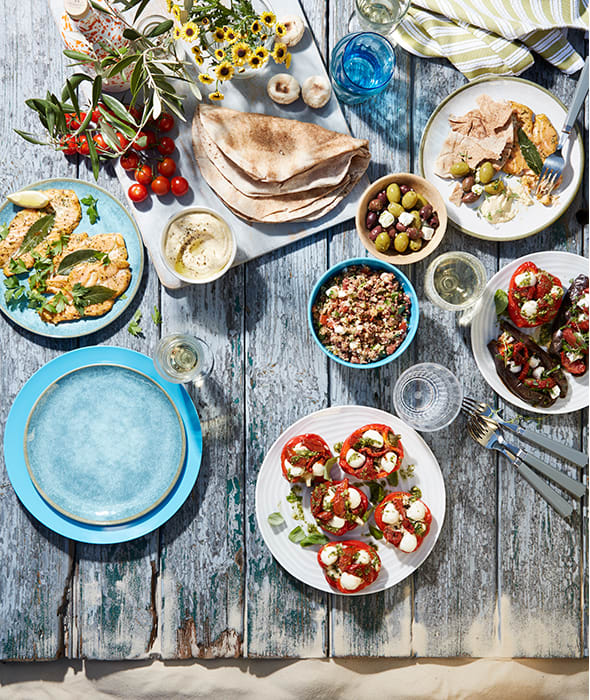 Take me to… a Greek island
Think Greece and you can't help but conjure up scenes of impossibly blue water, fresh seafood sizzling over white-hot charcoal on the beach and bowls of crumbled feta cheese and olives slippery with oil. And it's those sun-soaked, seaside sensibilities that inspired our new range of mezze-style food that's made for weekends spent enjoying the great outdoors.
Pack up the kids, plot a route in the satnav and head for the nearest patch of sunshine with a basket of picnic-ready dishes – our stuffed roasted pepper halves and Mediterranean aubergines filled with semi-dried tomatoes and feta should do the trick.
Grill some of our Greek herb-covered salmon souvlaki flatties before you set off, then serve them wrapped in pitta bread with a slick of houmous alongside a glass of chilled, dry white wine and you could almost pretend you were in Santorini. Almost.
Take me to… the Italian hills
There are certain things Italians just do better – looking glamorous on a Vespa is an obvious example. But their most glorious trait is the importance they place on the beauty and quality of simple food like perfectly ripe tomatoes, wafer-thin aged prosciutto and crusty, pillow-soft ciabatta.
Spend a lazy afternoon living la dolce vita with a picnic hamper packed with a selection of Italian-inspired fresh produce from our new range. We love the smoky chargrilled pepper, orzo and wheatberry salad and creamy, individual-sized cheesecakes made with ricotta and drenched in honey.
For a real taste of sunshine, try spooning our sweet and spicy caponata with bocconcini mozzarella from our mezze selection over ripe red tomatoes and finish with torn basil and a glug of another Italian staple – excellent olive oil.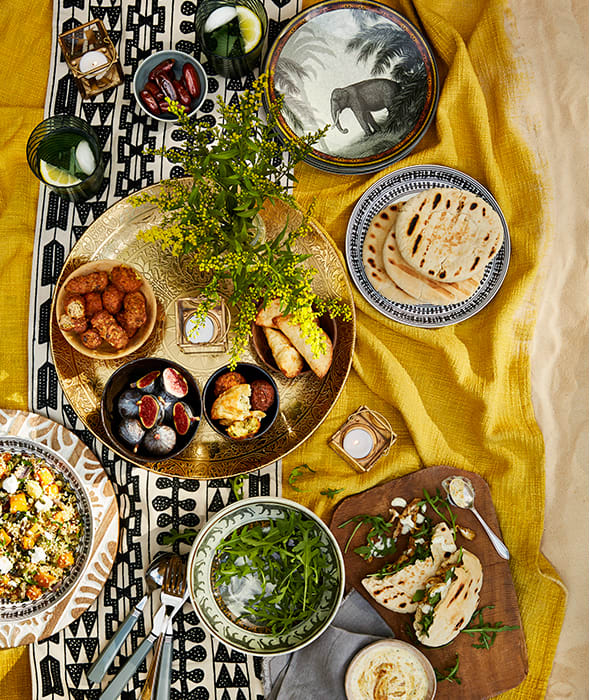 Take me to… a Turkish beach
It's tricky to put your finger on exactly what gives Turkey its edge of eastern Mediterranean mysticism. Maybe it's the penchant for lanterns in wrought copper and old beaten gold or the smell of spices and wood smoke that seems to linger in the air. There's no mystery to the delicious food, though – that's all down to brilliant base ingredients like freshly baked breads, slow-cooked meat and the unique blend of savoury and sweet that runs throughout Turkish cuisine.
Light some tealights and create your own kasbah for an al fresco evening feast by piling up colourful throws and pillows and serving up a spread of bite-sized mezze favourites such as crispy falafels and spice-packed lamb koftas from our new selection.
Make your own shawarma pitta pockets by roasting and shredding our tender, slow-cooked chicken thighs and stuffing into warmed pitta bread before drizzling with the accompanying mango pickle and creamy garlic mayo. For added authenticity, finish with handfuls of ripe figs, sticky dates and fresh mint tea.