Introducing Veggie
Say yes to veg with our new colourful, flavour-packed vegetarian range. Learn more and see a few of our favourite picks below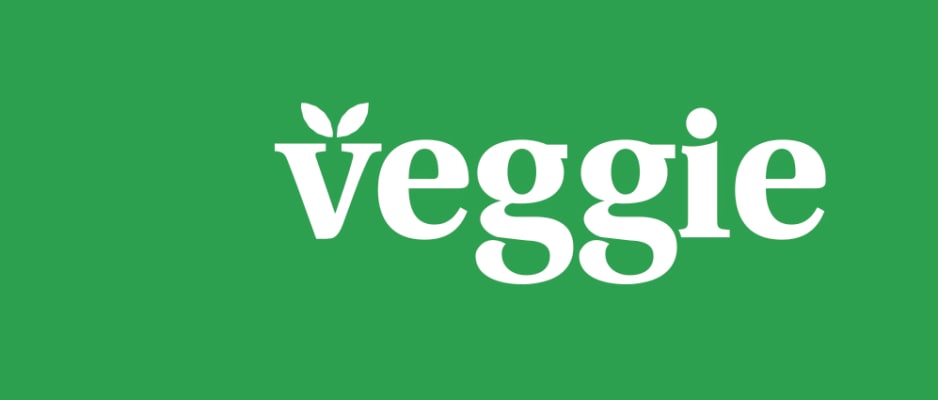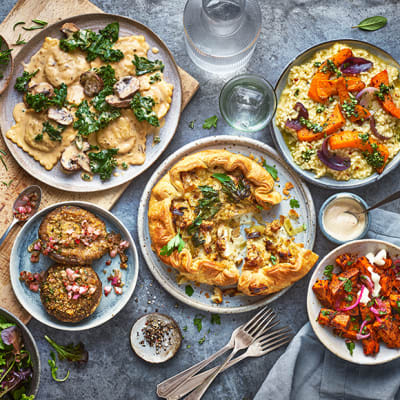 Crowd-pleasing vegetarian dishes
Whether you're vegetarian, flexitarian or simply trying to eat a bit more veg and a little less meat, you'll love our new Veggie range. From vibrant butternut risotto and moreish, cheesy rarebit mushrooms to silky roasted mushroom ravioli and our epic miso-roasted cauliflower and leek pie, discover total veggie heaven in our chilled aisle.
The picture-perfect pie
Craving something comforting? Tuck into our new Veggie cauliflower and leek pie – golden all-butter puff pastry filled with miso and garlic-roasted cauliflower and leeks, mature cheddar, tarragon and a creamy white sauce. Serve it with fresh green vegetables, like steamed Tenderstem® broccoli, green beans or kale.
Discover the full Veggie range in store now.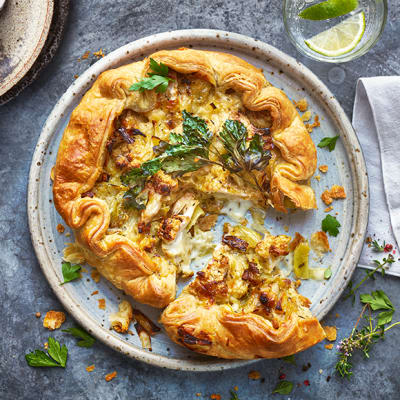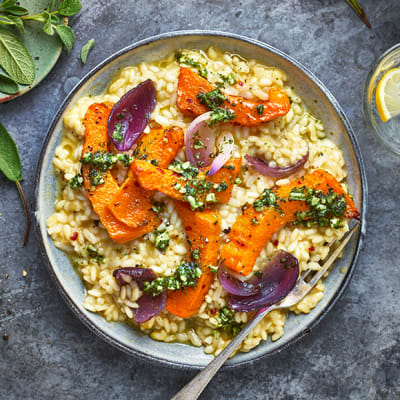 A taste of the Mediterranean
Need a quick midweek meal for one? Try our new Veggie roasted butternut squash risotto. This rich, creamy dish is made with Italian risotto rice, white wine and extra-mature cheddar, and is topped with sweet butternut squash, sage, pecorino and pine kernel pesto.
Explore the Veggie range in our chilled aisle now.
Perfect pasta in a flash
Our serves-one roasted mushroom ravioli tastes amazing on its own or served with a fresh side salad. The fresh egg pasta parcels are filled with mushrooms and mozzarella, coated in an indulgent garlic and cream sauce and topped with kale, roasted mushrooms and regato cheese.
Find the Veggie range in your local store now.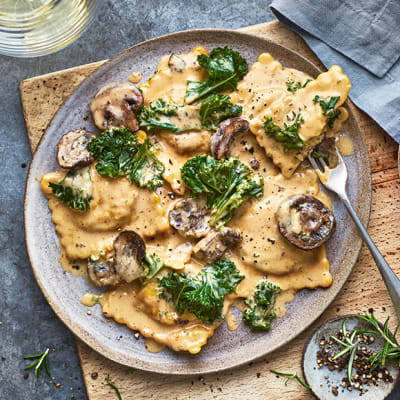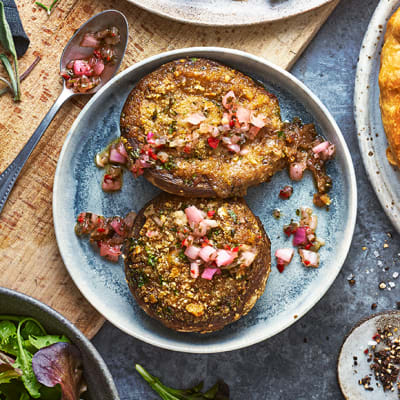 The super cheesy starter
Perfect served as a starter or a side, our new Veggie cheesy rarebits are made from mushrooms filled with mature cheddar and mozzarella, then topped with crispy focaccia breadcrumbs. The finishing touch? A zingy pickled red onion dressing.
Pick up your perfect Veggie meal in store now.
Hot potato!
Add an extra kick to your main meal with our Veggie roasted sweet potato. Spiced, roasted sweet potato and lime-infused red onions are topped with a yogurt, crème fraîche, lime, tahini and chilli dressing. This flavour-packed side dish carries our Eat Well health seal of approval, too.
Discover the full Veggie range in our chilled aisle in store.
Plant Kitchen
Our vegan range, Plant Kitchen, means going plant-based has never tasted so good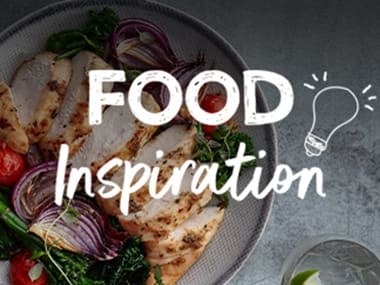 Food inspiration
What's new and wonderful in food right now, plus tips and recipes from our experts and editors