WEAR IT YOUR WAY
PARTYWEAR
Whether you're vying for the post of best-dressed guest or hostess with the mostest this year, five eminently stylish women (who know a thing or two about parties) share their tips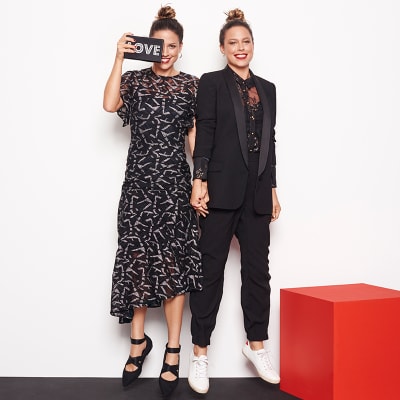 The Collyer Twins show their individual styles in this asymmetric dress and chic tuxedo
"As DJs, we attend many fashion parties and festivals and so our favourite dress code is chilled, so we can get away with wearing trainers," reveals Jordan of the Collyer Twins, bloggers and style influencers.
"We don't raid each other's wardrobes, surprisingly, as we have distinct personal styles – I experiment more than Loanne; her style's more classic," says Jordan. "A tailored look is transitional, so great for a lunch with friends through to a cocktail party.
"We'll be DJing at lots of parties this Christmas so we need comfortable flat shoes for behind the decks." Pointed flats teamed with an asymmetric lace dress (coming soon) tick that box nicely.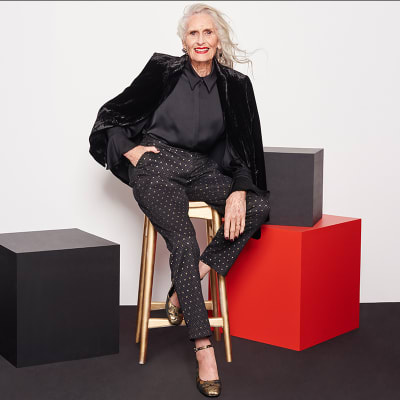 For Daphne Selfe, 89, tailoring in textural fabrics is this winter's look
"People don't dress up enough these days, but I still love to" says Daphne, author of style memoir The Way We Wore and the world's oldest supermodel.
"Unless you're doing desk-to-dinner, there's no excuse for not wearing your best frock, or fabulous trousers with pretty shoes. Add more glitter depending on how serious the occasion is.
"I plan outfits in advance to avoid fussing last-minute, and try them on. Know what suits you, don't wear what everyone else is wearing and look in the mirror!"

With a statement skirt and classic red lipstick, Mouchette Bell is event-ready in no time
"The parties I attend are really varied, from family dos to formals," says Mouchette, a stylist and fashion editor in her late 50s. "I always like to be comfortable but I also like the challenge of dressing up for a set dress code."
"I need a good hour to get ready. I always wear red lipstick: it's like Christmas in a flash, and if I'm hosting I'll wear my hair back. Lipstick and eyebrows are my big thing."
"I like to get everyone together for a dance after a couple of glasses of champagne. I wear heels at the beginning and then kick them off on the dancefloor."

Caroline Winberg, 32, loves putting a twist on the little black dress
Swedish model Caroline doesn't attend as many fashion parties as she used to since having her son Casper – "I don't want to turn up at nursery hungover!" – but still enjoys the company of her best friends at Christmas.
"I'm really into the Nineties' look at the moment: subtle make-up and a simple slip-on dress. I always wear dresses with bare legs, that just feels cooler to me. Or, if it's a more casual occasion, a silk top with jeans and boots.
"We Swedes know how to party, I'm definitely not a wallflower and Casper follows in my footsteps: he loves to dance. These days, some of the parties I take him to are fancier than mine!"