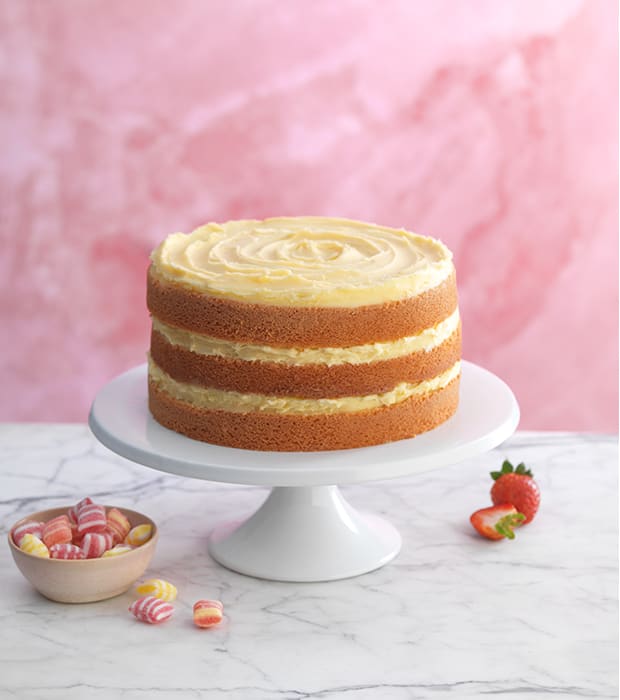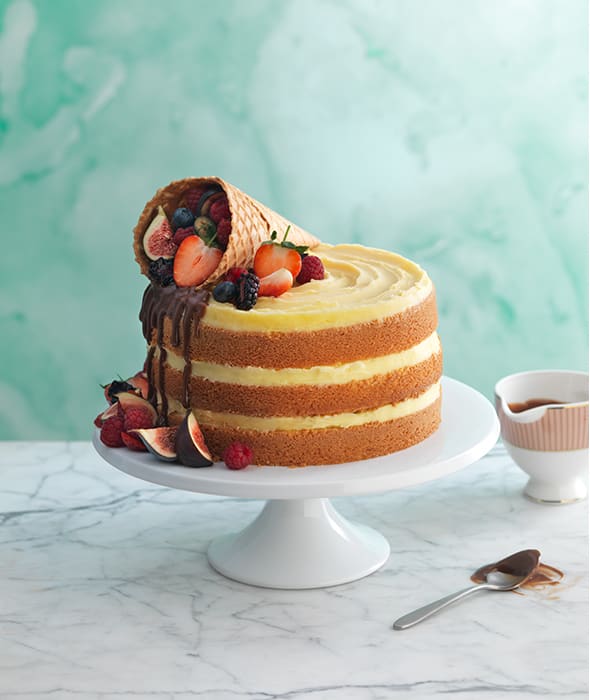 The contemporary fruit cascade
Who knew you could use waffle cones for something other than ice cream? Combine fruit and simple chocolate sauce for a contemporary take on a classic berry topping. The best bit? This design will give you maximum impact for the bare minimum of effort.
Lay a crispy wafer cone across the top of our naked layer cake and fill with sliced strawberries, figs, blueberries and raspberries. Finish with a generous squeeze of M&S Belgian chocolate sauce at the end of the cone, letting it drip down to the base of the cake, where you can arrange more sliced fruit.
"Add bursts of FRESHNESS
with seasonal fruit and
decadent chocolate sauce"
The secret sweet explosion
If there's one rule with this cake, it's more is definitely more! For those with a sweet tooth, this pastel confection will be your idea of heaven – and creating a hidden centre to fill with your favourite tuck-shop treats is easier than you might think.
Use a palette knife to lever off the top layer of the cake, push a tumbler down through the remaining layers and pull out to create a cylindrical gap. Fill this with sweets of your choice – we used our dolly mixtures, stripy British pudding sweets and fizzy pop bottles – before replacing the top layer and decorating with mini meringues.
"This COLOURFUL
candy extravaganza
is a child's dream"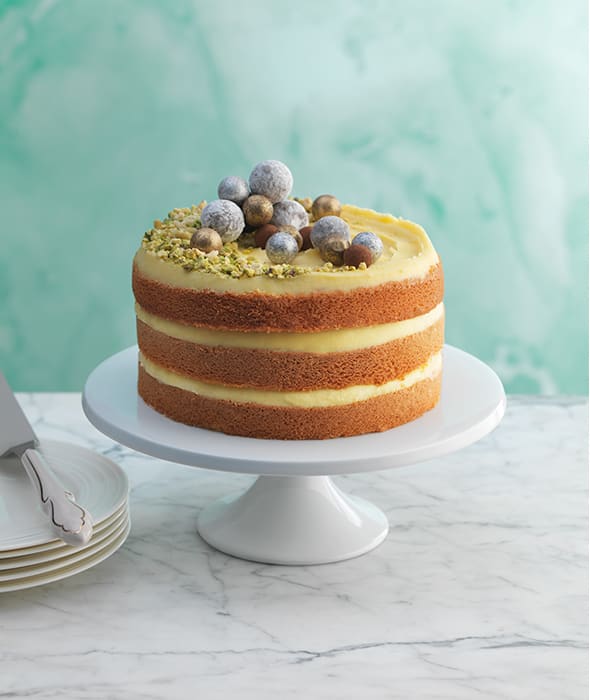 The nutty truffle tumble
Keep your cake looking clean and chic with this grown-up chocolate topping. You'll need a handful of your favourite nuts – we love hazelnuts and, for a burst of green, pistachios – plus a selection of truffles and filled chocolates. We used our sparkling caramels, marc de champagne truffles, and milk and white chocolate Belgian temptations, all available in store.
Simply toast the nuts for a few minutes in a pan before crushing and dusting in a half-moon shape over one side of your cake before arranging a pile of assorted truffles on top. If you're not a fan of nuts, try adding texture with crushed amaretti or ginger biscuits.
"An ELEGANT idea for
special birthdays and
afternoon tea"