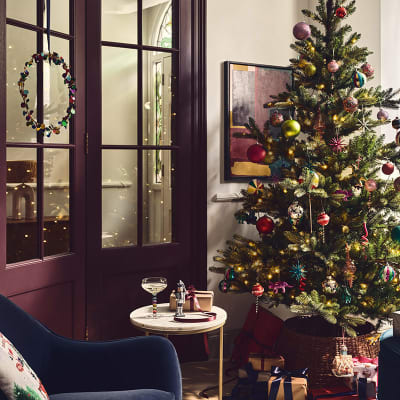 Set the scene
Mark the start of the season by hanging a festive wreath on your front door, whether you opt for something traditional, with festive foliage and bright red berries, or a contemporary light-up wire star wreath. Garlands of winter greenery, potted plants and hurricane lanterns will add to the festive effect. Not just for doors, wreaths and light-up decorations also look great on walls. Try hanging one above the mantelpiece or in a guest bedroom for an extra seasonal flourish.
DRESS YOUR HOME FOR CHRISTMAS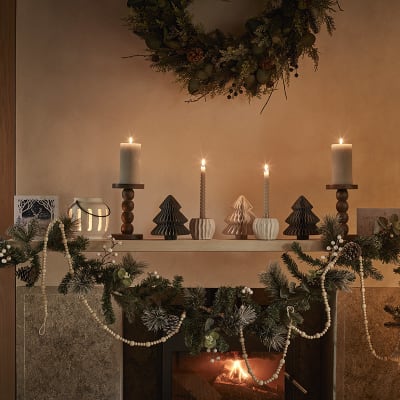 Think beyond the tree
Why should the tree have all the festive fun? Decorate your mantelpiece with a Christmas bauble garland and evergreen foliage, entwining the two, to create an opulent look. Bring the outside in with a vase full of seasonal greenery and red berries. Line up adorable felt robins, nutcracker soldiers and snow-covered miniature Christmas trees to tap into childhood nostalgia and add light-up decorations for a warm and cosy glow. Reuse last year's gift-wrapping ribbons to suspend vintage-inspired or novelty baubles to create a festive focal point.

Add atmosphere with home fragrance and candles
Fragrance can quickly and easily make your home feel festive. Christmas scents blend notes of mandarin, cinnamon, clove, frankincense and myrrh for a luxuriously cosy ambience. Our popular light-up candles combine snow-dusted scenes with twinkling LED lights to evoke the glow of a wintry log cabin. Place a reed diffuser in the hallway for a fragrant welcome and burn scented candles in the living room. Get guest-ready by stocking up on taper candles to display in burnished candlesticks on the mantelpiece or dining table. Our home fragrance buying guide has more top tips on how to scent your home.
MUST-HAVE CANDLES AND FRAGRANCE
Words: Dulcie Emerson and Sarah Lafarge