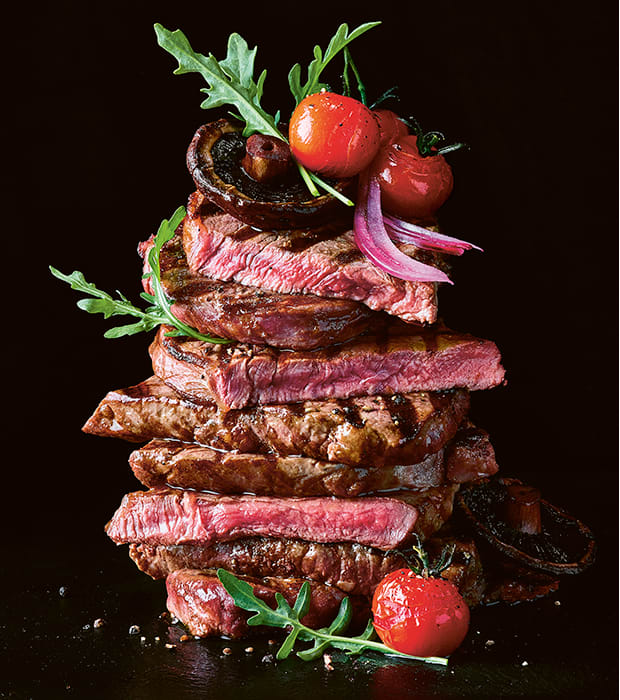 THE EXPERT
GUIDE TO
COOKING BEEF
From taste to texture to traceability (we're the only national retailer to trace ALL our beef back to the farm and animal it came from) – we think our beef is the best, so it deserves to be treated with care when it comes to cooking it. Here, the M&S chefs teach us how to prepare and serve our high-quality beef, from the juiciest steak to the most succulent roast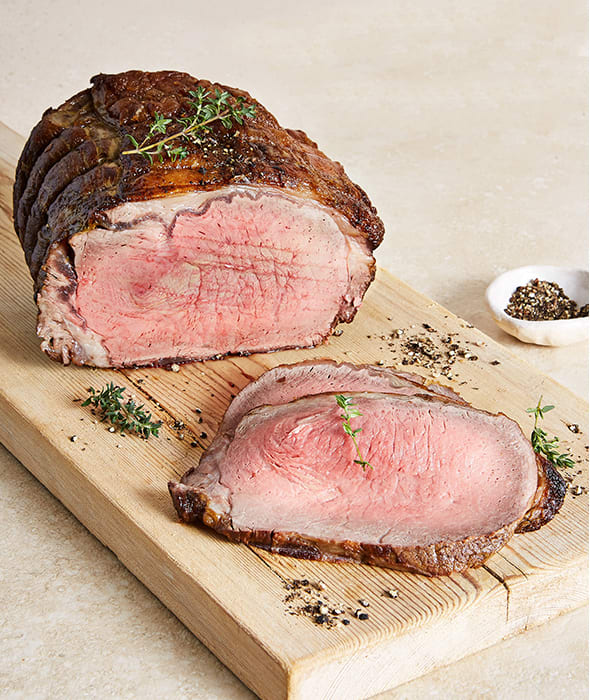 The best roast beef
If you're planning an extra-special Sunday roast, start with our boneless rolled rib, which is matured for 28 days for ultimate tenderness before it's carefully hand-prepared and tied for easy carving. Place the rib in a roasting tin, rub with a glug of olive oil and season with salt and pepper before roasting for 1 hour at 175C/350F.
After 1 hour, add whole blanched potatoes, heritage rainbow carrots and halved washed and trimmed beetroots with some sprigs of thyme and rosemary before putting back in the oven for 50 minutes.
Leave to rest for 10 minutes before serving sliced with the roasted root vegetables and juices from the pan.
"This one-tin
WONDER makes its own
flavour-packed gravy"
The most succulent steaks
Steaks are one of the most hotly contested cooking conundrums – do you flip only once, or every few minutes? Do you season before or after cooking? Our in-house development chef, Jon Jones, suggests starting by lightly sprinkling salt and pepper over each side of our thick-cut fillet steaks while you heat a heavy-based pan with a splash of olive oil to sear your steaks. After 3 minutes of cooking, drop in a knob of butter, a clove of garlic and a sprig of thyme and let the butter foam and coat the steaks for the final few minutes.
We recommend cooking the steak for 6 minutes (3 minutes each side) if you like it medium rare and pink inside. Don't forget to rest the steak for 2 minutes on a board before serving. Plate up with fresh watercress and crispy chunky chips.
"Try our thick, PREMIUM
steaks with our ready-made
béarnaise sauce"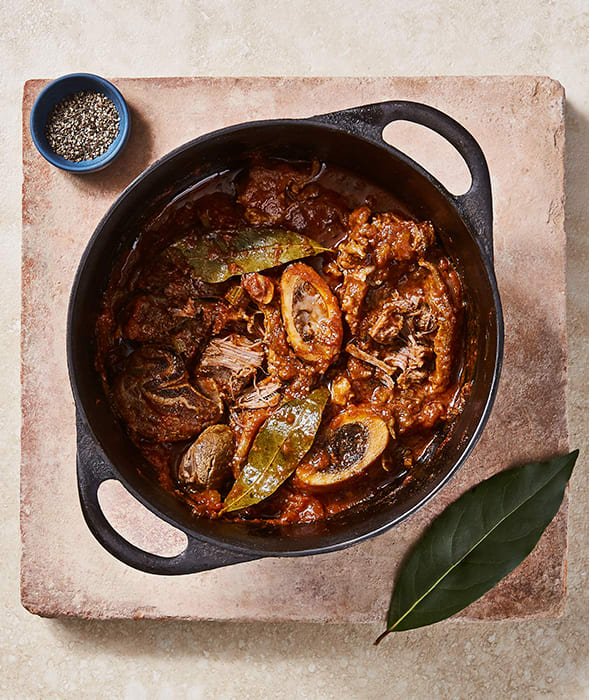 The meltingly tender casserole
A hearty Milanese meal of braised veal shanks (although equally good using shin of beef) with root vegetables, tomatoes and broth, osso bucco is a rich dinner-party dish that you can leave to cook while you prep for the arrival of guests. Begin by caramelising the osso bucco for a few minutes on each side in a casserole dish over a high heat before removing and setting to one side while you make the soffritto – the classic Italian base of chopped carrots, onions, celery and a bouquet garni of parsley, thyme and a bay leaf, cooked down slowly in olive oil.
Lay the osso bucco on the bed of softened vegetables, add 200ml of beef stock, a pinch of flour and a tin of chopped tomatoes and cook over a low heat with the lid on for around 3-3½ hours. When you next lift the lid, the osso bucco should be so soft it's melting off the bone, and the sauce will have reduced down into something sticky and aromatic.
"Serve on a bed of
our NUTTY spelt and
barley grain mix"