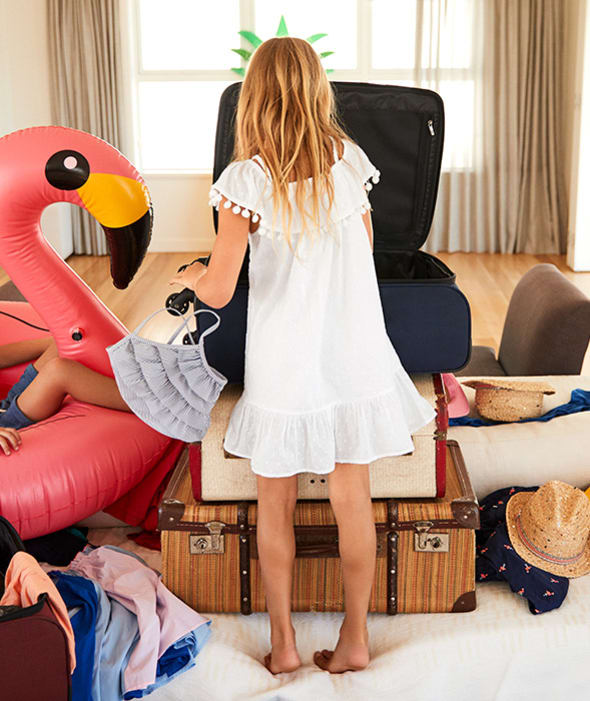 Packing prep
1. Make a separate packing list for everyone in your family. Highlight items you'll need to add just before you leave (favourite toys, electronics and chargers, snacks). Make a copy of this list to use when you head home.
2. Lay everything out on your bed – one pile for each member of the family. Seeing everything in one place helps you avoid over-packing. If in doubt, edit by a third and take laundry tablets (not liquid).
3. Divide and conquer. Try packing your children's outfits by day in separate ziplock bags - you can even label them. Or pack like-with-like (shirts, dresses, tops etc) in separate vacuum-pack bags or packing cubes. Always pack an extra day's outfit.
4. Pack strategically. For instance, if you're travelling somewhere hot, put beach towels and swimsuits right at the top of your case.
How to pack light
5. Lighten up. Don't take full-size shampoo, shower gel etc. Buy small plastic containers and decant all your daily essentials. Swap heavy beach towels for lightweight hammam-style towels.
6. Steal a tip from the fashion editors and pick a colour palette (e.g. monochrome) and stick to it. That way, everything you pack will work together. If this sounds too regimented, opt for tonal shades.
7. Save space and buy what you can upon arrival. Do an online shop for delivery to your holiday home or ask the holiday rep if they can organise for essentials to be delivered.
8. If you're taking your own car seat, invest in a car seat travel bag – you can then use the extra space to pack bulky items (like nappies).
Maximising hand luggage
9. Make your hand luggage work harder: take a bag that can double up as a beach bag/changing bag once you reach your destination.
10. Max your hand luggage allowance and take a bag each. Children love having their own travel bag (get one they can carry/pull themselves). Let them be involved in choosing what to pack.
11. Wear layers and the heaviest items to travel (shoes are a real culprit for weighing down your suitcase). Planes can be chilly and your destination might be hotter/cooler than home.
12. Think of hand luggage as your survival kit. Don't forget: healthy snacks, a light blanket or large muslin, wipes (even if you're beyond the nappy stage), entertainment (ipad loaded with favourite shows/games, books, colouring pad/crayons, stickers). Pack everything in separate ziplock bags and don't forget a change of clothes – for everyone.