THE BEST BRAS
FOR BIGGER BUSTS
Make bra shopping for fuller figures a fuss-free experience with expert guidance from Julia Mercer, the lead product technologist at Marks & Spencer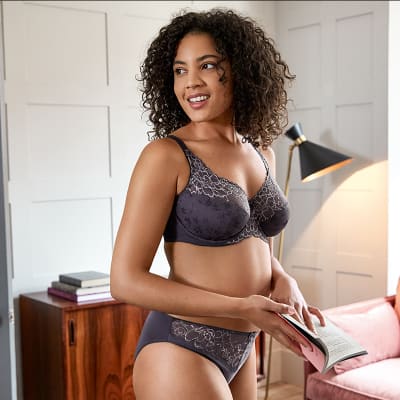 Size matters
Never underestimate the importance of a professional bra fitting. If you've lost weight, gained weight or had a baby, your bra size is likely to have changed. Avoid the perils of too-tight straps, digging-in underwires or a 'mono-boob' with a bra that perfectly fits both your back and cup sizes. And don't forget to consider the shape of the bra in relation to your body shape. "If you have a small frame with close-sitting breasts, opt for a plunge or a full-cup," advises Julia. "Or, if you have more angular shoulders and a gap between your breasts, try a balcony."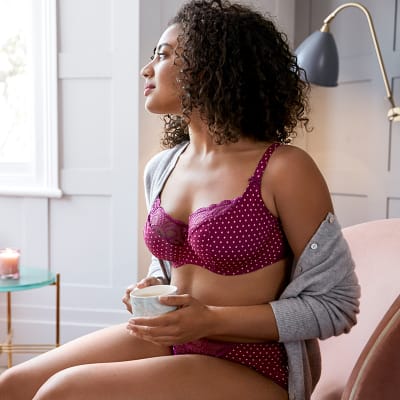 If the bra fits…
Learn to spot the signs of a great fit. "The underband should sit just below your shoulder blades," Julia says, "and you should only be able to fit two fingers under it." As for the wires? "They should always sit flat between the breasts and should be flat onto the rib cage at the sides – not sitting on breast tissue.
"The cup should fully encase the breast with no over-spill at the front or sides. Straps should be adjusted so that you can fit only two fingers under the strap.
"The strap should only hold the cup in place, not support your breasts – that is what the underband is for."

What's the occasion?
More than one third of women in Britain own eight bras, but only wear two regularly. Julia recommends buying three bras and refreshing them every six months: "DD+ bras need to be changed more frequently to retain the support and fit required." Following your bra fitting appointment, clear out your lingerie drawer and start from scratch: a moulded T-shirt bra in a nude tone, a pretty strapless bra and a sports bra should have every activity in your calendar covered. And once you have the foundations sorted, you can enjoy adding fancier styles.