TOP FOOD TRENDS FOR 2019
Want to know what you'll be eating this year? Read our food editor's pick of the must-try dishes and exciting cuisines coming your way
The plant-based revolution
Going meat-free has never tasted so good. There are now an estimated 22 million flexitarians in the UK, while a 2018 Kantar report found that around a quarter of evening meals are now vegetarian. That means that whether you're going all-out plant-based or just want to add more variety to your diet, there are more delicious ways to do it than ever before. Think all manner of pulses and veggie proteins, interesting spices and more unusual vegetables, such as rainbow beetroot or samphire. A case in point is our new Plant Kitchen range, which launches this month and includes more than 50 dishes spanning speedy lunch on the go (hello, rainbow veg sushi wrap) to Friday night feasts, like our new jackfruit pizza and dirty fries.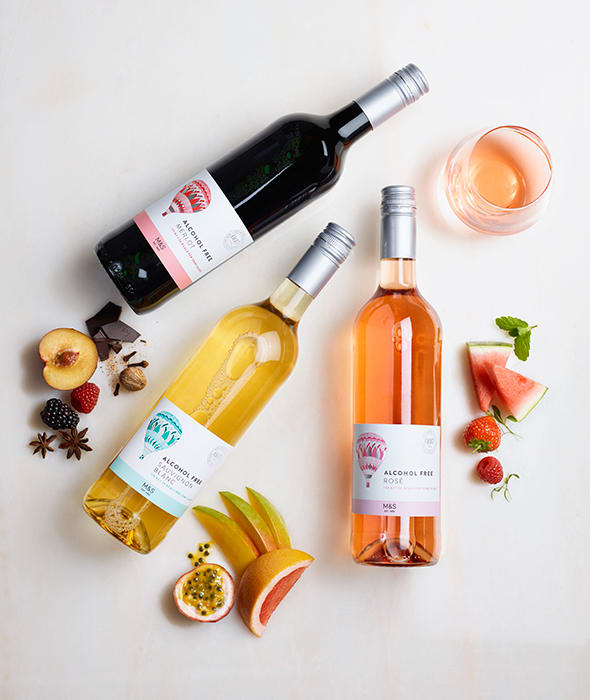 A toast to low- and no-alcohol drinks
With many people choosing to reduce their alcohol intake, the trend for low- and no-alcohol drinks with exciting flavours looks set to skyrocket this year. Expect grown-up-tasting distilled spirits made using interesting botanicals, a wider choice of mocktails (London's alcohol-free Redemption bar serves creations such as lemongrass and chilli scrub with maple), and better-tasting alcohol-free beers and wines. Launching in store this month, our new alcohol-free wines are made using a special method of vacuum distillation which retains their fruity flavours, while our Fizzero drink is fermented in a similar way to sparkling wine, but without the alcohol, for a distinctive dry, crisp flavour. Reduced alcohol options look set to increase in popularity, too. Look out for our new fruity and full-bodied 0.5% Herefordshire LA cider.
Good gut food
Fermented food such as kefir, kimchi, miso and sauerkraut are on the rise on restaurant menus (London's Little Duck The Picklery is dedicated to all things preserved) and in new cookbooks (renowned chef René Redzepi's The Noma Guide to Fermentation was one of 2018's most anticipated). The trend reflects a growing interest in probiotics and prebiotics, eaten to help improve our own individual digestive systems. Expect to see an increase in popularity of prebiotic-rich food, such as chicory root and dandelion greens, as well as drinking vinegars and live yoghurt. Try the trend yourself with our on-the-go kefir drinks in store, and our new range of fruity kefir yoghurts.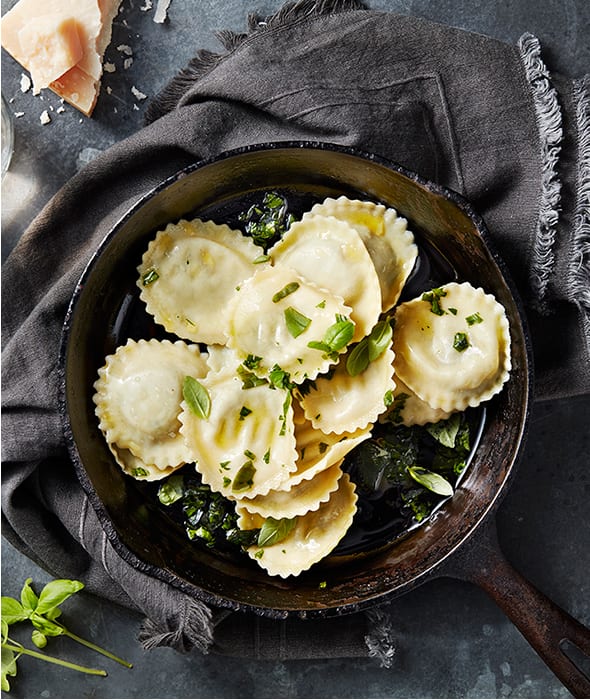 Carb lovers, unite
In tumultuous times, we're craving comfort foods, and that means once-demonised carbs are back on the menu in many gloriously doughy forms. Fresh pasta restaurants abound (in London, Bancone and Lina Stores were two of last year's hottest openings), while artisan baked goods from babka to bagels are everywhere. Food writer Laura Goodman's new book Carbs is a collection of recipes dedicated to dishes that help readers 'rediscover the joy of the carbohydrate'. Get your fix with slow-proved sourdough and flaky, buttery croissants from our bakery, or our range of Italian-made fresh filled pasta, pictured, available in store.
The meat of the matter
We're more interested than ever in the provenance of what we eat. At The Sportsman in Kent, the menu name-checks lamb sourced from within a 20-mile radius, while Noma in Copenhagen showcases locally caught fish and meat on its hyper-seasonal menu. But it's not just fancy restaurants where the trend is set to grow: we all want to know more about what we're putting in our shopping baskets, whether it's the number of days our beef has been aged, or if our fish has been caught sustainably. At M&S, we can trace all our beef back to every farm and every animal, while we have robust fishing policies to help protect the fragile marine environment.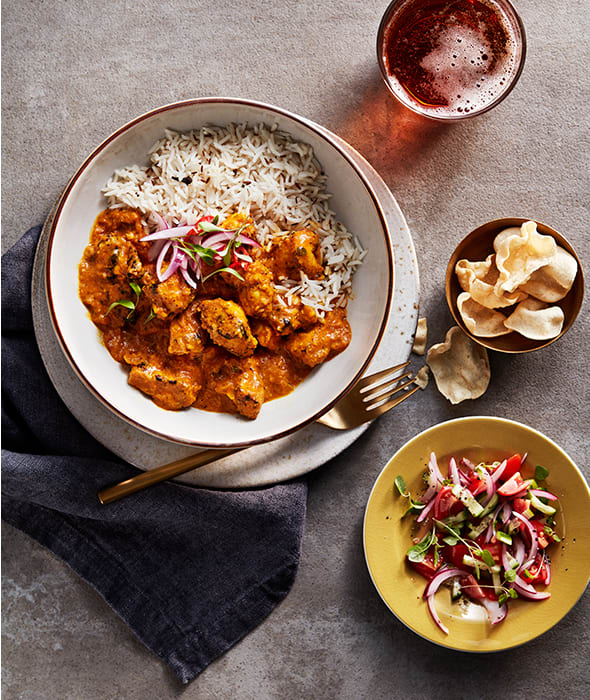 A world of flavours
2019 will see a rise in our appetite for regional dishes made with authentic ingredients from around the world. We'll be eating curries with flavours spanning Sri Lankan and South Indian, trying more Sichuan food and seeking out ingredients like Aleppo chilli pepper and Korean gochujang sauce for our home cooking. Our Taste range is inspired by exotic flavours from far-flung places, so pop in store to try dishes such as our fragrant chicken dhansak, pictured, wok-fried Thai beef noodles and crispy Japanese katsu curry.
The new healthy eating rules
Forget the rigidity of 'clean eating'; healthy eating in 2019 is all about finding an approach that works for you as an individual. That doesn't necessarily mean restricting certain foods or cutting down on fats, but rather incorporating more wholegrains, a rainbow of veg and foods which nourish us mentally as well as physically. Healthy eating also looks set to become more personalised, so this could mean going meat-free a couple of times a week, or following an ayurvedic diet. At M&S, our health ranges – from fuss-free Count On Us meals to portion-controlled snacks and protein-packed lunches – mean whatever your approach, you can find a healthy dish to suit you.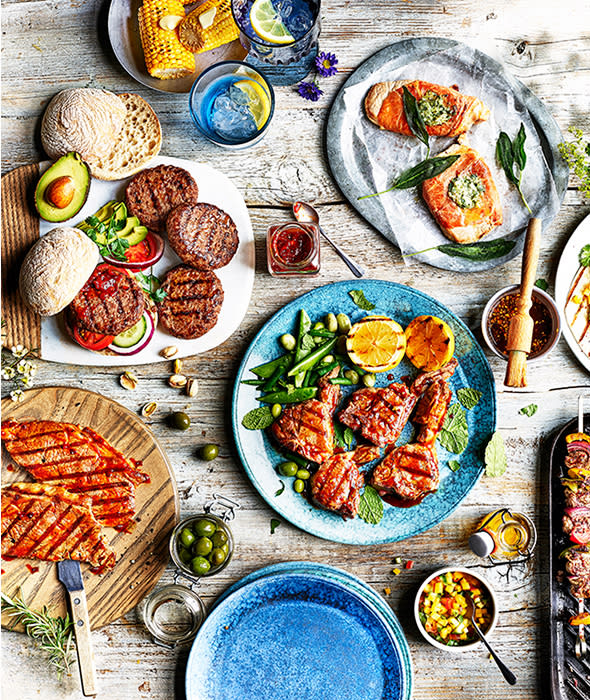 Play with fire
'Open fire cookery' were buzzwords for restaurant openings in 2018, and our love affair with all things barbecue only looks set to grow this year. Charred and burnt flavour profiles are becoming more common, while low-and-slow barbecuing, robata and tandoor grilling are favoured by top restaurants such as Hang Fire South Kitchen in Barry, Wales, and London's Temper. Our Best Ever Burger was one of our most anticipated product launches during last summer's heatwave, proving that home cooks are embracing the barbecue, too.