Sweat-wicking clothes for summer workouts
Exercising in the summer can be hard work, especially on very hot days, so look for clothes made with breathable fabrics that are designed to keep you cool and move moisture away from your skin. Our moisture-wicking cobalt blue T-shirt will add some uplifting colour to your summer workout kit. Made with recycled polyester, it has an antibacterial finish to keep things smelling fresh and reflective trims to help you be seen during after-dark runs. For cooler early morning workouts, this breathable long-sleeved half-zip top, made with recycled polyester and featuring an antibacterial finish, has thumb holes and a handy zip-up sleeve pocket. Investing in specially designed sports underwear can also be a big win in the comfort stakes – choose from briefs or trunks, both designed to be breathable and moisture wicking.
SWEAT-WICKING ACTIVEWEAR FOR MEN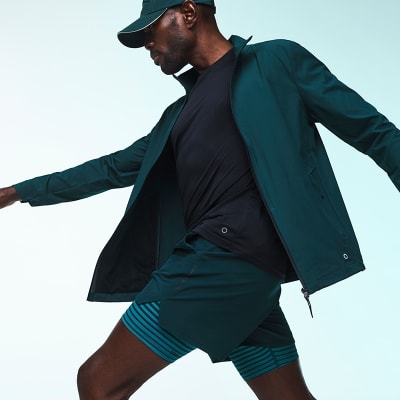 Work out whatever the weather
The British summer doesn't guarantee sunshine and blue skies every day, so it's wise to weatherproof your workout wardrobe with pieces featuring clever design details and smart tech that keeps you protected. This wind-resistant, water-repellent jacket is made from recycled polyester to keep you warm and dry during rainy runs and early morning circuits. It has reflective trims for visibility, plenty of pockets to keep your keys/cards/phone safe while you're on the move and our Stormwear finish to keep the wind and rain out. Feeling the heat? Choose a pair of layered shorts that have a supportive stretch layer underneath and a looser, breathable top layer. A must for any workout, they're moisture wicking and quick drying, with antibacterial properties to keep you feeling fresher for longer.

Comfy layers for working out or chilling out
Whether you favour hard-core HIIT workouts, mindful stretching sessions or racking up running miles, layering is key to keeping you warm pre, post and mid-workout. Our wind-resistant gilet is a great top layer when it's too warm for a full jacket but not warm enough for a T-shirt alone. Alternatively, this full-zip hoodie is perfect to throw over tops and under jackets and is crafted from recycled polyester and cotton from the Better Cotton programme, as are the coordinating shorts. Moisture wicking, quick drying and breathable, they'll keep you comfortable no matter how sweaty your workout gets. And don't forget the finishing touch for every sporting moment – comfortable and supportive footwear. Our Light as Air trainers are made with dual-density foam for added shock absorption and have a grip zone on the sole for greater stability during workouts.
Words: Sarah Lafarge and Miranda Eason