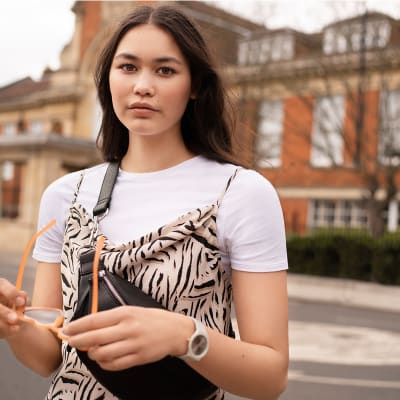 The fitted
The perfect choice if you like a figure-hugging fit, this shape sits snugly against your frame, making it the ideal layering piece. Wear as a base under knitwear, with a blazer or even layered under a dress for a fresh summer look. The 100%-cotton fabric has added stretch, meaning it's supremely comfy, as well as stylish.
WEAR IT WITH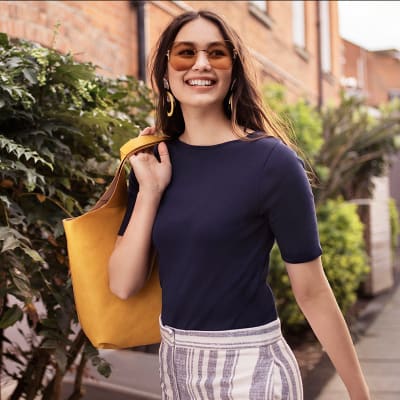 The regular
This has become a best-selling shape for good reason. Less figure-hugging than the fitted tee, but still with a slim-fitting shape, the regular fit looks great tucked into shorts, skirts or high-waisted trousers. Whether you're looking for a trusty neutral or a pop of colour, there's a range of shades to match your needs.

The straight
For a cool, modern vibe, this straight-fit design is a great option. With a classic crew neckline and slightly looser silhouette, it's the ideal choice to wear with jeans – it's got relaxed weekend vibe written all over it. Alternatively, pair with on-trend city shorts for a polished, fashion-forward look.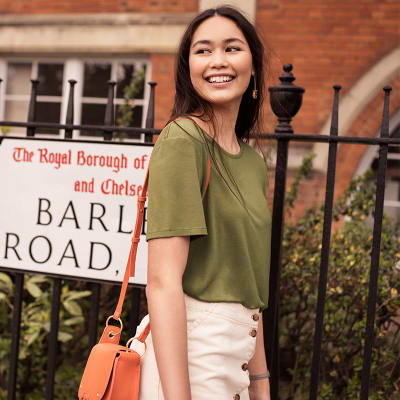 The relaxed
Aaand relax… thanks to the laid-back, loose, luxurious appeal of our most chilled-out tee. This relaxed fit looks fabulous with a tighter bottom half. It's all about balancing out proportions, so if you're wearing skinny jeans or a pencil skirt, this is a great option. Then again, team it with joggers on casual days and you're onto a winner.
Sling on a cross-body bag
£29.50
WEAR IT WITH
Words: Sophie Hines / Images: Stephanie Sian Smith / Styling: Sophie Kennington / Hair: Leigh Keats
Make-up: Adam de Cruz / Nails: Charly Avenell / Model: Celine at Milk