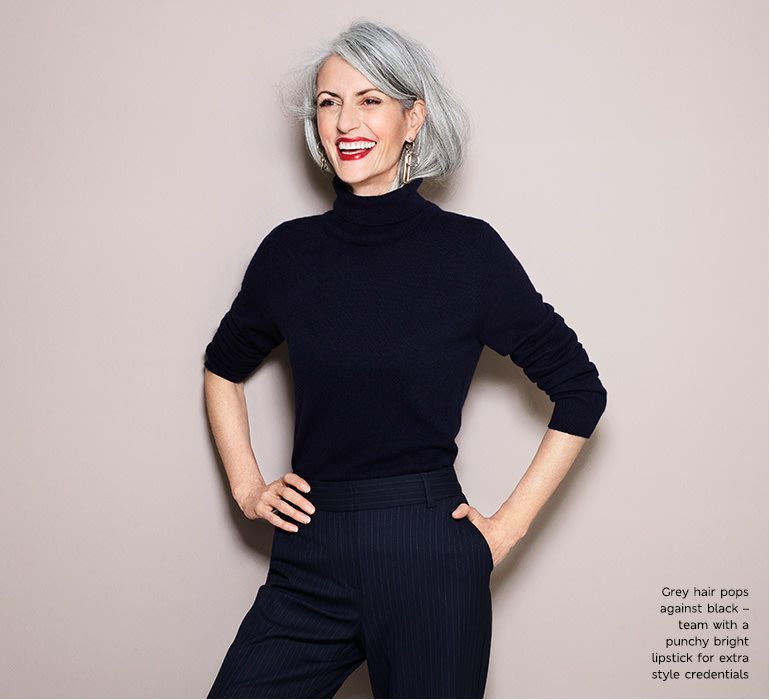 Treat it right
Restore shine: Dry hair reflects less light, especially grey hair where the colour's gone. To keep silver strands in compliment-worthy condition, switch to a shampoo and conditioner loaded with optical brightening agents. Rinse for longer than you think – residue from product can dull your hair's dazzle when it's dry.
Beat brassiness: Not just for your face, a kaolin clay mask helps draw yellow hues out of grey hair. Find it in Josh Wood's Pro Brilliance Embrace Mask. For best results, use three times a week – it sounds labour intensive, but it works in three minutes so you can squeeze in a treatment even on busy mornings.
Tame wiry strands: Grey hair can have a mind of its own. A weekly deep conditioning treatment is your secret weapon to calm unruliness. And don't be scared of hair oil – working a few drops through damp hair makes it instantly more manageable and luxe-looking.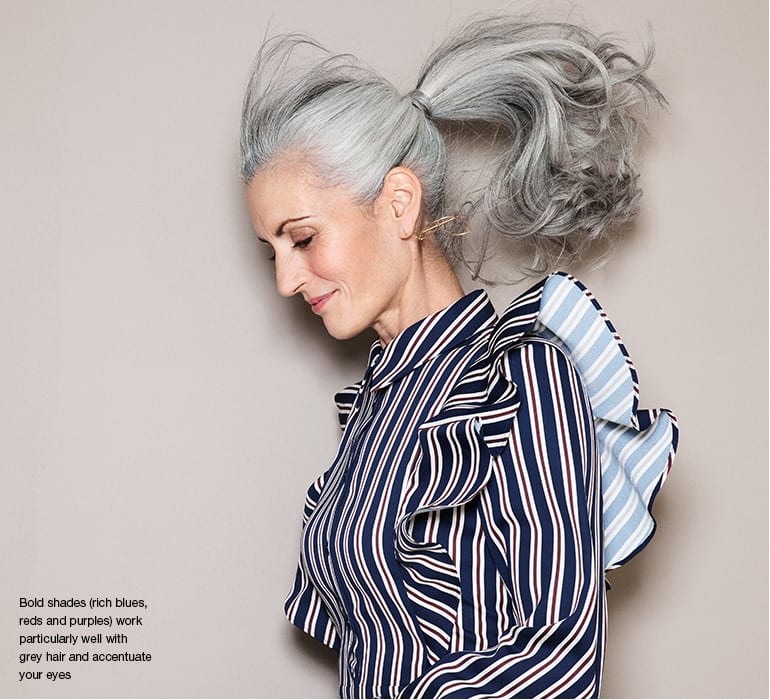 Get styling savvy
Solve split ends: Hair grows more slowly as you age, which means your ends could be years older than your roots. If you want to retain length but improve condition, ask your hairdresser for a 'dusting' – a touch-up technique that removes split ends. Between visits, use a round brush and roll the ends under while drying to keep frayed bits out of sight.
Pump up the volume: Although grey hair might feel coarser, it actually gets finer as we age. For an oomph boost without styling-induced arm ache, apply volumising mousse or spray, flip your hair over, then dry it upside down.
Add texture: Not everyone turns a uniform shade of white or silver. Adding lift and movement at the roots with texturising cream – or even dry shampoo – is an easy way to soften the contrast between light and dark patches and looks effortlessly stylish.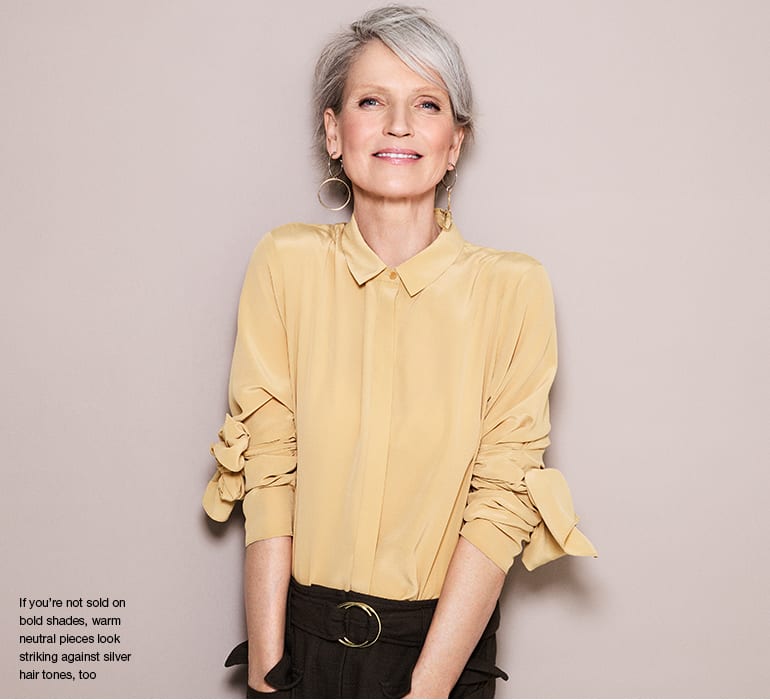 Try new make-up moves
Experiment with colour: The beauty of grey hair is it's a blank canvas that won't clash with bright lipstick colours. Red, fuchsia or berry shades look confident and modern. Or play up your lids and lashes instead. Use eyelash primer before mascara for a thicker, fuller flutter and define your gaze in deep plum, forest green or navy eyeliners for a flattering alternative to black.
Washed-out, sallow skin: Fake sun-kissed skin with a bronzer (one of the most useful beauty tools) to make your complexion look radiant and add warmth to cool grey tones. If you're a bronzer-phobe, pop a few drops of Autograph's Self Tan Booster Serum into your moisturiser. It develops into a subtle all-over glow that looks the real deal.
Pay attention to textures: Just like hair, skin tends to get drier over time, so adjust your make-up to cheat a fresh and dewy finish. Think liquid foundation instead of powder, cream blush and moisture-rich lipsticks instead of matte.