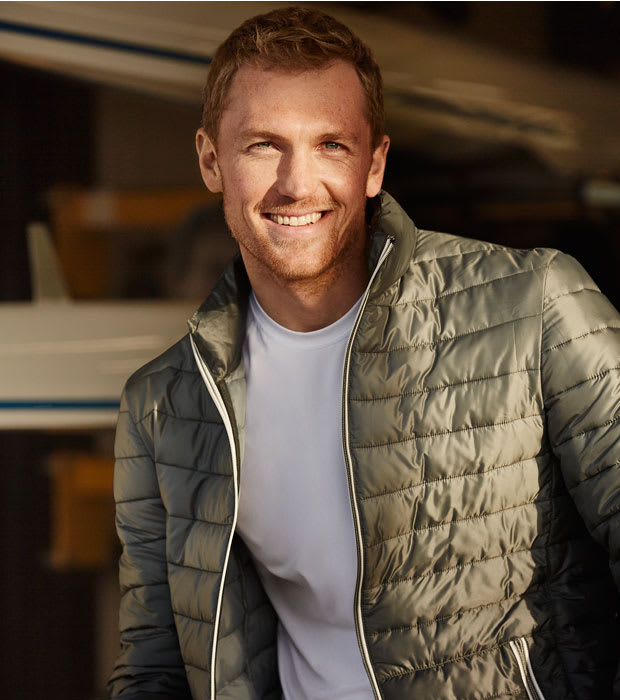 GET ACTIVE
WITH
ALEX
GREGORY
With New Year's resolutions firmly in place, now's the time to turn our attention to exercise. And who better to kick-start your health regime than world and Olympic gold medallist rower Alex Gregory MBE? With straightforward tips from the man himself – and our new range of men's activewear – we'll get you moving in no time
Jog for results in the long run
He says: "When you start running, don't rush it – it doesn't matter how fast or far you go, as long as it gets your heart rate going. Then, keeping the intensity low, you can extend the amount of time and start setting yourself small, achievable goals to go a little bit further or quicker. If running's too much for your joints, rowing on a machine works lungs and most muscles effectively. My most rewarding training sessions are those I've worked hardest in – the sense of satisfaction afterwards is worth the extra effort."
We say: Moisture-wicking tech in this T-shirt and joggers whips sweat away from skin so you stay warm and dry.
Shop men's activewear
Adopt a recovery position
He says: "Immediately after exercise the most important thing is to refuel with good-quality nutritious food and rehydrate with water. This will allow you to train at the same level next time, and the time after that – consistency in training is key. Don't shock your body – ease in and off by stretching before and after, otherwise your muscles will be tense or sore. When stretching, don't do anything jerky or that hurts (too much), working from your feet up. Finally, getting the right amount of sleep is important too."
We say: This hoodie's fine sporty cotton jersey material is stretchy and soft against your skin, making it ideal for warming down and relaxing pre- and post-workout.
Shop men's activewear