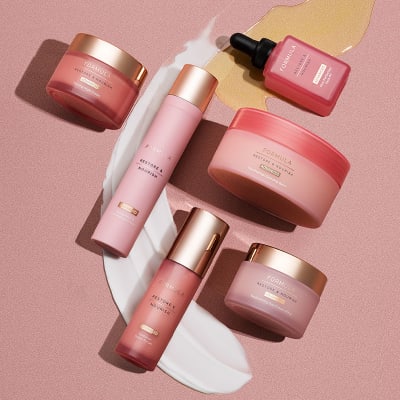 Restore & Nourish
Give your skin the TLC it needs with the new Restore & Nourish collection. Designed to care for delicate, mature skin, each product in the range contains ceramides, which help to lock in moisture, and collagen to plump and smooth. With regular use, it can help skin feel firmer and also protect it from elemental damage. With hero products such as firming night cream to deeply moisturise as you sleep, replenishing day cream with SPF for all-day sun protection and toning neck and decolletage cream to firm targeted areas, there's a jar to suit your skin's every need.
"87% of women said their SKIN felt more revitalised after four weeks"*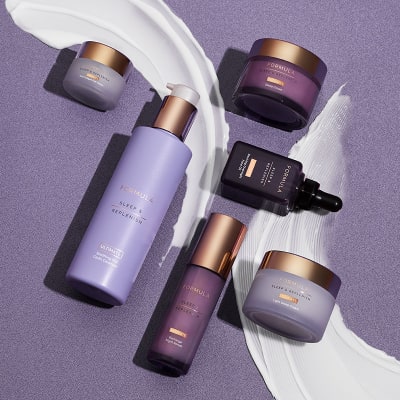 Sleep & Replenish
Did you know that getting enough sleep aids skin repair and helps you look your best? While nothing beats getting your 40 winks, the new Sleep & Replenish collection is a secret helping hand when those precious eight hours prove elusive. It contains revitalising Olea Vitae and Matrixyl 3000, which works to minimise wrinkles and brighten skin tone, so you'll always look refreshed and well rested. Start your nightly routine with a soothing hot cloth cleanser to wipe away the day's impurities, gently apply anti-fatigue eye cream and then massage in Formula Ultimate sleep cream to help your skin repair itself as you sleep. Get ready to wake up with a dewy, refreshed complexion.
"80% of women said their SKIN looked as if they'd had a good night's sleep"**

Prevent & Brighten
If you're just starting to notice the first signs of ageing, such as fine lines and wrinkles, now's the time to invest in Formula's Prevent & Brighten range. Containing retinol and squalane, the collection targets these early signs, leaving your skin looking fresher and brighter. A must-have in your skincare arsenal is the youth boosting day cream with SPF30, which helps protect and repair skin and can be layered with multi-action retinoid serum for double the moisture. Give yourself a spa-style treat with the age-defying face mask for a pampering once-a-week boost.
"80% of women said FINE LINES appeared reduced after eight weeks of use"†
Words: Sarah Lafarge / *Consumer testing on 110 women using toning neck and decolletage cream daily for four weeks / **Consumer testing on 110 women using Ultimate sleep cream for two weeks / †Consumer testing on 110 women using multi-action retinoid serum for eight weeks