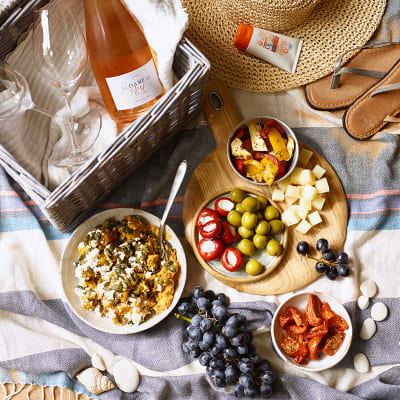 THE PERFECT BEACH PICNIC
Heading to the beach this bank holiday? Our online Food to Order service has everything you need for a delicious deli-inspired spread that's best eaten with the sand between your toes. Try our made-for-sharing olive and antipasti platter, which includes a moreish mix of artichokes, flame-seared peppers in a sherry vinegar, olives, sweet semi-dried tomatoes, chunks of Manchego cheese, and soft cheese-stuffed red peppers. Perfectly portable snacks in bigger sizes – such as our new Middle Eastern-inspired roasted sweet potato and smashed spiced carrot dip with Feta and pumpkin seeds – are a great shout for the beach, too, since they come in ready-to-eat-from containers and there's less chance of them getting sandy. Just pick up your favourite crackers or crusty bread from our in-store bakery for scooping. Add a bunch of beautiful fresh grapes for pudding, and a chilled bottle of our crisp and fragrant La Dame en Rosé wine (a steal at just £6 a bottle when you buy a case of six), and you've got a seaside feast worth savouring.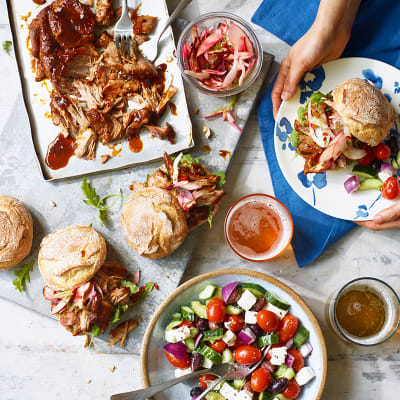 THE ANY-WEATHER BARBECUE DISH
If the British weather intervenes – or you just don't fancy firing up the grill – try this cheat for moreish, slow-cooked barbecue flavours without the fuss: our smoked pork shoulder with apple barbecue sauce. Outdoor-bred British pork is rubbed in an apple and cherry wood-smoked barbecue spice, then slow-cooked for tenderness. Cook through in the oven and finish with the sticky apple sauce, then serve with our vibrant Greek salad of crunchy cucumbers and Santini tomatoes. Alongside, make an easy slaw from shredded apple, radish and lime juice, then serve with fluffy white rolls and let everyone dig in to DIY Southern-inspired pulled pork rolls – delicious with a cold beer, whatever the weather.

THE HOLIDAY COTTAGE DINNER
Going away for the long weekend? Forget the mad dash around the supermarket on the day you arrive: order a simple, throw-it-all-together dinner from our online Food to Order menu, and pick up from your nearest M&S on the way. A side of Arbroath hot-smoked salmon makes a great centrepiece as it's packed with flavour and there's no cooking involved, but it still feels like a treat. Our roasted aubergine and sweet potato salad, with fluffy couscous and pomegranate seeds, makes a hearty accompaniment, while a fruity tart is the ultimate laid-back pud. If the weather's good, serve outside on a table dressed with simple linens and flowers in mismatched vases. Let the long weekend celebrations begin.
Words: Heather Taylor / Photography: Tara Fisher / Food styling: Debbie Miller / Art direction: Helen Richardson
Prop styling: Cynthia Blackett