FESTIVE FUN
BABY'S FIRST CHRISTMAS
Mark the magical occasion of your little one's first Christmas with baby Christmas outfits and sweet ideas to make it extra festive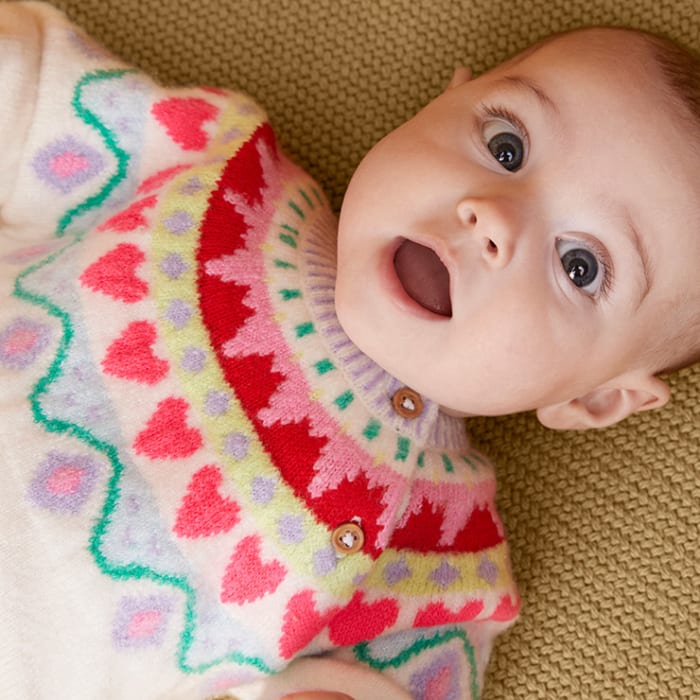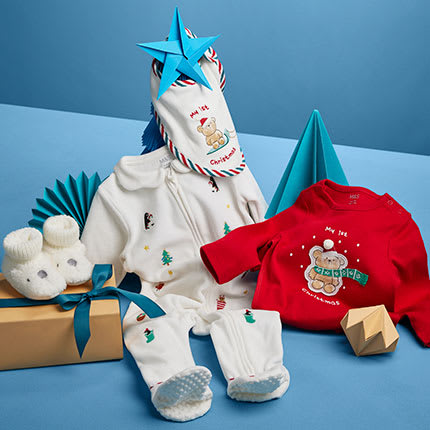 Celebrate the season with super-sweet baby Christmas outfits that keep them cosy
Decorate the nursery
So much emphasis is put on decking out the living room at Christmas, but why not spread that seasonal cheer to your baby's bedroom? It might even bring some joy to the 2am night feed. You don't need to install a full-on Christmas tree, but a cute robin decoration on a shelf or pretty light-up star can add some Yuletide spirit to the space. Make sure any decorations are out of your baby's reach.
Visit the Christmas lights
Babies love staring at colourful twinkling lights, so a trip into town to see the festive display is bound to be a winner. Wrap them up warm in a cosy bear pram suit and they'll be able to enjoy the sparkly sight without getting chilly.
Look the part
Is there anything cuter than a freshly bathed baby in PJs? The answer is no – and you can make your child look even more adorable with a festive sleepsuit; try our pure cotton tartan romper, which can be teamed with matching pyjamas for all the family.
Get a stocking
The great thing about a baby's first Christmas is that they won't demand any presents – in fact, there's no point spending loads of money on extravagant gifts at this age. But one item worth investing in is a gorgeous Christmas stocking that your little one can keep for years to come. We love these personalised initial stockings.
Take lots of photos
Don't forget to take family photos amid the hubbub – you'll treasure pictures of your baby's first Christmas for ever. Pick a gorgeous outfit to dress them in and it will work for seasonal parties, outings and the big day itself. And remember to pass on or sell the clothes the following year, ensuring each piece has longevity.
Buy a special ornament
A nice way to mark your baby's first Christmas is with a decoration that you can bring out year after year. This multicoloured glass train bauble is just the ticket.
Words: Sophie Hines and Dulcie Emerson