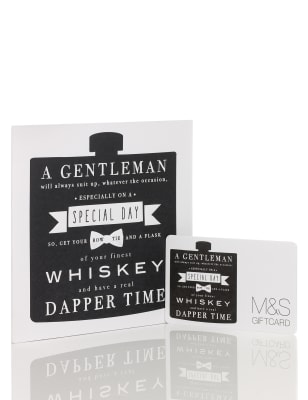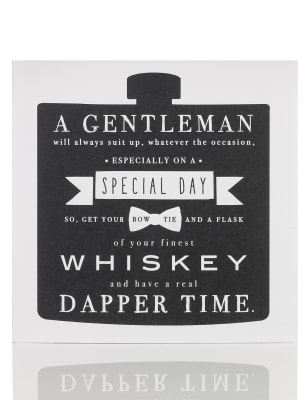 Hip Flask Gift Card
Product code: T460634C
Sorry, this item is no longer available
Business customers – Please contact our Business Support team on 0845 6020602
They will be happy to process your corporate gift card order
Product Description
Give someone the gift of choice with an M&S gift card. The credit card sized gift cards are handy and much more convenient than gift vouchers and can be spent in any UK M&S store or online. This gift card features a black and white hip flask design overlaid with white text. Please note that your chosen gift card design is subject to availability and substitutions may be made.
Product Details

Item details

Cover text: A gentleman will always suit up, whatever the occasion, Especially on a special day So, get your bow tie and a flask of your finest whiskey and have a real Dapper time
Inside text: Wishing you a lovely day: Gift value: To: From: ......
Credit card sized gift card
Gift cards can be topped up in store to the maximum value of £1000
Valid for 24 months from the last time it was used

Delivery, Collection & Returns

E-Gift Cards: Email delivery

FREE same day delivery - order 24/7, 365 days a year!
FREE nominated day delivery - order up to 60 days ahead of chosen delivery date
Valid email address required.
We can't deliver e-gift cards to our stores for collection.

Gift Cards: Home delivery

£3.99 Nominated day
£3.50 Standard - get your order within 3-5 days
We can't deliver gift cards internationally or to our stores for collection
Exclusions apply

Returns and refunds

Please note, gift cards and e-gift cards cannot be returned or refunded, except in accordance with your statutory rights. If you're having problems with a gift card, please contact us.
If you are contracting with us as a consumer online or by the phone, you have the right to cancel all or part of your order for a gift card at any time up to 14 calendar days after the day on which you place your order, provided none of the balance has been spent.
Please see our Terms and Conditions for further details. Please note that if you cancel a gift card you will not be required to return the physical gift card to M&S.
Reviews
89% of reviewers would recommend to a friend