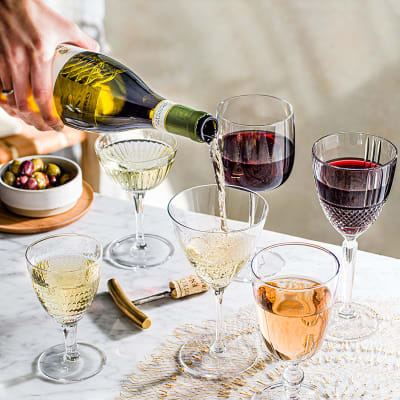 How to host a wine tasting
For me, there's no better way to find a new favourite tipple than sampling a selection of fine wines with friends. A wine tasting needn't be complicated – simply browse our range of mixed cases online and get one delivered to your door. You could mix reds, whites, rosés and fizz, or stick to one type. If you fancy something a little different, explore our Found wine range, featuring unexpected and undiscovered wines from around the world, from Portugal to Romania. Next, it's time to sort the snacks – cheese, charcuterie and bread work well. Ahead of the tasting, do a spot of homework by researching where the grapes are grown, tasting notes and prices – information can be found on the bottles and online. Set the scene by gathering plenty of wine glasses, lighting some unscented candles that won't interfere with the wine's aromas and organising paper and pens so your guests can make notes. Find the perfect selection of wines for your tasting online.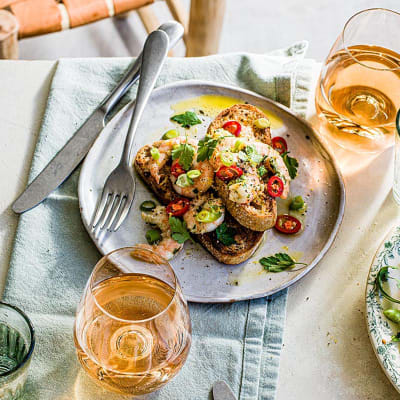 Raise a glass of rosé
From paler Provence-style wines to sparkling prosecco rosé, there's a pink tipple online for every taste and occasion. Wondering what to eat with your favourite Provencal rosé? The beautiful berry flavours of this wine pair perfectly with seafood and subtle spice. Rustle up a quick yet impressive prawn bruschetta by toasting or grilling sourdough and then drizzling over some olive oil and rubbing with garlic. Top with garlic and parsley prawns, lemon zest, sliced chilli, spring onions, fresh parsley and another drizzle of olive oil. Or match one of our prosecco rosés with a sunshine salad that pairs Italian burrata with sweet heritage tomatoes and a homemade pesto dressing. Browse our online range and have a case of delicious rosé delivered to your door.

Top tips for cheese and wine night
Take your cheese and wine night up a notch by matching each cheese to an amazing M&S wine. Pair an oozy baked camembert studded with rosemary and garlic with a glass of champagne or crémant. The bubbles and the dry style of these French fizzes work beautifully with the creaminess of the molten cheese. For maximum Spanish flavour, serve nutty manchego with olives and walnuts alongside a mature, full-bodied rioja. The perfect match to rich and creamy taleggio? It's got to be a Gavi thanks to its perfectly balanced flavours of stone fruit and pear. Serve the taleggio on sourdough with slices of pear, thyme leaves and a drizzle of honey for sweetness. Explore our full range of wines online now.
Words: Olivia Ferguson / Images: Ant Duncan / Art direction: Claire Coulthard / Prop styling: Agathe Gits / Food styling: Lottie Covell