WEDDING DRESS
CODES, DECODED
Struggling to decipher big-day wardrobe etiquette? Be the best dressed guest with our guide to wedding style, from black tie to beach vibes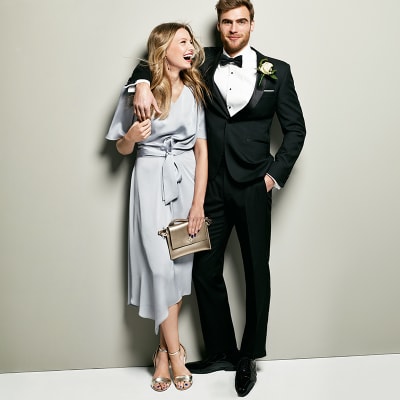 Dress code:
black tie
Black tie is the most formal dress code you'll face with a wedding, and it means the bride and groom are expecting guests to pull out all the stops for their special day. For men, a dinner suit with contrast lapels, dress shirt and bow tie are non-negotiable, while braces are a debonair and practical touch. High shine shoes add to the sense of occasion. For women, the rules are less clearly defined, although it's definitely wise to steer clear of anything above the knee. Choose an elegant, luxurious-looking cocktail dress or even a full-length gown and you're bound to look divine.
Shop the look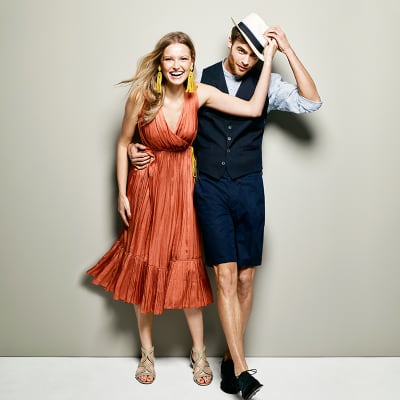 Dress code:
beach wedding
With clear blue skies, the gentle sound of lapping waves and palm trees swaying lazily in the breeze, it's no wonder many couples decide to jet off to a tropical beach destination to enjoy their nuptials. And if you're a lucky guest joining them, then you can bring some of those relaxed beach vibes to your outfit – no one's going to be in a ballgown here. For women, avoid anything tight or uncomfortable (it's the last thing you'll want in the heat) and instead glam up a pretty, flowing dress with vibrant accessories. Save any heels for the after party – on the beach fabulous flats are the way to go. For him, a waistcoat and tailored shorts combination nods to the gravitas of the event while remaining practical in warmer climates. A linen shirt is formal enough, as are suede shoes – leave the sandals in your suitcase during the ceremony.

Dress code:
city wedding
If the couple in question are a pair of city slickers, capture that man-(and woman)-about-town feel and you'll have it nailed. For women, chic, metropolitan weddings mean you can afford to be more experimental with your outfit. Instead of automatically choosing a dress, try bold separates – a skirt and blouse or trouser suit are both fashion-forward options. If you're a fan of high heels, then this is your opportunity to bring out the most vertiginous pair; there's no chance of sinking in the mud and plenty of taxis to whisk you home at the end of the night. The man's sharp dark navy suit is perfectly urbane and has the added benefit of being suitable for work so he'll get more wear out of it. Contrast the serious suit with a more playful pattern on the tie and pocket square to elevate the look beyond the office – black derbies make the ideal dancing shoes.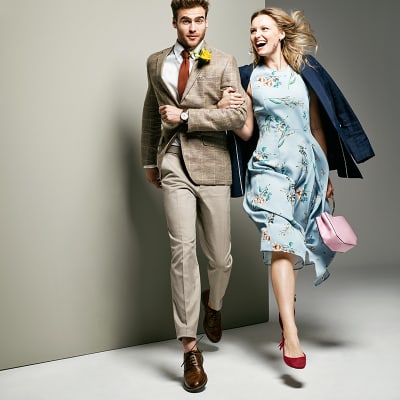 Dress code:
country wedding
Be it a stately home, huge barn or marquee on a perfectly manicured lawn, a country wedding has its own set of requirements. The countryside means two things – grass and gravel – so women should avoid troublesome stilettos and instead opt for a block heel, wedge or flat shoe. Dress-wise, you can judge the formality required by the venue. Posh country house? Err on the side of tradition. DIY barn wedding? You can probably get away with a more relaxed style, although either way, pastel colours and pretty florals play well against the rural backdrop. For men, a gentle nod to a Lord of the Manor look will make him feel right at home – a tactile linen jacket and contrasting trousers bring a smart texture that works well with a knitted tie. Muted natural tones perfectly echo the surroundings.
Editors: Sophie Hines, Ian Wright / Photographer: David Gubert / Stylists: Chloe Forde, Kenny Ho, Louise Carmel Hall / Hair stylist: Ben Cooke
Make-up artist: Karina Constantine / Models: George Alsford at Select Models, Emily Butcher at NEXT Models