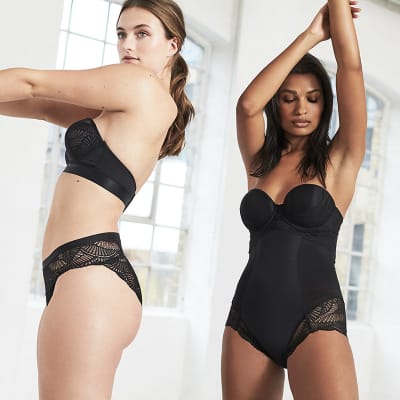 Mind the strap
For years, the term 'strapless bra' struck fear into the hearts of women, who were convinced it meant evenings spent hoiking up an unsupportive, uncooperative piece of lingerie. Not any more: modern strapless bras are cleverly engineered to provide great hold whatever your size, without digging in or slipping down under your clothes. Choose between a wide range of strapless and multiway options, from pretty bras to smoothing bodies.
UNDERWEAR SOLUTIONS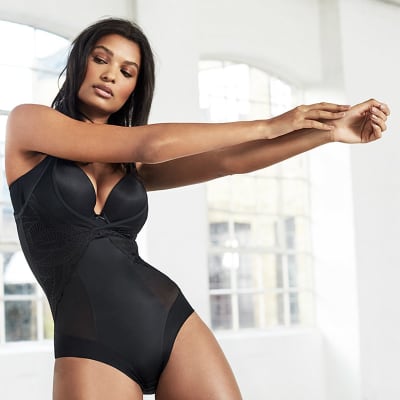 Killer curves
This party season it's all about BYOB. No, not 'bring your own bottle', but 'bring your own bra', with a body-contouring all-in-one that's designed to work with your existing lingerie collection. Try a push-up bra underneath for great lift and a sculpted look. If you've got a tight-fitting LBD to wear to the Christmas party, this is the piece for you.

Get waisted
Gone are the days of restrictive, uncomfortable shapewear and the expectation that women should endure it. From high-waisted knickers to midis, our shaping underwear helps to smooth the stomach area and give you a more defined silhouette, banishing VPL from tight-fitting outfits while still allowing you to move with flexibility and comfort in mind.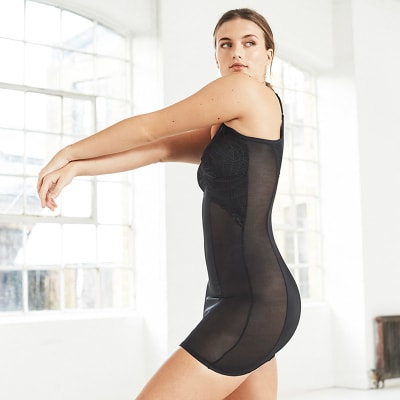 Smooth operator
The ultimate contour is not to be found via a bronzing palette and tonnes of highlighter, despite what beauty YouTubers will tell you. No, it comes in the form of this body-shaping slip dress, which incorporates great support and pretty lace detailing. Designed to enhance your shape and leave you feeling full of confidence, it's a winning piece under clingy clothes.
Words: Sophie Hines / Styling: Richard Pierce / Hair and make-up: Victoria Bond / Nails: Charly Avenell
Model(s): Noortje at Wilhelmina, Cindy at Milk