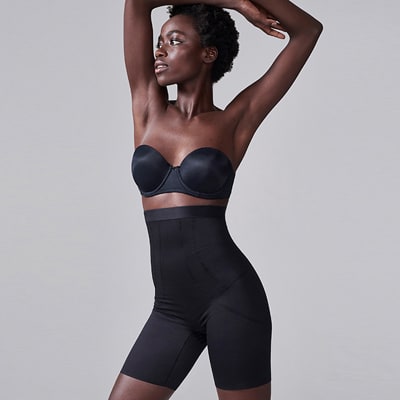 Sculpt your core
Gone are the days of restrictive, uncomfortable shapewear and the expectation that women should endure it. From shorts and high-waisted knickers to shaping thongs and anti-chafe cycling shorts, our shaping underwear helps to smooth the stomach area and give you a more defined silhouette, banishing VPL from tight-fitting outfits while still allowing you to move with flexibility and incredible comfort. All our shapewear features innovative Cool Comfort tech, perfect for summer. Keep things chic with minimalist styles and choose from a range of neutral shades.
SHAPING SHORTS & KNICKERS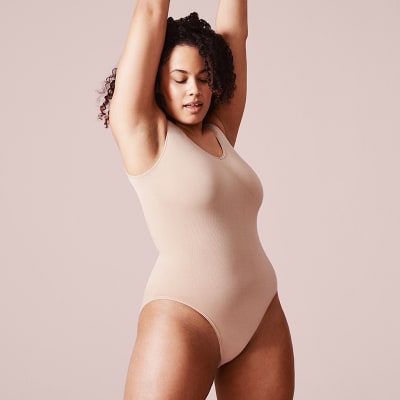 Smooth operator
For the ultimate base layer, choose a seamless shaping body that combines support with sweat-wicking tech to keep you feeling comfortable on even the hottest of days, or an anti-static, cling-resistant smoothing slip with innovative Cool Comfort technology. Designed to enhance your shape, these pieces smooth and sculpt curves, creating a clean-lined silhouette under bodycon, clingy or semi-sheer clothes.
Create curves

Take a personalised approach with a body-contouring all-in-one. Designed to be worn with your own bra, these clever bodies and slips help you create a custom fit. If you're looking to slip into a tight-fitting bodycon dress, or just want a little extra support, these are the perfect styles for you.

Go strapless
For years, the term 'strapless shapewear' struck fear into the hearts of women, who were convinced it meant evenings spent hoiking up an unsupportive, uncooperative piece of lingerie. Not any more: our modern strapless bras and bodies are cleverly engineered to provide great hold and shape whatever your size, without digging in or slipping down under your clothes. Choose from a wide range of strapless and multiway options, including pretty bras and smoothing bodies.

Getting married? Read our bridal lingerie guide.
STRAPLESS & MULTIWAY BRAS
Words: Miranda Eason and Sophie Hines