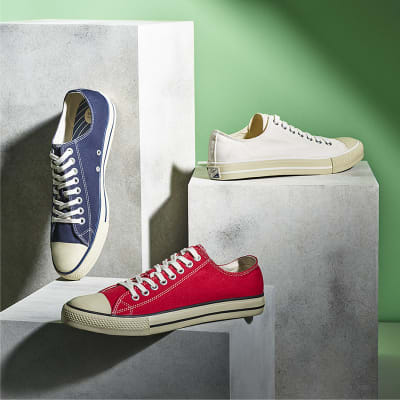 The sneakers you'll live in all season
When you're late for a picnic in the park, going for after-work drinks or running off to the gym, you need a pair of shoes you can rely on time after time. These are those shoes. The secret lies in their familiar simplicity: restrained details inspired by early basketball footwear mean they won't vie for too much attention, while the block colours – add black to this three-pointer trio – make coordination a cinch. The white pair even go with a slim-fitting suit, such is their versatility. All that for under half the price of similar styles makes them a total slam dunk
OUR STRIKING SNEAKERS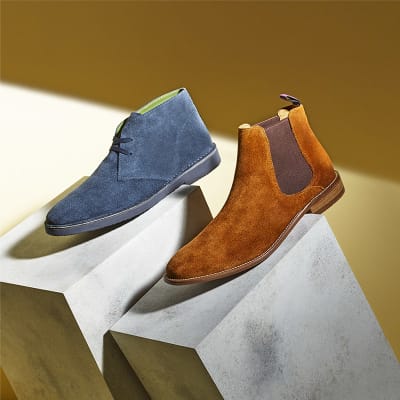 Boots designed for summer
Think summer means kicking off the ankle-brushers for another six months? Think again. Considering they were invented for military operations in the harshest, driest conditions, it's pretty safe to say desert boots will survive the daily commute with no air con or a day hanging out in the garden next to the barbecue. Folded-down ribbed socks and rolled-up chino legs are their friends. Suede is the most summery of leathers and transforms the rocky Chelsea boot into a fair-weather go-to style. Just formal enough for the office and nights out alike – the tan goes particularly well with washed-out jeans.

The trainers for every occasion
One of the brilliant things about the blurring of the lines between smart and casual is that you can wear trainers almost anywhere now. But as with most sartorial statements, there are a few things to watch out for. If they're to be truly versatile, look out for grown-up materials such as leather and refined, trend-led shapes. First out of the blocks are these striped trainers, which nod to the elevated retro runners seen on the catwalks – styled with a snappy suit in a bright tone, of course. Next up: luxe brown leather normally reserved for formal shoes takes this classic shape to the next level – perfect dress-down Friday shoes.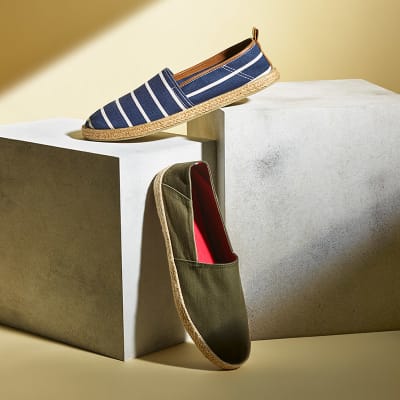 The chic holiday all-rounders
While flip-flops have their place in your suitcase, there's really no beating espadrilles for summer sophistication. With roots in the Basque region and Spanish Med as affordable work shoes in hot climates, today espadrilles are more likely to be found on the yachts of the Côte d'Azur than they are in the workplace. The simple panels and jute soles ooze understated class and go perfectly with linen trousers or beige chinos. Look for breathable cotton in an array of colours or stripes for that coastal vibe. They're also designed for you to step on the heels, for when getting out of the pool to get a cocktail is just… so… much… effort.
OUR EFFORTLESS ESPADRILLES

The smart but summery shoes
With all manner of weddings, days at the races and special occasions joining the work days your wardrobe needs to provide for, having the right smart shoes is essential. While lace-ups are still very much acceptable, this is the time when loafers come into their own – be it this tasselled brown leather pair, which would be perfect worn with a beige linen suit and no-show socks, or high-shine black leather for when you mean business. Suede also comes into play here – snaffle buckles or patterned uppers add a certain je ne sais quoi. The other alternative to laces is the monk-strap, so buckle up for a very stylish summer.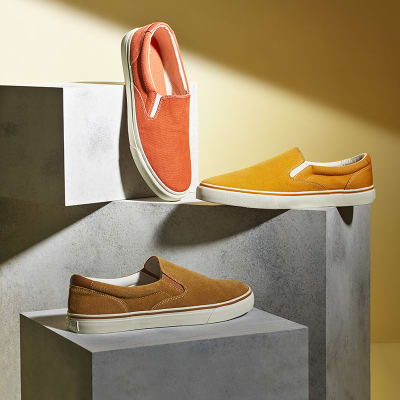 The fun casual kicks
Who wouldn't want a pair of effortlessly cool sneakers you can just slip on in a flash and go? Cupsole kicks with a skater slant like this will get a lot of wear all summer long. These pumps bring with them not only comfort and ease, but also a pop of colour – their sun-kissed tones will work perfectly with an all-over navy look and blue denim. While they are a great substitute for deck shoes – they come in both canvas and suede and have a similarly grippy sole – they're a bit more urban than their nautical cousins, making them a better partner with skinny jeans. A style to get on (skate)board with, then.
Words: Ian Wright / Images: Katie Hammond / Styling: Nu Valado