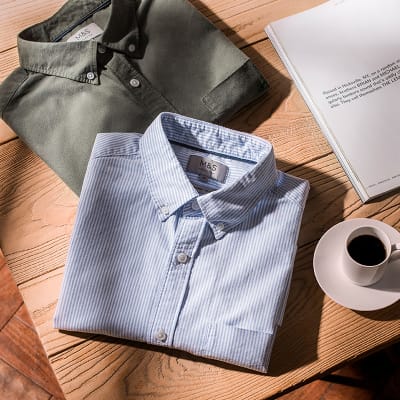 The button-down shirt
Smart but not too smart, easy to wear and a preppy essential. The button down is not something to be messed with. So we haven't. Much. The high-quality, super-soft pure cotton we've always used is still there, its tactile brushed finish giving the feeling of a long-standing favourite straight off the hanger. Chunky buttons add to the substantial feel, but it's in the fit where we've had a tinker. The shoulders are now slightly narrower than our relaxed fit, while it's also shaped into the waist giving a neater, more modern look.
GET SHIRTY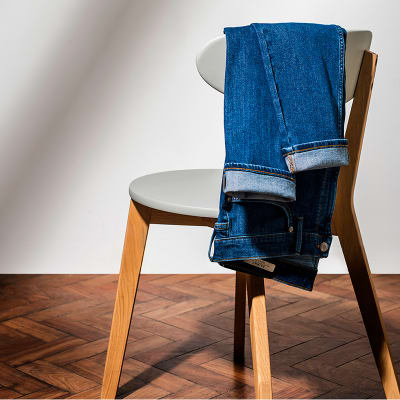 The stretch denim jeans
It's a similar story with our denim. Across the range we're having a bit of a slim down, and these stretch denim jeans are a great place to start. This style comes in four shapes, each of which we've refined to bring you what we're sure is our best-ever fit: a more streamlined straight, a trimmed tapered, a slender slim and a true leg-hugging skinny. The secret to such impeccable comfort is that, whatever fit you like, we've added a touch of stretch to ensure nothing rubs, catches or sits awkwardly. Looks like our denim is shaping up nicely.

The super-soft jumper
Who doesn't need a cosy knit in their wardrobe? We've been working hard behind the scenes to come up with a lightweight, incredibly soft fibre you want to wear every day, combined with the warm retention you expect. And we think we've cracked it. Lay your hands on these jumpers and you'll see what we mean – they're so cosy and comfy you won't want to take them off. What's more, there are colours and designs to suit every mood and outfit, and at under £20 you can afford to stock up.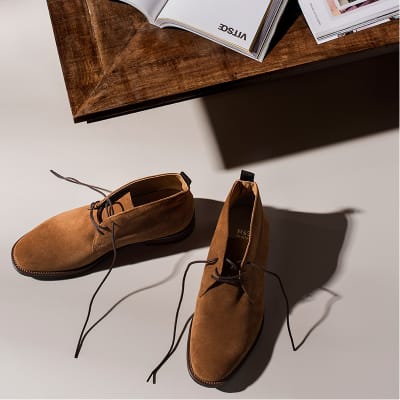 The expertly designed shoes
Step this way for a range of shoes with enduring style – from elegant dress shoes to refined chukka boots, we've given the designs an overhaul to bring you more modern footwear. Sneakers in restrained colour palettes including crisp white, soft suede desert boots and smart derbies for special occasions: everything is made with beautiful leathers, both standard and vegan, and built to last. At the top of our range, some of our footwear is hand-finished and Goodyear welted, the highest standard of construction, without the price tags that normally come with such premium quality.

The crew-neck T-shirt
It doesn't really get any more classic than this. The essential item in every man's wardrobe, the T-shirt is hard to improve. So we've continued using cotton from more sustainable sources, kept the Stay New colour tech and Cool Comfort freshness that make this style so special, and simply slimmed it down a touch for extra sharpness. It's joined by freshened-up polo shirts in new colours and smart modern stripes, and T-shirts cut in super-soft premium fabrics to make our range of tops and polos, well, top.
Editor: Ian Wright / Photographer: David Cleveland / Stylist: Grace Poulter