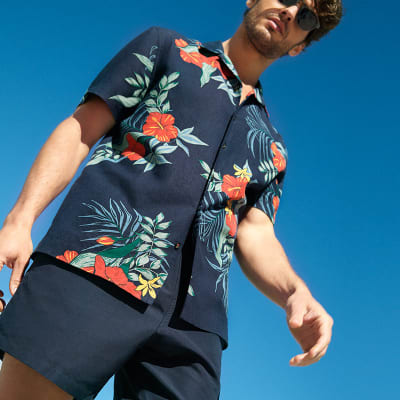 Boldly go with a patterned shirt
When it comes to men's summer shirts, bright and punchy is the way forward. If you're feeling the trend but are slightly daunted by the prospect of statement prints, just remember the golden styling rule: to bring the look together, pick shorts or trousers in a plain or neutral colour that matches a colour from your printed shirt. This linen Hawaiian-inspired shirt fits the bill with its retro-inspired revere collar, lightweight material and wearable floral print.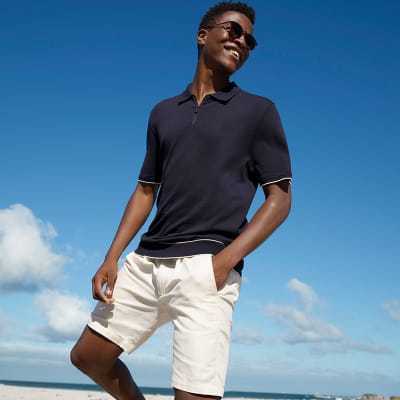 The must-have polo shirt
Lightweight knitwear still has its place in your wardrobe during the summer months. Take polo shirts, which look great teamed with light-coloured jeans or trousers and are ideal for cooler mornings or al fresco evenings. Autograph's silk and cotton knitted polo shirt adds a touch of luxury to everyday outfits. Choose from six colours and two lengths to find your perfect fit and top off with a blazer or bomber jacket to nail the smart-casual look.

Meet your must-have shorts
Where once there was debate over whether men should wear shorts anywhere except the beach, opinion has thankfully moved on, and you're likely to see men sporting everything from denim cut-offs to cargo shorts on a hot summer's day. If you're looking for a smarter option that will also work in the city, a pair of chino shorts, ending a few inches above the knee, in ecru or navy is a good bet. This pair of Autograph shorts is crafted from a breezy linen-blend fabric with a discreet elasticated waistband so you'll look sharp even when kicking back.
STYLE THE GO-ANYWHERE SHORTS
Words: Sarah Lafarge and Dulcie Emerson