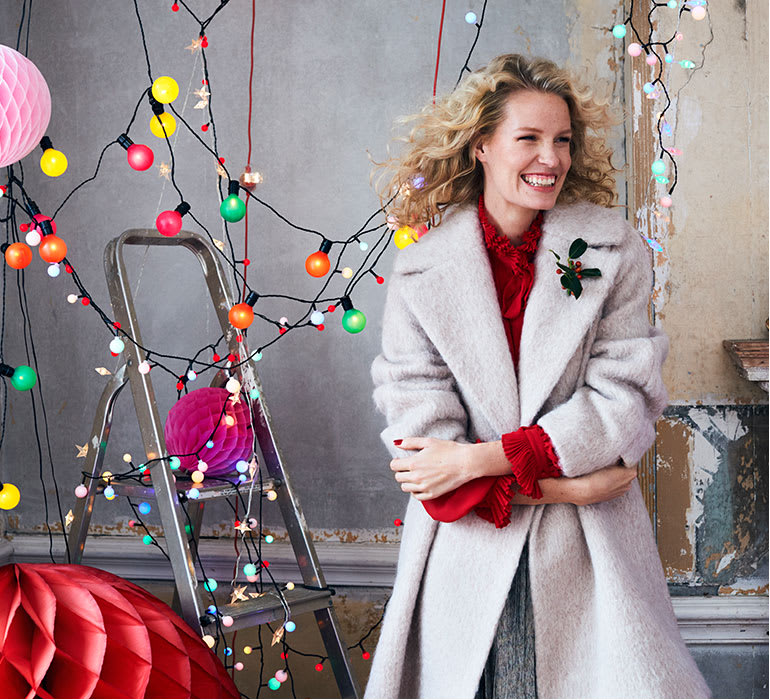 An outfit for... shopping for family gifts
Above: For hectic days spent giving Santa a run for his money, opt for understated Scandi-chic with a dose of comfort: think Fair Isle knits, skinny jeans and ankle boots that promise to go the distance. Top it off with a playful bobble hat for a nostalgic finish.
An outfit to... see you through the Christmas holidays
Right: Invest in a head-turning coat to see you through a season full of Christmas activities. Look out for details that shout, or rather, whisper, sophistication: tactile, wool-rich fabrics, oversized lapels or cuffs, and wear-with-everything hues such as oyster or greige, to take you from outdoor carol concerts to arriving at your picture-perfect Christmas cottage.
An outfit for... staying home at Christmas
Above: When your home is brimming with guests, you'll need nightwear you're happy to be seen in. Make the most of lazy mornings with cosy tartan PJs before the Christmas games for kids begin, or recuperate post party games by curling up in cashmere joggers with a classic Christmas flick.
An outfit that... says 'Christmas fun'
Left: Give yourself a Christmas break from all the activities, and simply have fun with a showstopper of a dress. May we suggest Father Christmas red? 'Tis the season. Bare legs and party shoes work if you're staying home alone, but if you're heading out for Christmas activities, up the ante with glittery tights and a faux-fur jacket.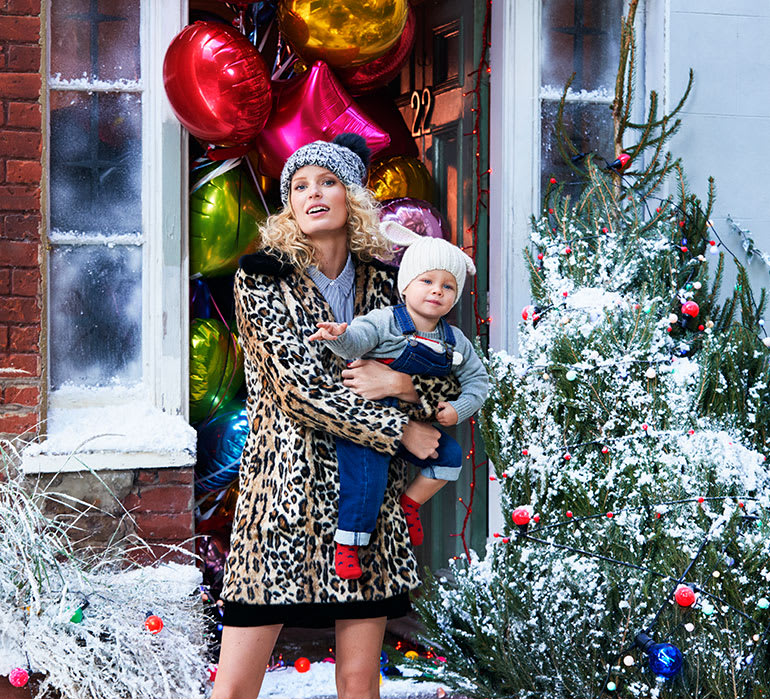 An outfit to... enjoy Christmas traditions in
Above: Comfort is key for the days (and nights) of feasting ahead, along with family activities and Christmas party games. A loose jumpsuit is sleek, elegant and easy to wear, making it your wisest investment. Choose red for impact, or black for an alternative to the LBD. On-trend knitwear is a fail-safe option for style-conscious teens and toddlers, while his look is elevated by a snappy tweed suit.
An outfit for... post-Christmas activities
Right: Pull out all the stops with a super-soft faux-fur coat on Boxing Day. Try a fun leopard print to stand out for all the right reasons and complement all your tried-and-tested festive looks. Little ones will love to romp about in their dungarees after days of formal dressing; simply button up over a cute knit to keep them snug.