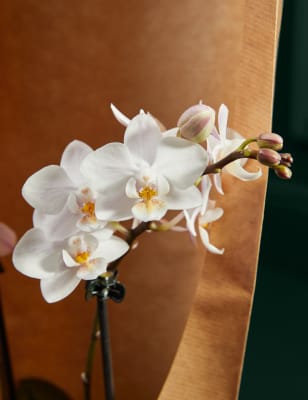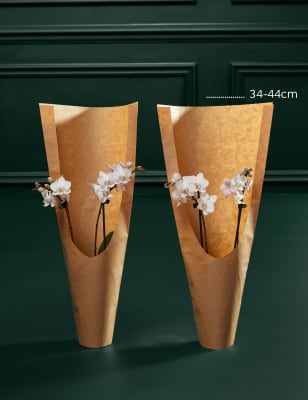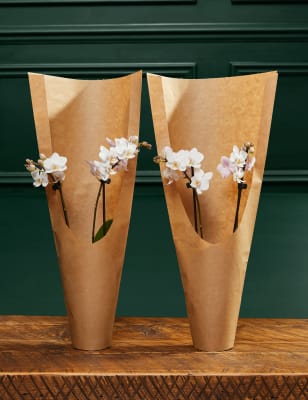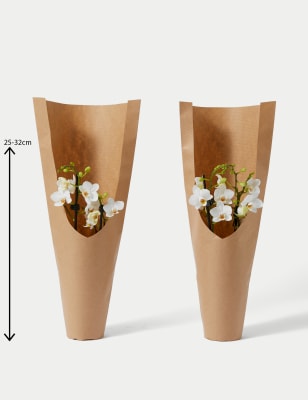 Two White Phalaenopsis Orchids
Product code: 29126408
FREE nominated-day delivery for all flowers & plants
Always sourced from trusted and sustainable growers
FREE gift message available on all orders
Not home? No problem. Our carriers can leave your order in a safe place and will let you know what time it will be delivered
Plants and bulbs may arrive in bud to maximise flowering life in your home
Comes with handy care leaflets for helpful tips to care for your plant!
Product Details

This pair of miniature orchids is sure to brighten someone special's day. Your beautiful, delicate blooms will arrive in protective paper sleeves, ready to be added to a favourite pot. Colours may vary slightly throughout the season.

Item details

Dimensions: Total plant height- Per plant- H25-32cm x W17cm
Care- Keep the bark compost moist, but not wet, checking every few days and adding a little water when required. Tap water can be used, but soft water (eg rain water) is preferable if available
The water should be tepid, not cold. Where possible, water over a sink and allow any excess water to drain out. Food is available specifically for orchids - follow the manufacturer's instructions, taking care not to over-feed
Gently remove any dying flowers when they are almost ready to fall off. Phalaenopsis orchids will flower for several weeks and often for 3 months or more
For new growth after flowering, cut back the stem part-way down, just above a node while the stem is still green
Alternatively, cut the spent stem off at base level and the plant should produce a completely new flowering stem several months later
Position- Stand indoors in a light position, but not in harsh sun – a north-east or west facing windowsill is ideal. Maintain a temperature of between 18 and 25˚C (65-75 ˚F) and don't enclose behind closed curtains at night
Orchids are delivered in paper sleeves. Ceramics are not included

Delivery, Collection & Returns

Delivery

Nominated day
All Flowers orders have free delivery. Order flowers by 7pm Monday-Friday for next day delivery, or order by midday at weekends for next day delivery. Sunday delivery on selected lines only. Delivery is to Mainland UK, excluding Northern Ireland.

Returns

UK returns
Refunds on flowers, plants or fruit baskets can only be given in accordance with your legal rights. For more information, click here.