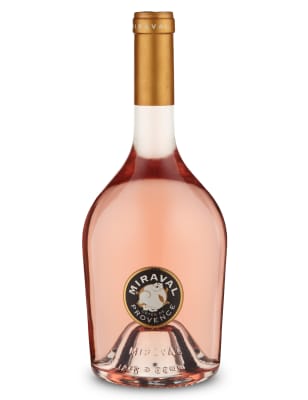 Miraval Rosé - Single Bottle
Wine Details
Year:

2017

Country of Origin:

France

Region:

Provence

Grape Variety:

Grenache / Garnacha & Syrah / Shiraz
Price £0 Previous Price £19.50
you save £19.50
8 review{[{productCtrl.productData.reviewsSummary.reviewCount === 1 ? '' : 's'}]}
review{[{productCtrl.reviewsStats.totalReviewCount === 1 ? '' : 's'}]}
Miraval Rosé - Single Bottle
Out of stock
Product description
Product ID: 00044479
{[{productInformation.text}]}
Press reviews
Here's what the press are saying about Miraval Rosé - Single Bottle
""Just like the couple who created it. Vibrant, classy, perfect fresh Provençal rosé for sipping by the pool all summer long. Excellent quality and well worth the price.""
Olly Smith - Mail on Sunday
2nd August 2015
""Brad Pitt and Angelina Jolie's Miraval, made with help from rhône maestro Marc Perrin, continues to enthral with its dreamy, dry, fresh pear, garrique herb and strawberry-stashed palate. Peppery syrah and zingy rolle add complexity here. Worth every penny.""
Jane Mac Quitty - The Times
25th July 2015
""Our children's headmistress once told me she likes to unwind by reading showbiz stories on MailOnline. Celebrity antics are doubtless light relief compared to the day job, and this utterly delicious, crisp, pale pink rosé, made by Brad Pitt and Angelna Jolie at their Chateau Miraval estate in Provence, would be the perfect accompaniment.""
Harriet Arkell - Daily Mail
7th July 2015
Delivery Information
Key Feature
Add a GIFT MESSAGE to your order once it's in your shopping bag
Product reviews
Looks like you have JavaScript turned off, turn it on to see the reviews.