Jo Jenkins, director of womenswear
"This season, our coats in particular are good, and use the highest-quality natural fibres. The hero coat in our advertising campaign [available in October] is a quirky combination of purple, red and a bit of pale blue. It's beautiful and unique, and the quality is amazing.
"We really want to get customers to re-evaluate our style. We want people to try our new shapes and fits, which have been completely reworked to be as flattering and perfect as they can be.
"Personally, I'm particularly into tonal dressing at the moment. I really like using different textures to break up a look – so a satin top and matt trousers, but in the same colour. We know our customers are not afraid of colour, that it plays a critical role for them with its mood- and confidence-boosting powers, so it's especially key for us this season."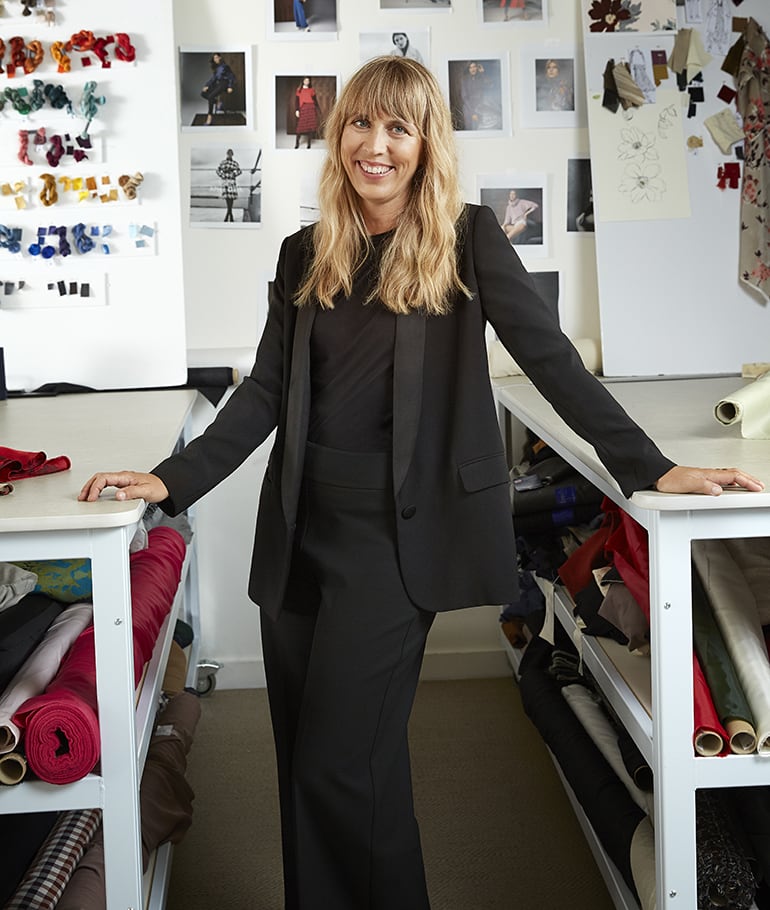 Sara Palbrant Blomberg, head of design, womenswear
"My mantras when it comes to design are 'stylish and contemporary' and that's reflected in the autumn pieces I love. Tailoring is so, so important this season. You can't have too many tuxedo jackets – I probably have eight in my wardrobe! The cut and fit of this one are great – slim sleeves, quite boxy, and finishes mid-hip. It's flattering and modern.
"Other things I love this season are our herringbone trouser suit, which nails the tailoring trend totally, and our amazing red boots – both in knee and ankle length. They're a super-stylish way of buying into red, which is a huge trend now."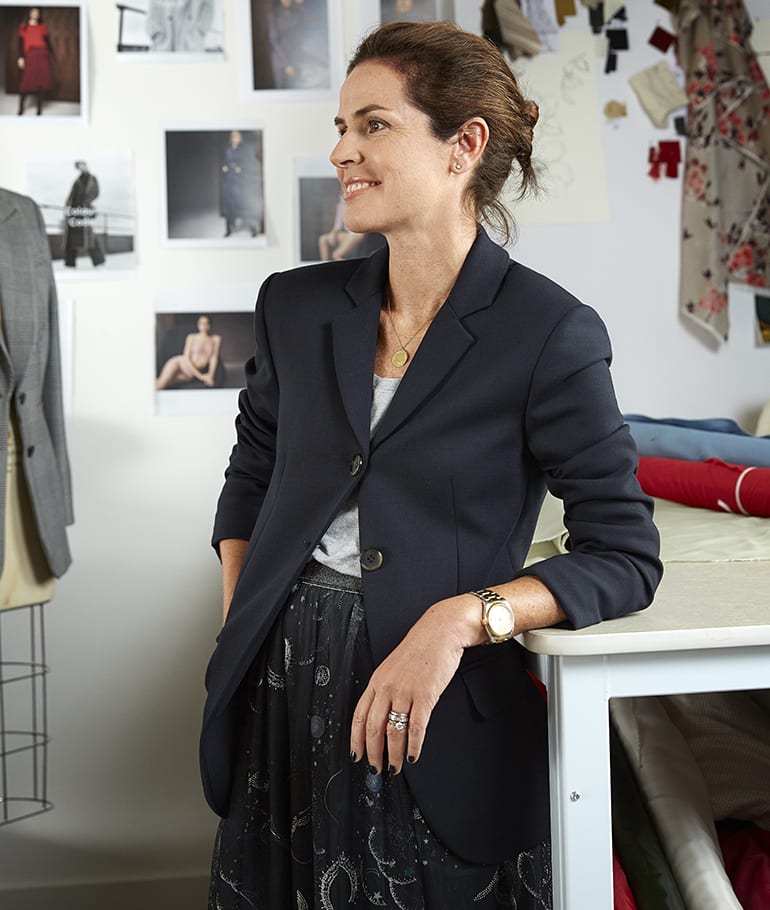 Queralt Ferrer, design director
"What makes M&S different from the rest of the high street? We have a secret weapon in our amazing pattern-cutting department. Every garment we design is fitted on an actual person, from size 8-22 (6-24 in some styles), with little tweaks to make it perfect. It means we can offer a very broad range of sizes, all fitted to the same exacting specifications. Style is now age-agnostic – if a trench coat is great quality and perfectly cut, it can be worn whether you're in your thirties or in your sixties, it's just how you style it that might be different.
"I love blazers and I love navy blue, so this jacket combines two of my favourite things – and it's very on-trend at the moment too. The shape is great, the fabric is comfortable, but it looks very edgy. I really love wearing structured pieces with floatier fabrics like this tulle skirt – it makes the look more casual, while still being smart."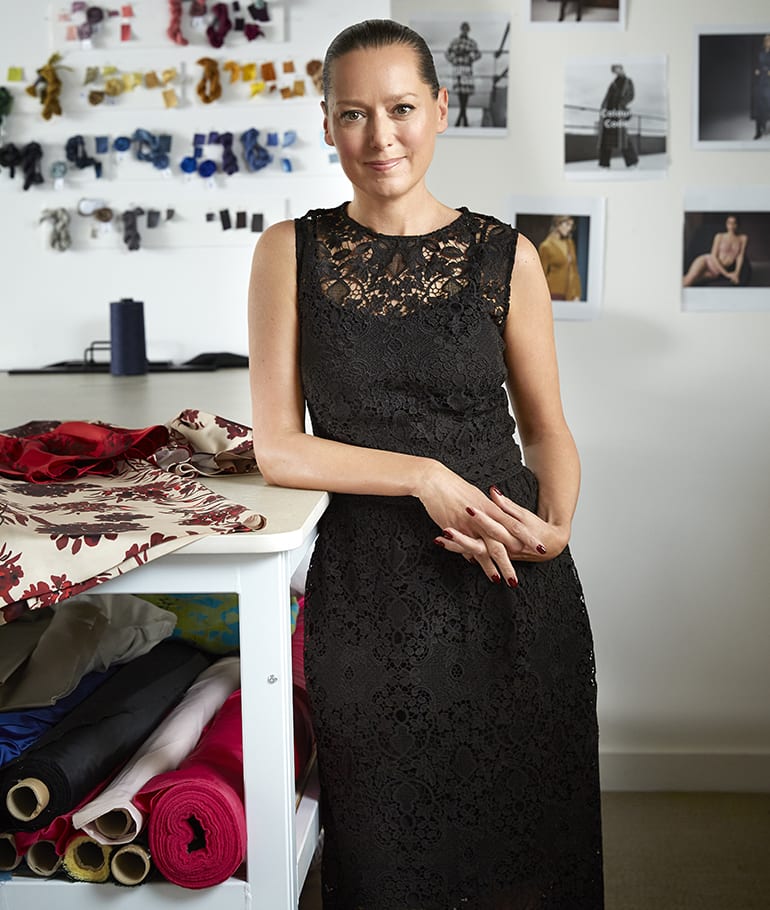 Soozie Jenkinson, head of design, lingerie, active and swim
"I think the secret of our success is that we always consider the customer's needs and wants in everything we do, and we understand that because we are the customer.
"My signature colour is black, so I was immediately drawn to this dress. You can dress it up or down, with trainers for every day or with statement heels for the evening.
"Lace, texture and embellishment are really on-trend this season, and when you're wearing monochrome it's something you can really experiment with, to bring interest to quite a restrained look."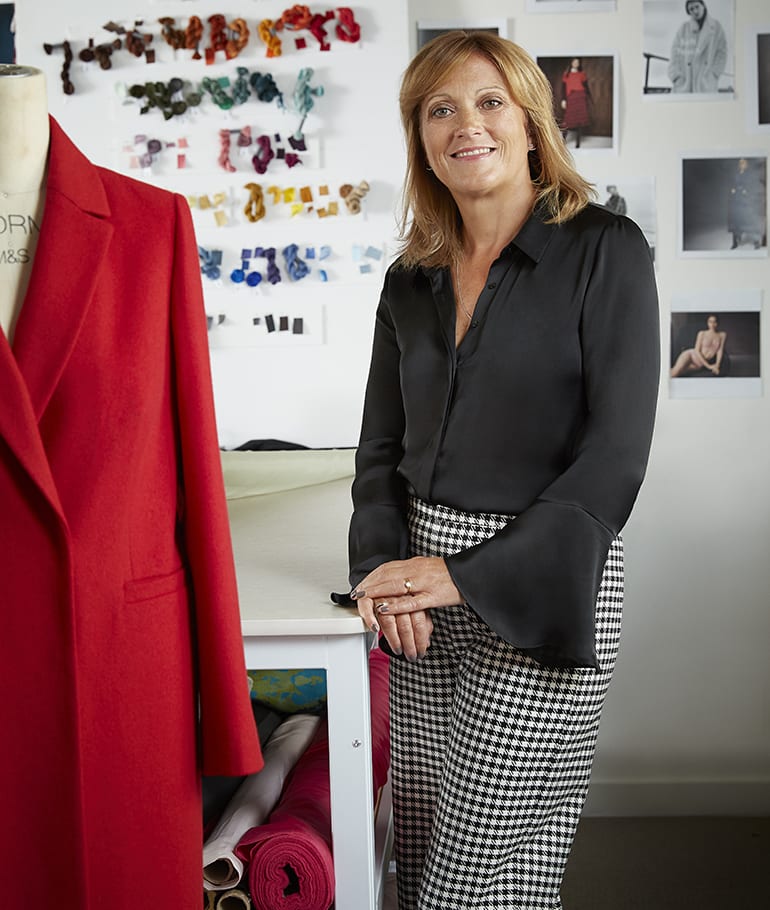 Belinda Earl, style director
"I'm really loving texture this season. We have some great shoes in brocade, tweed and leather – heels and flats – which are great for workwear with tailored trousers. We've got some amazing coats, some in a gorgeous cashmere mix, perfect for the cold weather. And I'm really into the new trouser length we're doing too. It's a slightly longer cropped trouser that works well with flats or heels.
"I'm also getting into blouses for this season. They are so versatile: they work with denim, or in a more formal way with skirts or trousers. Ours are a great fit and this one in particular has a fabulous sleeve detail. Sleeve details are a particular trend at the moment, and this is a really easy way to try it."