COMING UP ROSÉ
Summer's here, so it's time to clink the pink drink. Get to know your way around pale Provençal styles, fruity varieties and zingy fizz, then shake things up with our on-trend cocktail ideas
Think pink
When temperatures are (hopefully) soaring, nothing quite beats a crisp, cool glass of rosé. The summer-ready wine has exploded in popularity over the last few years, meaning a wider choice and better quality across the board – there's so much more to it than those sickly-sweet examples you might shudder to remember from student days. Rosé purists extol the virtues of millennial-pink hued Provence styles. Our Coteaux Varois en Provence, a light, dry wine with subtle aromas of strawberries and white flowers, is a fine example (and delicious with seafood or salad). Need an extra-special bottle for date night? Pick up our Côtes de Provence Sainte-Victoire in store. This dry, crisp wine is sourced from the sought-after Provence sub-region, Sainte-Victoire, and blended exclusively for M&S by in-house winemaker Belinda Kleinig. If you prefer your pinks with more punch, try fruitier styles like our Burra Brook rosé, which packs in red berry and pink grapefruit flavours, or Côtes du Rhône Boulas rosé, with its bold, bright strawberry notes. Sparkling rosé makes a fresh and fizzy alternative to prosecco – try our Conte Priuli pinot grigio Veneto blush, which has zingy citrus notes, or, for special occasions, crisp Delacourt brut rosé champagne.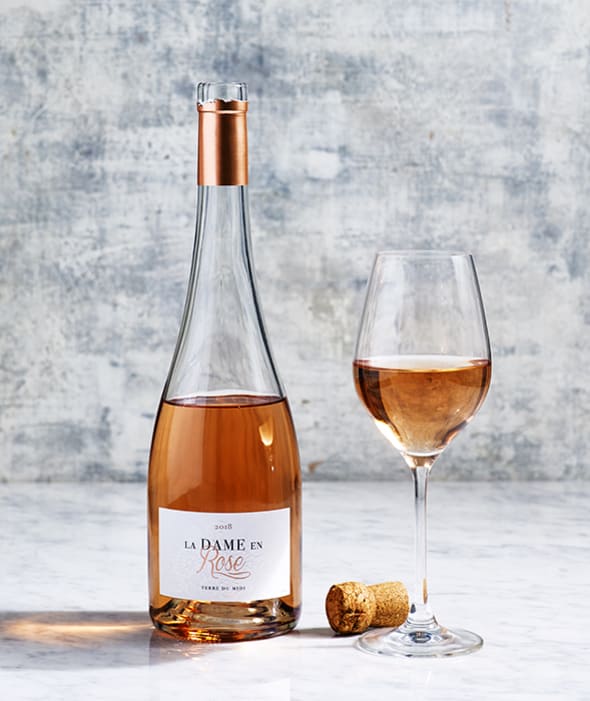 If you try one rosé this summer…
New in store and to our online wine shop, our La Dame en Rose works as well with chilled-out weeknight dinners as it does Saturday celebrations with a crowd in the garden. It's made in the Terre du Midi, an area in the Languedoc next to the famous Provence region. This means the wine shares those ever-popular dry, crisp mineral flavours of Provençal rosé, but at a fraction of the price – it's a steal at £6 a bottle. The wine is blended just for us by in-house winemaker Belinda Kleinig. With notes of red fruits and white flowers, it will work with barbecues and summer salads now, then creamy pastas or even curries as autumn draws in. There's also a sparkling version that's made for weddings and get-togethers.
Shake up a rosé cocktail
As the popularity of rosé has risen, so has the trend for refreshing pink cocktails. Try these three easy ideas at your next party.
Rosé spritz (left)
Fill a glass with ice and top up with two parts aperitivo liqueur (available in store), two parts Coteaux Varois en Provence rosé, and a squeeze of lime. Mix, then top up with soda. Garnish with fresh lime wedges. Delicious for a pull-out-all-the-stops weekend brunch.
Strawberry cooler (centre)
In a food processor or with a hand blender, muddle a generous handful of hulled strawberries (our Red Diamond variety work brilliantly) with a tablespoon of sugar and a dash of elderflower liqueur (find it in store). Spoon a little into champagne coupes, then top up with sparkling La Dame en Rose. This is lovely served as an aperitif on a warm day.
Grapefruit rosé fizz (right)
Combine one part vermouth and one part gin with two parts La Dame en Rose and two parts fresh grapefruit juice. Pour into a tumbler filled with ice and garnish with fresh rosemary and a wedge of grapefruit. Serve as a new twist on negroni.