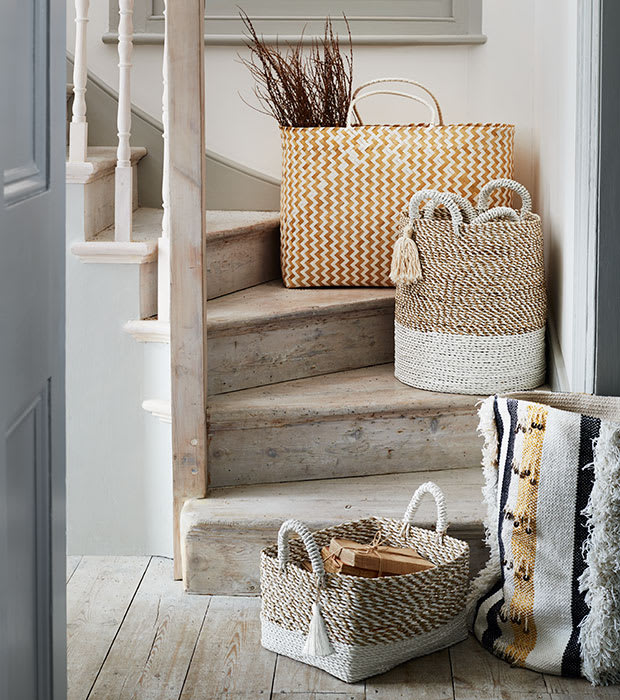 HOW TO
DECLUTTER
YOUR HOME
New year, new start: these storage tips and tricks will turn your home into a calm, clutter-free space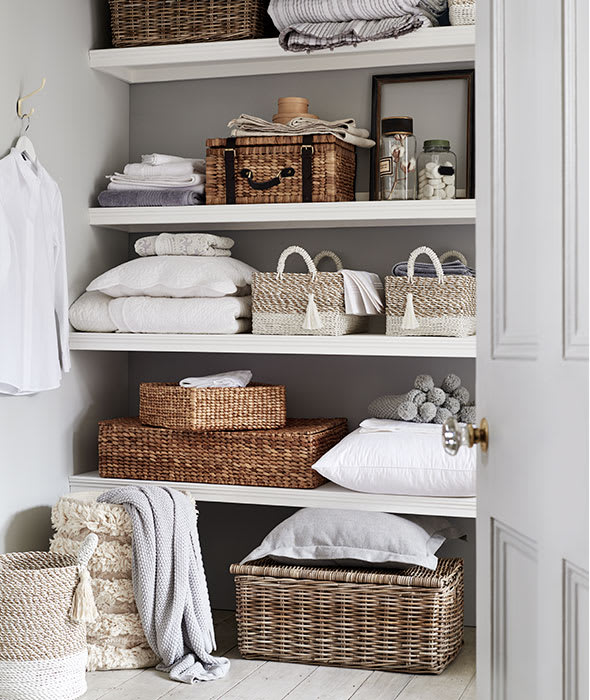 Basket brilliance
Adding boxes or baskets is an easy way to adapt the furniture you have to suit your storage needs – and it can look great, too.
- Divide up open shelves or cupboards with storage containers – then you can display what you're happy to have on show and stash everything else away.
- Mix up shapes and sizes. Big, flat trunks or lidded boxes are perfect for bed linen, for instance, while small baskets are ideal for toiletries and cosmetics.
- Stick to boxes and baskets in similar colours to tie the look together for a neat, stylish feel.
Wardrobe wonders
Make your bedroom clutter free and you'll create a calm, serene space to relax in at the end of a long day. It's easy to do with a bit of time and the right storage.
- A wardrobe that combines hanging space with shelves or drawers will give you the most flexibility when it comes to storing clothes.
- Hanging fabric shelves are ideal for keeping shoes, scarves and bags tidy, and mean you can lay your hands on the accessories you want at a glance.
- Use slim, streamlined storage boxes for items you don't need to access too often, or to stow seasonal clothing ready for when the weather changes. Slide them under the bed or stack them on top of your wardrobe – these grey fabric designs in different sizes are stylish enough to have on show.
Grand entrance
Your hallway is the first thing you see when you come home, so make it a pleasure to step inside with a clear, tidy space that's easy to move around in. Multi-level storage is key here – and it's also a good solution if you're short on space.
- Low-level shelving with enclosed baskets or drawers is ideal for shoes. A storage bench is extra-practical, as you can sit down to change your footwear.
- Wall hooks keep coats and scarves out of the way but mean they're easy to find when you're in a rush to go out.
- A loose rattan basket is a handy place to stow odds and ends, from brollies to bags.
- Why not complete the transformation with a lick of paint and some wall art to welcome you home?