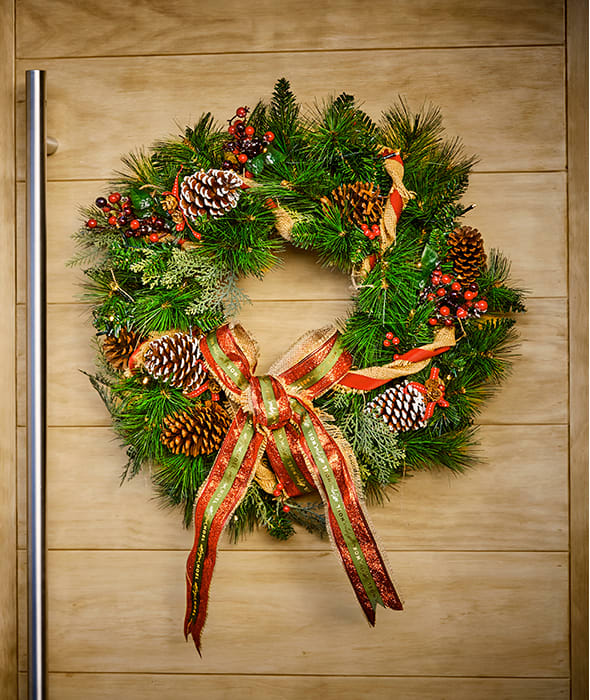 The wreath with a ribbon twist
Give your classic door wreath a seasonal spin with a festive red and green faux fir and frosted pine-cone design, finished with layers of ribbon in contrasting colours and textures.
Start with a large light-up wreath and wrap around plenty of ribbon in varying widths and materials, from hessian to embossed satin and velvet in Christmas shades of rich red, gold and green. Watch the full video for our step-by-step guide.
"A FIVE-MINUTE
flourish for instant
kerb appeal"
A kid-ready wreath
Get the little ones involved in some arts and crafts this year. This bright red wreath is made for hanging in pride of place on their bedroom doors.
Start with a red berry wreath, and loop patterned ribbon through the middle to make a Christmas star shape. Then add in personal touches like their favourite animals as felt decorations and little edible touches such as mini fir tree shortbread biscuits. Watch the full video for our step-by-step guide.
"A TEN-MINUTE
craft session that's sure
to make them smile"
A sweet-smelling centrepiece
Who said a wreath or garland was just for the door or staircase? Transform yours into an easy table setting with a serving platter, a cream candle and a few clever decorations.
Start with a large wreath or garland and add in fresh, fragrant accents that will give your dinner table a deliciously festive scent, like dried citrus slices from our grapefruit and ginger potpourri mix, rosemary stems and cinnamon sticks.
"A TEN-MINUTE
table wreath that
smells of Christmas"