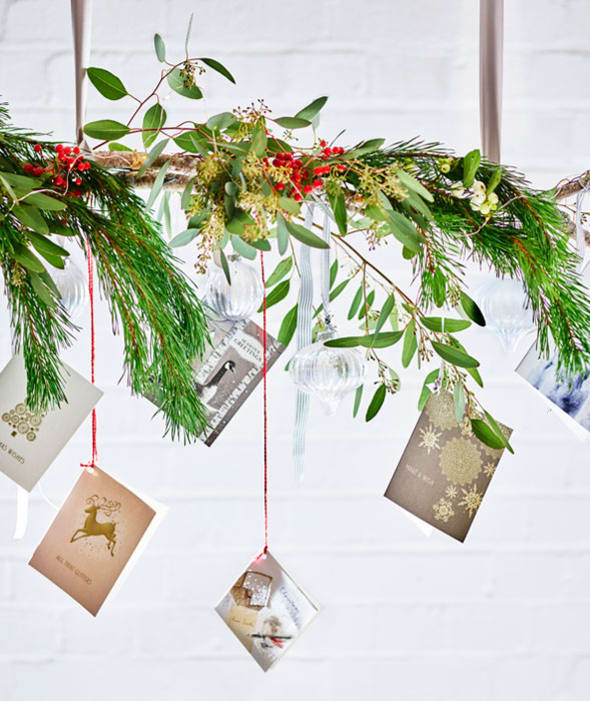 Clever ways to display
Transform cards into de facto Christmas decorations for your tree or wreath.
: Hang a simple craft wire hoop from a picture hook with an oversized bow. Arrange cards around the circle as you receive them.
: We've created a ceiling-hung garland by stringing up a bough of pine (you could also fix across the top of a window or door frame) and decorating with an arrangement of festive greenery (mistletoe, holly and eucalyptus leaves), show-stopping Christmas tree baubles and Christmas cards. Simply punch a hole and string up with different lengths and styles of ribbon.
The 10-minute tree
For an alternative Christmas tree you can put up while the kettle boils, fix a string of fairy lights to the wall with coloured tape (choose a spot above a power point). Don't be too precious – a rustic look is all part of the charm. Decorate your new Christmas tree by clipping on Christmas cards; a laundry peg dressed with a strip of washi tape works a treat.
You've got mail
The Christmas card may have your heartfelt message inside, but the envelope is a canvas for creative touches that show loved ones you care. Here are some of our decorating ideas:
Swap your usual biro for a fountain pen, paint pen or fine-tip marker. Gold and silver are super festive, while white is striking on dark paper.
Line envelopes with wrapping paper cut to fit (thicker paper is the best).
For child-friendly crafting, ink stamps or watercolour washes are easy ways to transform a plain envelope.
Try a strip of a washi tape for a modern spin on the wax seal.
Go all-out with touches of gold foil (best saved for hand-delivered cards).