AUTUMN STYLE
MEET THE STARS OF OUR NEW CAMPAIGN
We chat seasonal dressing with Vicky McClure, Clemmie Hooper and Holly Willoughby as we launch our autumn collection
Vicky McClure, actress
What do you love about autumn style?
I love chunky jumpers, coats and boots, and get excited about re-using my winter wardrobe. I enjoy summer but find it harder to dress for, whereas autumn/winter is a good time for me, fashion-wise. It makes me feel good.
Is there anything you wear on repeat?
My jeans. I've never been good at wearing skirts and although I like wearing dresses for special occasions, I'll always revert to jeans – black, blue, baggy or straight. I also wear white T-shirts all the time. I don't wear a lot of bright colours. Left to my own devices, I tend to keep things quite simple.
How would you describe your style in a sentence?
Casual and comfy, although I really like tailoring, and always feel comfortable in a suit – I'd rather wear one out than a dress.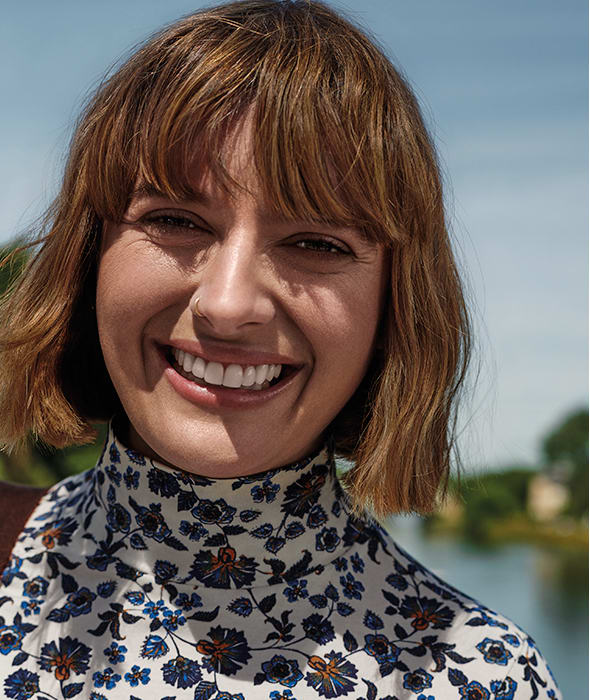 Clemmie Hooper, Instagrammer @mother_of_daughters
If you could wear one thing every day, what would it be?
I love dresses. I have loads of them. My husband complains I have too many! I love a dress that nips you in and makes you feel great. I also love a dress that works in the day with trainers but can be dressed up for evening with heels or boots.
What are your top tips for autumn layering?
The floral Seventies-inspired polo-neck top that I'm wearing is ideal for layering. You could wear it under a dress with the neckline open or under a jumper. It's only £8.50 so a real bargain and it comes in lots of different colours. Similarly, a ribbed V-neck top can be worn under a jumper with the cuffs on show, or underneath a cardigan. A V-neck is always super flattering.
What is the 'holy grail' item in your autumn capsule wardrobe?
Finding the perfect jumper may seem simple, but it's actually something I find quite difficult. It's all about the neckline for me, and the material. It's got to be cosy, it's got to be warm and it's got to sit nicely, whether you're wearing it with a skirt, a dress or trousers. The StayNew jumpers at M&S are perfect for Sunday strolls in the park paired with jeans and trainers.
Holly Willoughby, TV presenter
Are you a fan of autumn dressing?
I love dressing for autumn – it feels like my natural habitat. You can start layering up your clothes, such as putting a turtleneck underneath a lighter dress to eke out the wear a bit longer.
What are your staple pieces for the season?
A good pair of leather ankle boots are a must. You can wear them with bare legs when it's still warm and then add tights later on. And a good mac – I've got an M&S camel trench coat I've been wearing for years and years. It comes out every spring and autumn.
What colours are you drawn to at this time of year?
All those lovely mustard, brown and rust colours, plus rich jewel tones. It's a nice change after wearing bright colours or white in the summer.
What's your hero piece for autumn?
Definitely this floral dress – it's really comfy but still a statement, and I think the colours are gorgeous.