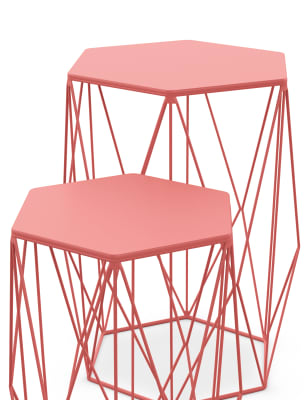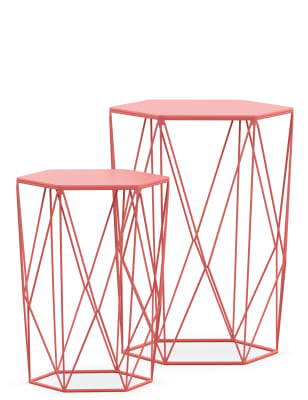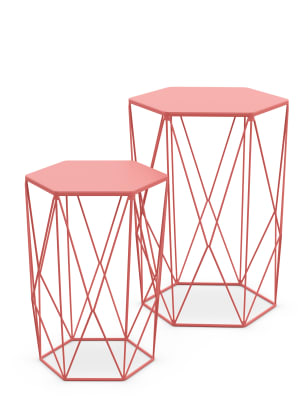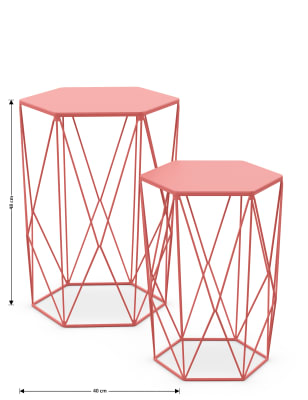 LOFT
Wire Nest of Tables Coral
Product code: T840016
Sorry, this item is no longer available
Product Description
Effortlessly breathing life into your living space, this nest of tables has a modern geometric design coming in a colourful shade that will seamlessly integrate into your décor. These wire tables have a unique look and feel and are made from sturdy metal with a stunningly beautiful finish, perfect for holding your favourite decorations in your living room or adding an extra edge of contemporary and bold energy to your kitchen.
Product Details

Dimensions

Bigger: H48 x W40 x D40 cm
Smaller: H39 x W30 x D30 cm

Composition

Powder-coated steel, Wipe with a soft cloth

Delivery, Collection & Returns

Good news – we offer free furniture delivery, whatever you order. Our delivery teams will observe social distancing throughout your delivery, giving you peace of mind. Please note, our delivery, assembly and collection service may be subject to change when Government and local lockdowns are in place.

Standard delivery to your door

FREE Collect in store - order online for delivery to your chosen store, collect from 12pm (midday) the next day

£3.99 Next day home delivery* - NEW now order up until 10pm - find out more >


Free standard home delivery on orders over £50**

- get your clothing, home, beauty and wine order within 3-5 working days. find out more >

£7.50 International home delivery to Europe - get your order within approx. 7-10 days
£15 International home delivery to the Rest of the World - get your order within approx. 10-14 days
Shop on our dedicated websites for Australia, Canada, New Zealand and USA.
Collect in store is not available outside the UK
Service terms and delivery times may be amended during peak periods or sales. Please see our Help section online or ask in store at the Customer Order point for full details.
Reviews
100% of reviewers would recommend to a friend